Tight Line Nymphing, Spanish Nymphing, Euro Nymphing. Many terms - one idea. In this video, Marina introduces her favorite setup for these nymphing techniques. Additionally, in this article, she presents the advantages of this sensitive nymphing technique and provides you with many tips & tricks for a successful start on the water. Enjoy the video and her report from Spain, where she had the opportunity to test nymphing rods from Adams.
Spain's trout waters are a fly fisher's paradise and I was lucky enough to be able to take a week off before the busiest time of the year at my fly fishing school: Mayfly Madness on my rivers in England.
My destination: Catalonia. A beautiful region in the northeast of Spain with a picturesque landscape through which numerous streams and rivers run and form impressive valleys. And these waters are known for two things in particular: Big brown trout and the technique known as 'Spanish Nymphing'. This is a facet of Euro Nymphing, where particularly long, thin and fine leaders are used. The waters in this region of Spain are wide, but rather shallow. This is another reason why the fish here are extremely shy! In the crystal-clear water, therefore, smaller nymphs are used more often, and a very sensitive setup is an advantage for their presentation.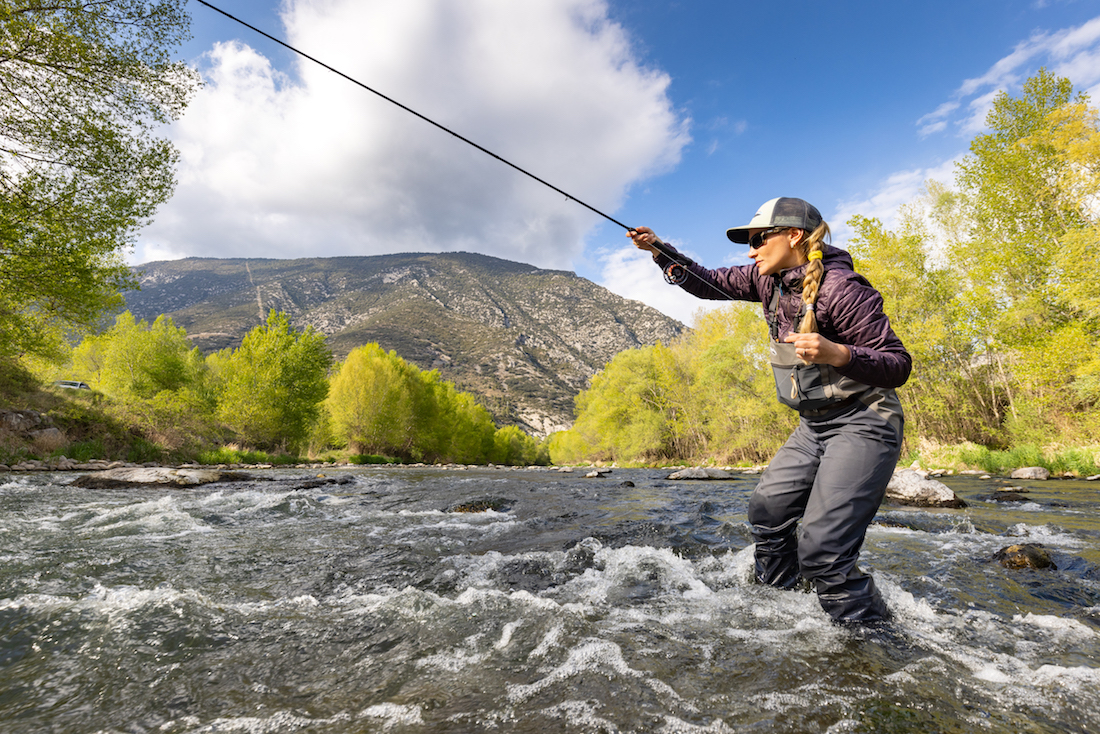 Spain. Fantastic landscape & fantastic fishing
Adams Fly Rods - Developed in Spain
So I travelled with the adh-fishing team and our friends from Adams Fly Rods, whose special nymph rods were developed on these rivers, to the hilly backcountry of the Spanish Mediterranean coast. I took a few nymph set-ups with me straight away. But my 'main weapon' was my Adams XTZ 10'0 2#, paired with a Guideline Fario 46, which features a closed spool cage and is therefore extremely well suited for using thin nymph leaders. This combination felt incredibly good to me and I was able to cover the vast majority of situations during our trip with this setup. A combination that I will also use intensively on my home waters in England in the future.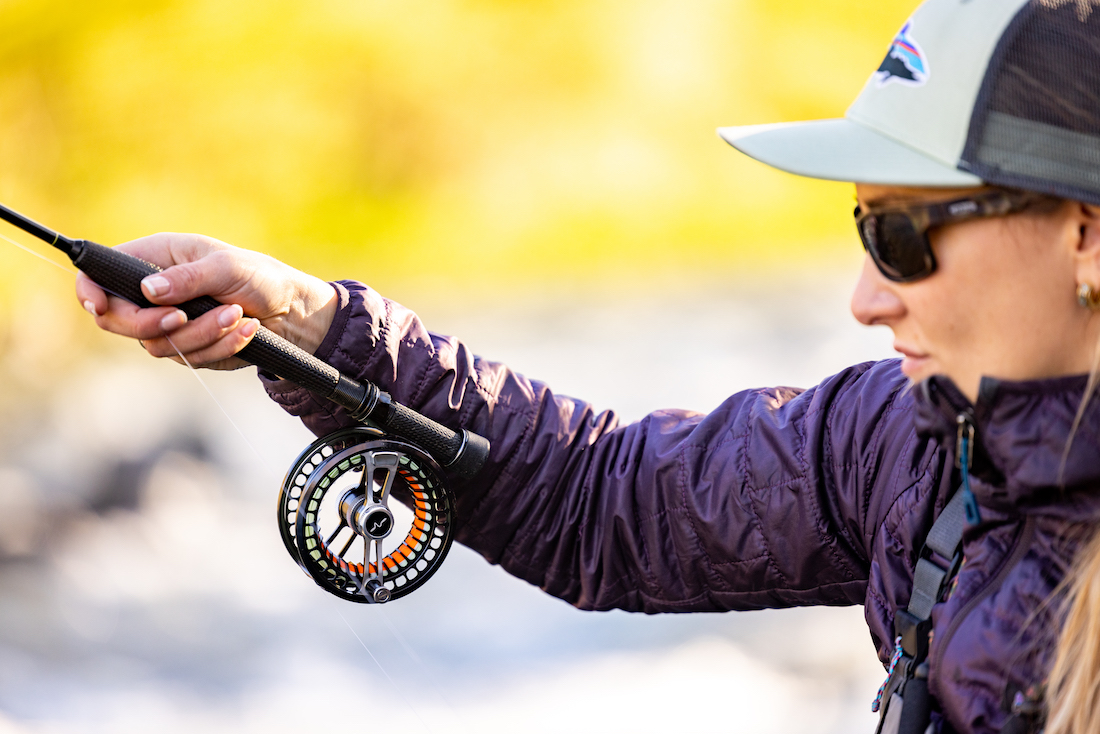 Adams XTZ in combination with a Guideline Fario LW 46
Spain - Versatile fishing and big fish
I have been familiar with Euro nymphing for a few years now. However, I do not use the nymphing rod as often as other fly rods. And on my many trips in recent years or when fishing at home, I usually use completely different methods. For this very reason, an intensive trip to learn more about Euro Nymphing was just what I needed! Although Spanish trout fishing also offers many great opportunities to fish very successfully with a dry fly or streamer. Whether you present a dry fly carefully on the water surface or provoke aggressive take with a streamer - the different approaches make trout fishing in Spain a thrilling and rewarding pursuit.


What is Euro Nymphing?

Euro-nymphing, also known as tight-line nymphing, is a highly effective technique that is becoming increasingly popular and allows fly fishers to catch trout with precision and finesse. This method originated here in Europe, but has gained popularity around the world in recent years. Euro Nymphing appeals at first glance for its simplicity and effectiveness - I have heard some people even refer to it as the "hoover technique" because it is so successful! The effectiveness of this technique is most evident in stronger currents where it is crucial to detect subtle takes. No surprise then that a facet of this method is so widely used in the fast rivers of Spain.

One of the most important fundamentals of Euro-Nymphing is the concept of direct control over the drift. By eliminating the 'slack' between the angler and the fly, it becomes easier to detect or feel even the most careful tugs. This is simply not possible with a classic fly line or belly in the leader. Euro nymphing also emphasises the importance of using weighted flies and a stretched leader (hence the term 'tight line nymphing') to achieve a natural drift. The angler's ability to feel the bottom and maintain contact with the fly throughout the drift is crucial to success. By adjusting the position and weight of the flies, the angler can target specific depths and cover a wide range of the water column. Both on the bottom and in midwater, Euro Nymphing is very successful.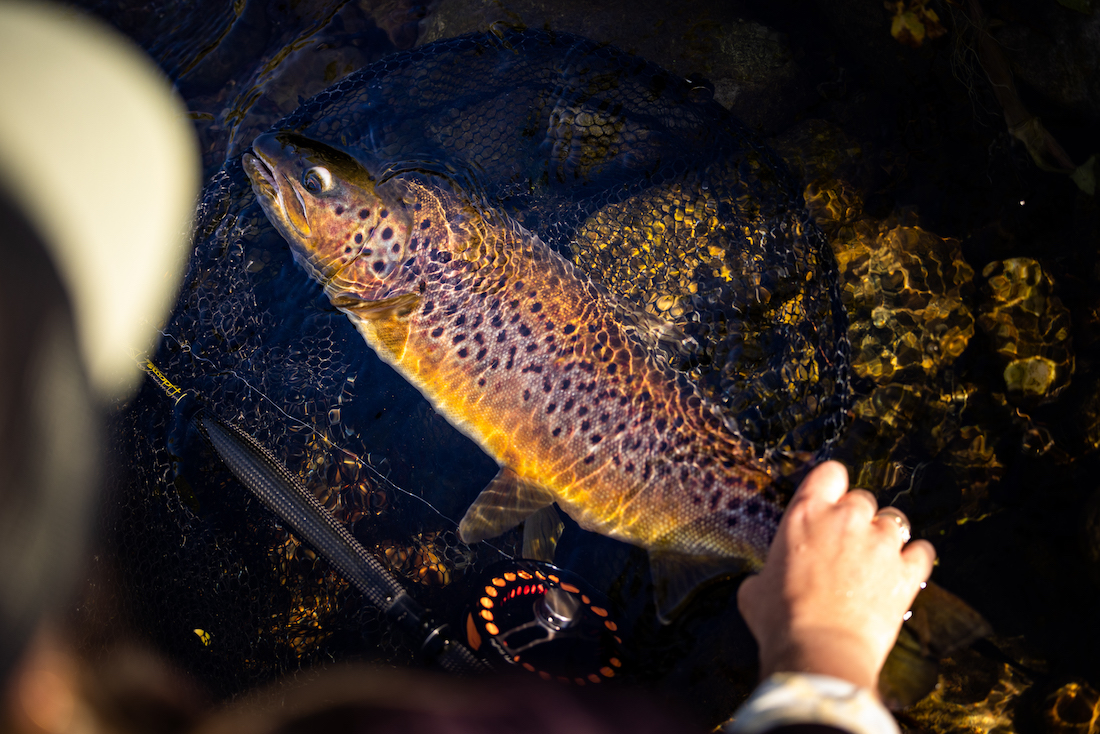 A nice catch for Marina: Spanish Brown Trout

However, this technique requires a lot of patience, practice and a precise understanding of the underwater world. It allows anglers to fish effectively below the water's surface and target feeding zones that are out of reach with traditional fly fishing methods. Whether you are an experienced angler or a beginner, exploring the world of Euro nymph fishing can open up new possibilities and increase your overall fly fishing success.
News by Adams

We travelled to Spain with the founders of Adams Fly Rods, Dani Garcia and Bob Schmitz, and were lucky enough to try out some of their new products. These included a white mono line and a coloured marker to apply the sighter to the leader. These new products allowed us to create a highly visible and customisable indicator setup to detect subtle takes, while also saving a tippet ring and extra knots. The Sight Markers have either 3 or 6 bright and contrasting colours, such as pink, yellow, green and blue.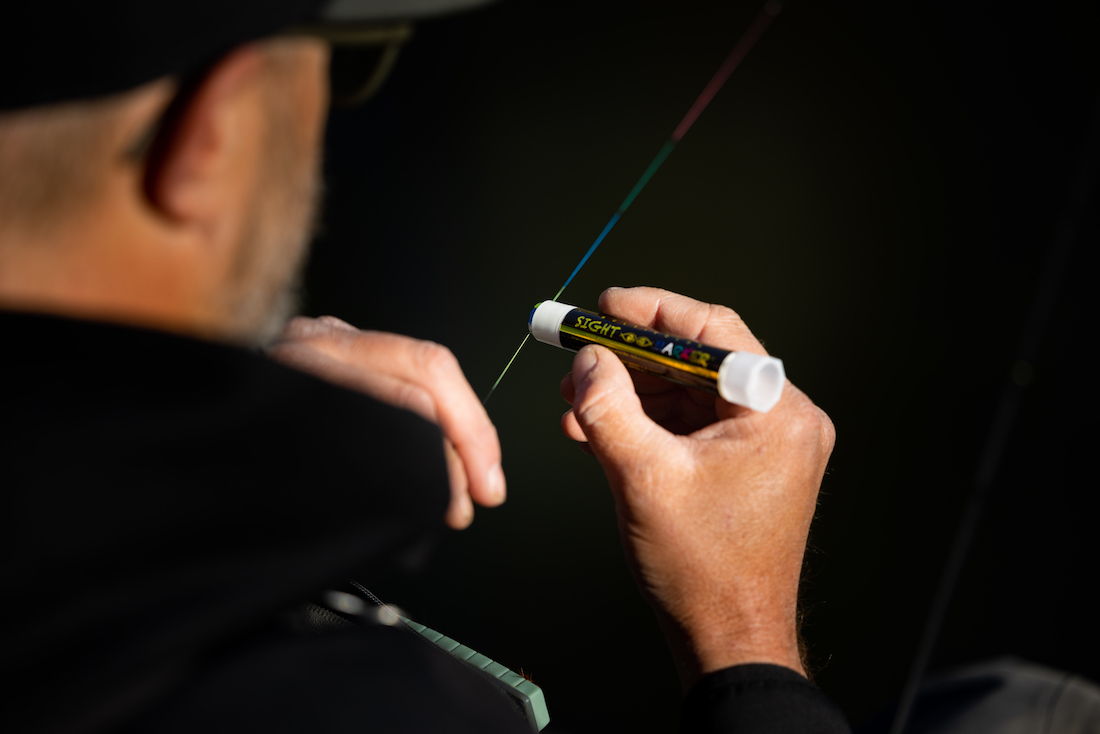 The Sight Marker by Adams - No Sighter Material, Knots or Tippet Rings
The color is quick and easy to apply it to the line and the marking helped me focus my attention on the indicator and detect even the subtlest movements that indicate a potential fish bite. The coloured marking can also be customised to suit individual preferences and fishing conditions. Some people prefer a shorter marking closer to the leader connection, while others prefer a longer section for increased visibility. Experimentation with different colours and marking lengths can help determine what works best in specific fishing scenarios. I liked adding 10-15cm of fluorescent yellow first (closest to the tippet), then 5cm blue or green, followed by 10-15cm of fluorescent pink and another 5cm of black above.


Typical Euro Nymph Patterns


When I first started Euro Nymphing, I was told that if you don't lose a few flies, you're not doing it right. So be aware that you need to fill your fly boxes when you try this technique!

Here are some of my favourite Euro nymph patterns that I have brought, mainly from Fulling Mill and Guideline. It is worth noting that the effectiveness of certain patterns can vary depending on local conditions and the preferences of the fish in the area you are fishing. Therefore, it is certainly beneficial if you pack 2-3 more patterns. I also recommend taking nymphs in different hook sizes (preferably barbless) and in different weights. This way you can react to different currents and water depths with confidence.

Hare's Ear: A classic pattern that imitates various nymphs and is very effective in Euro nymph fishing.
Pheasant Tail: Another versatile pattern that imitates a variety of aquatic insects and should not be missing from the fly boxes for Euro Nymphing.
French: Designed specifically for Euro nymph fishing, this fly is typically tied with a slim profile and is made from a range of natural and synthetic materials. The body is mostly very dark.
Perdigon: A heavily weighted fly that has its origins in Spanish fly fishing. Thanks to the very compact tying method, the sharp silhouette and the varnish, it sinks very quickly and can thus enable good contact. In very small hook sizes and with lighter tungsten beads, it is also great for mid water fishing and sight fishing in general.
Cased Caddis/Peeping Caddis: A distinctive appearance resembling a protective case made by caddisfly larvae, it is a successful pattern in fooling trout and other fish species during their subsurface feeding behaviour. A caddisfly crawling out is often imitated with a green hot spot.
Gammarus: Designed to mimic freshwater shrimp, is a versatile pattern highly sought after by fly anglers targeting trout and grayling in both rivers and stillwaters. In case of high water, a larger/heavier pattern should definitely not be missing!
Squirmy Worm: Dirty and deadly! A controversial but highly effective pattern that imitates aquatic worms, provoking aggressive strikes from trout and other fish. As soon as the water rises, I like to use a squirmy, which I present mainly on the dropper in mid water, while a heavy nymph provides contact with the bottom.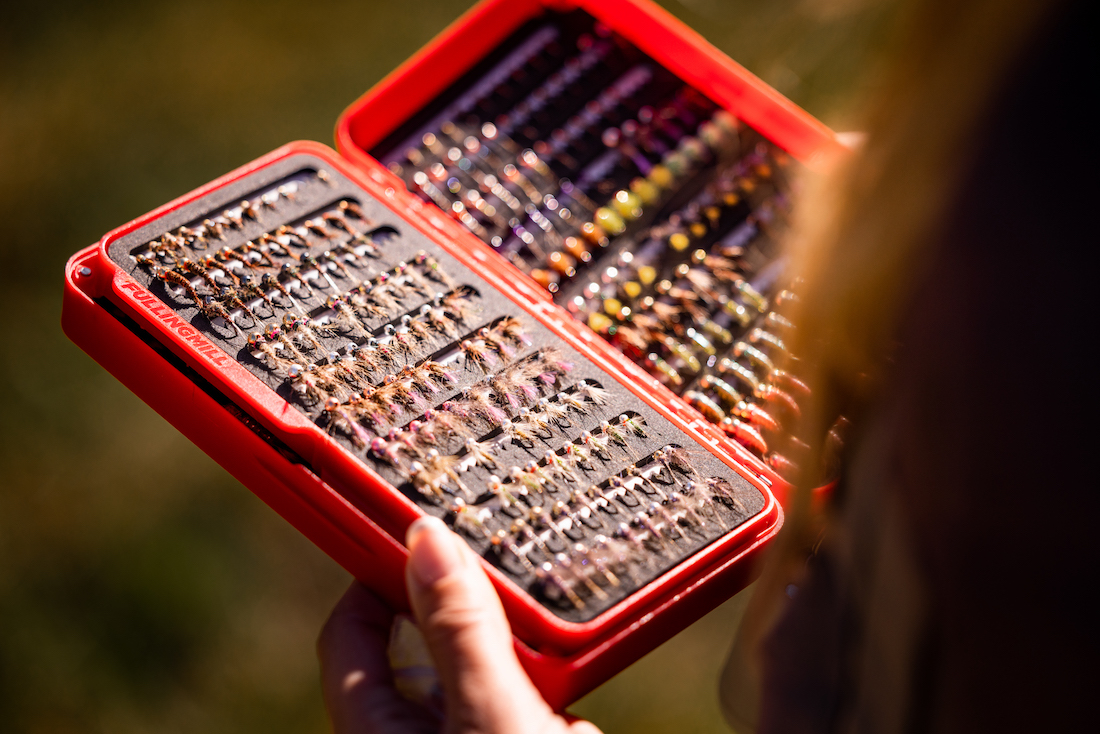 A full box from Fulling Mill with many typical Euro Nymph patterns.

After a week of immersing myself in the intense world of euro nymphing, honing my skills and adapting to the intricacies of the technique, I now feel a renewed sense of confidence and readiness for my next fishing adventure. The hours spent focusing intently on every cast, drift, and subtle take have ingrained in me a deeper understanding of the underwater ecosystem and the behaviour of trout. The demanding nature of euro nymphing, requiring constant concentration and split-second decision-making, has sharpened my instincts and improved my ability to read the water.

With this newfound confidence and knowledge, I eagerly await the opportunity to test my skills once again and unravel the mysteries of trout fishing with a heightened sense of anticipation and excitement.
Get in touch!
For your fishing with the nymph I wish you tight lines and lots of success! And if you have any questions about trout fishing in Spain or want to travel to Catalonia, the adh-fishing team will be happy to help you via this form.