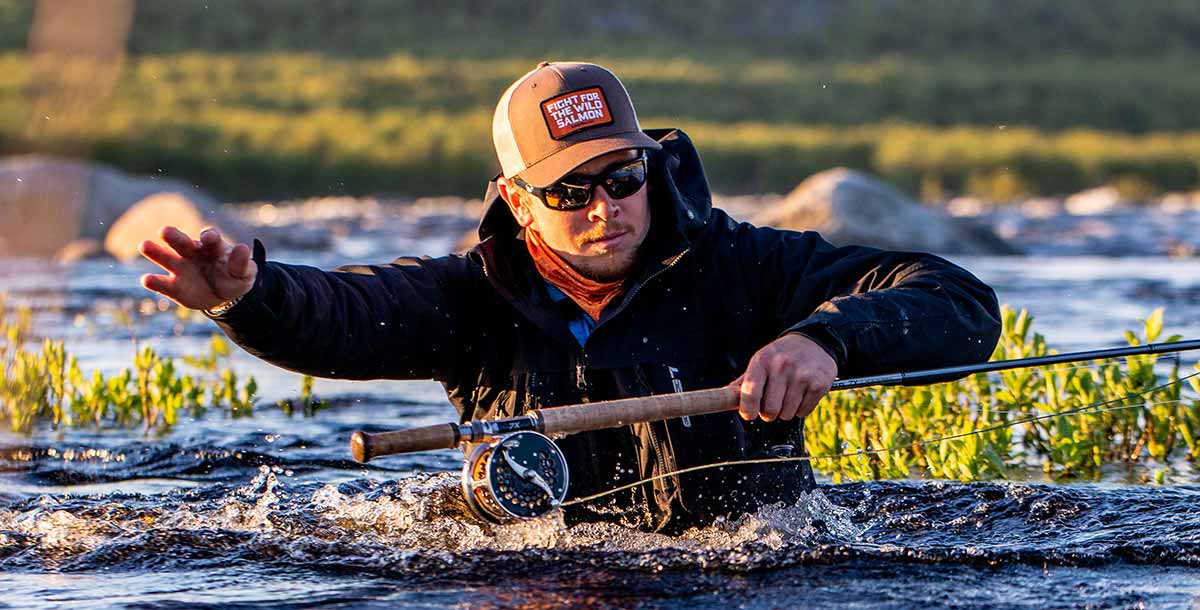 For us fly anglers, waders are part of the absolute basic equipment along with fly rod, fly reel and fly line. Because no matter whether on the river or the coast: Wading is (almost) always necessary! And because we spend a lot of time in our waders, it is even more important that we find the right model for us. This starts with the size.
How do I find the right size?
In addition to well-known specifications such as small, medium, large, etc., most manufacturers offer measurement tables for their models, which should help us find the right size. These centimeter specifications are not always 100% sufficient, however, because some air should be planned for both the foot, leg and torso - first and foremost for better freedom of movement, but also to be able to use warming undergarments (in the so-called layer principle) in winter. However, the sizes of the different manufacturers are not uniform and to shine a little light into the "waders jungle", we have compiled some information for you here.
It is important that you measure yourselves onceat the beginning, before you decide for the correct size. What you have to pay attention to when measuring, how you find the right size with your individual body measurements using the size tables, and how you can test whether the ordered waders fit you perfectly, we have explained in this video:
So all you need is a tape measure to find just the right size for your body.
Basically, the following rules of thumb apply:
Short leg: If your legs are rather shorter compared to your body, then you are best advised with a "short". Instead of taking a normal L, for example, an LS (Large/Short) is the best choice.
Long leg: If your legs are a little longer than your body and you are more of a slim type, then you should go for a "Long". Instead of taking a normal L, for example, an LL (Large/Long) is a good choice.
Belly: If your legs are normal length, but you have a belly, then you are a king and the king version is the right choice, e.g. LK (Large/King).
Short leg and belly: If you have a belly and short legs, there is also a solution here, e.g. LKS (Large/King/Short).
The right bootie
In addition to the leg length, the booties are particularly important: it must not pinch here! If you wear a EU45 in your street shoes, then it makes no sense to order waders with booties in 42-44. On the one hand, it will press very quickly, but on the other hand, the material of the booties will be constantly stretched and overstressed. And last but not least, you will get cold feet very quickly in cold water, because the blood can not circulate freely - especially if you still want to pack a thick pair of socks.
For really big feet, Simms is the only manufacturer to offer the service of retrofitting the waders with larger neoprene socks. This is possible with all GoreTex pants such as the Headwaters, G3 and G4 models. Simms charges about 80 € for this and it usually takes 4-6 weeks. But if you have very big feet, then it is worth to use this service. You can contact us in this case very happy, we will then arrange everything accordingly for you.
Extra tip for very slim fly anglers
If you are very slim, then we can recommend Guideline waders. Because Guideline is the only manufacturer that tailors "slim". Other well-known manufacturers of waders such as Simms, Patagonia, or Vision are more normal and sometimes even a little wider. However, since the measurements for new models change in some cases and the cuts tend to be slimmer, it's always worth taking a look at the measurement tables as a first point of reference! You can also use our size tool to send us your body measurements when ordering and we will check your size selection for you. Or you can contact us by phone and we will be happy to advise you.
Do the supplied waders / wading shoes fit me?
We often get feedback from customers who have never owned breathable waders: The waders are too big! In the consultation, however, it turns out that there is a mistake in thinking about the fit. Because: Waders do not have to fit tightly. Fact is: If a breathable wader is too tight, you won't enjoy it for long, because it will quickly break down. The breathable functional material does not give way and every load is transferred to the seam of a too tight waders, which will then leak sooner or later. Therefore, our tip: If you try on the pants at home, then you should wear a fleece bib or your fleece pants, as well as thick socks. That is, the underwear that you would wear on cold days on the water. This is the only way you can judge the fit correctly. The pants should be a bit too big, rather than too small!
Waders with zipper yes / no?
You are standing in the Baltic Sea, it is raining, no shelter far and wide and you feel the urgent need to let water. At the latest now you would be happy about a zipper on your waders. Because at 1°C and continuous rain there is hardly anything more unpleasant than to take off the wading jacket, waders down, do your business and then pull the jacket back over the wet fleece. At the latest then everything is clammy and you freeze so right. A zipper makes things much easier here! However, we often hear from customers "The zipper is a weak point!"... Based on our experience and with a look at our returns and repairs, we cannot confirm this prejudice. Today's zippers (such as a TiZip) last forever with proper operation and do not cause any problems. In terms of comfort, we recommend zippered models without any restrictions.
If you use a zipper correctly (i.e. either open it all the way or close it all the way and never leave it halfway up), you will have no problems with it. Also, if you want to make it easier to put on and take off your waders, a zipper has many advantages. You simply get in and out faster and easier. Unfortunately, waders with zippers are usually much more expensive. Our secret tip here is Guideline. The pants are affordable, look great and last forever. In addition, many models come with ultrasonic welded seams.
How do I store my waders properly?
After fishing is before fishing. This also applies to the waders. After each fishing session, the waders should have a chance to dry. It is best to hang the pants on a hanger so that they are open at the top and can air out well. Rolling up the sweaty pants and then leaving them rolled up in the car for a few weeks is an absolute no-go. This is because mites will spread inside the pants, they will start to mold and stink, and your warranty claims against the manufacturer will be voided.
You should also avoid humid storage. The garage, basement or carport are not the best places - also because of the risk of damage from rodents.
Even on vacation, when wading gear is in constant daily use, give your gear a chance to dry overnight. Otherwise, the sealing tapes on the footstraps can loosen in the event of "continuous wetness".
How do I care for my waders / wading jacket?
In addition to proper drying, you can give your wading equipment other care. But beware: we strongly advise against washing in the machine! If you feel the need to clean your waders, give them a gentle hand wash in the bathtub using special care products such as REVIVEX Cleaner. And to get the full beading effect back after the mild wash, the REVIVEX waterproofing spray is absolutely recommended. Simply spray on the still slightly wet pants and dry with a lukewarm hair dryer. Done! However, we do not recommend drying in a tumble dryer.
Warranty and service for waders
Despite proper care and proper fit, your waders may break. Now it depends on the manufacturer. Here's an overview of how prominent brands handle warranties:
Guideline and Vision
Guideline and Vision are very straightforward and do not repair waders. You get a new pair of pants for free for up to two years after the date of purchase. Perfect! For example, if a seam leaks after 23 months, you actually get a new pair of pants. For the new pants, however, only the warranty period from the date of purchase remains, so not again 2 years. If you make a hole or a tear mechanically (eg thorns or barbed wire) this is not a warranty case. Small repairs you can make but very well alone, for example, with the products of Stormsure. At the glue experts from England you will find the right product for every repair! We can also help you here.
Patagonia
Patagonia's company philosophy is based on sustainability. Accordingly, waders are repaired in their own service center - if possible. If the pants cannot be repaired, they will be replaced free of charge. So far Patagonia has never looked at a date. Whether the pants are older than 2 years or not: Everything is repaired! Since the repairs are not charged except for the postage costs, Patagonia is from our point of view the winner in the area of service and sustainability.
Simms
For all GoreTex waders (from Headwaters and more expensive) you can use the repair service up to 10 years after purchase. We send the waders to the Repair Center in Norway and take care of the repair. But beware: This service is not free of charge, but will be charged by Simms. And the 10 years are only valid for pants that are still in repairable condition. If you have e.g. 250 fishing days per year, the pants would definitely not be repairable after 10 years. So it happens that on an 8 year old waders for 80€ two new booties are attached and the pants continue to give a lot of pleasure after that. In the end, this is decided on a case-by-case basis. That is: If a Simms wader is sent to the service, then it comes there on the test bench and it is always repaired and charged what is found. For example, it may be that we send the pants in for new booties and so-called pinholes are still removed and charged. Pinholes are micro-holes that are so small that you don't have a wet spot in your underwear, but you feel clammy. These pinholes are mostly caused by going to the water, brush, bushes, etc. With new boots, pinholes and other things can come at Simms just times 150 € and more on you. We have no influence on this and can hardly tell you the exact costs beforehand. A repair at Simms takes 4 - 8 weeks depending on the season.
When does the Simms service no longer apply?
You have mites in your pants
You bought the pants in America
You tried to repair a leaking seam with glue (you can't get the glue off!)
The trousers are ready to wear and a repair is not worthwhile any more
The cheap Simms waders are not repaired but replaced free of charge in warranty cases.