High, cold water and lethargic trout. Fishing at the start of the trout season can be a great challenge. It is therefore all the more important for us fly fishers to be prepared for all possible situations and to try out different techniques. In our latest video on adh-world, we introduce you to the innovative strike indicators from Oros, which have served us very well in tough conditions on the river!
Oros is a young start-up from the US that focuses on solving problems that we fly fishers face in practice on the water. This includes nymph fishing with strike indicators. Because many conventional indicators on the market share the same disadvantages. And this is exactly where the Oros Strike Indicator kicks in!
These round strike indicators from Oros in bright signal colours consist of only two parts, which makes them very easy to attach. So there are no small parts that can get lost on the water. Instead, they have a clever screw mechanism that fixes them to the leader. They also have a streamlined design, which helps make for a smoother cast and is less sensitive to wind. The outside of the Oros Strike Indicators is sleek so the leader can't get caught anywhere and wind resistance is minimised.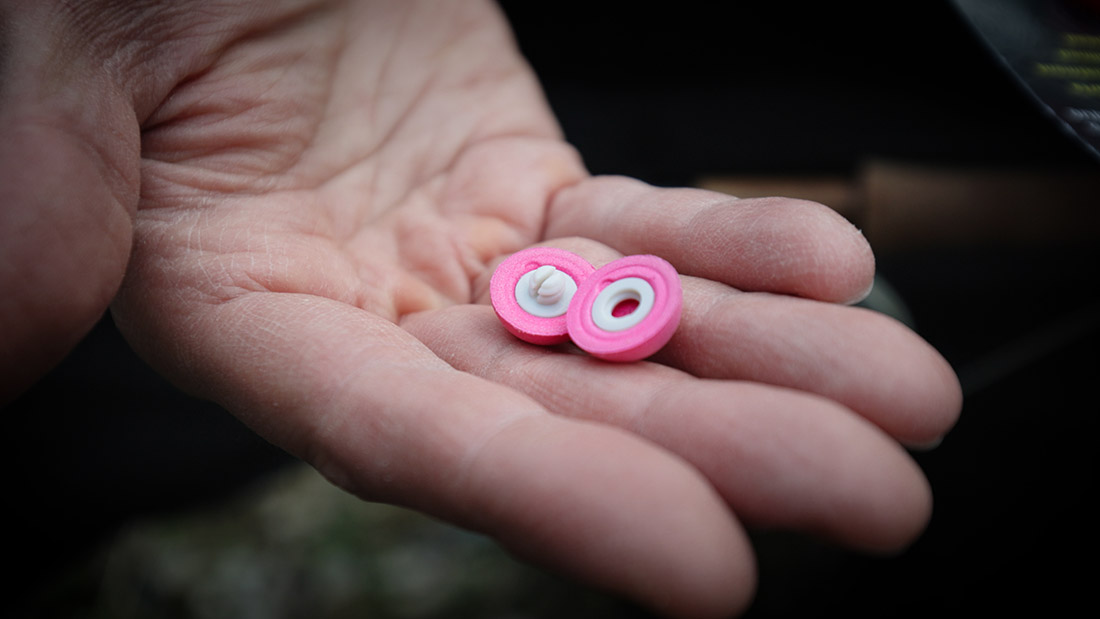 Two halves that form the actual indicator via a sturdy screw mechanism.
Inside the two half-spheres of the Oros strike indicator, which are made of soft foam, is the actual fastening element. Here the leader is inserted and remains intact while fishing and - unlike many classic bite indicators - is not bent. This extends the life of your tippet or leader enormously! The pressure-resistant closure is very easy to use and keeps the Oros Strike Indicator in position. This means you can always be sure you are offering your nymph at the correct depth.
This screwing mechanism is precisely manufactured and allows you to fix the strike indicator even on very thin leaders. With the size "S" rigging it on a 0.14 mm leader was no problem. For those who want to fish even finer, even thinner, we have a great tip: before screwing the two parts together, simply place the leader it once around the thread of the screw. This way, the strike indicator holds bombproof even with the thinnest tippet diameters!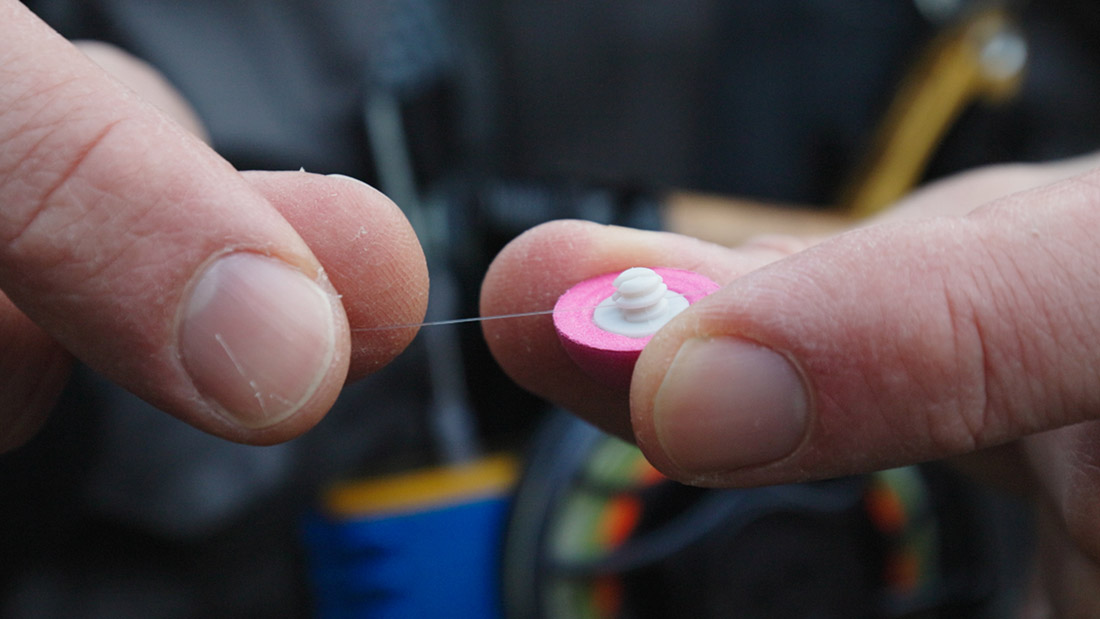 he attatchment of the indicators is self-explanatory: simply put the leader through the slot and screw it shut!
Oros strike indicators come in a range of diameters and colours, so you'll always have the perfect solution for your nymph fishing. The clever, well thought-out design of these indicators makes classic nymph fishing even more fun!
How To Use:
Unscrew top
Place line in screw slot
Screw on top until the screw and nut grips the line
Unscrew 1/4 turn to adjust up or down
Don't over-tighten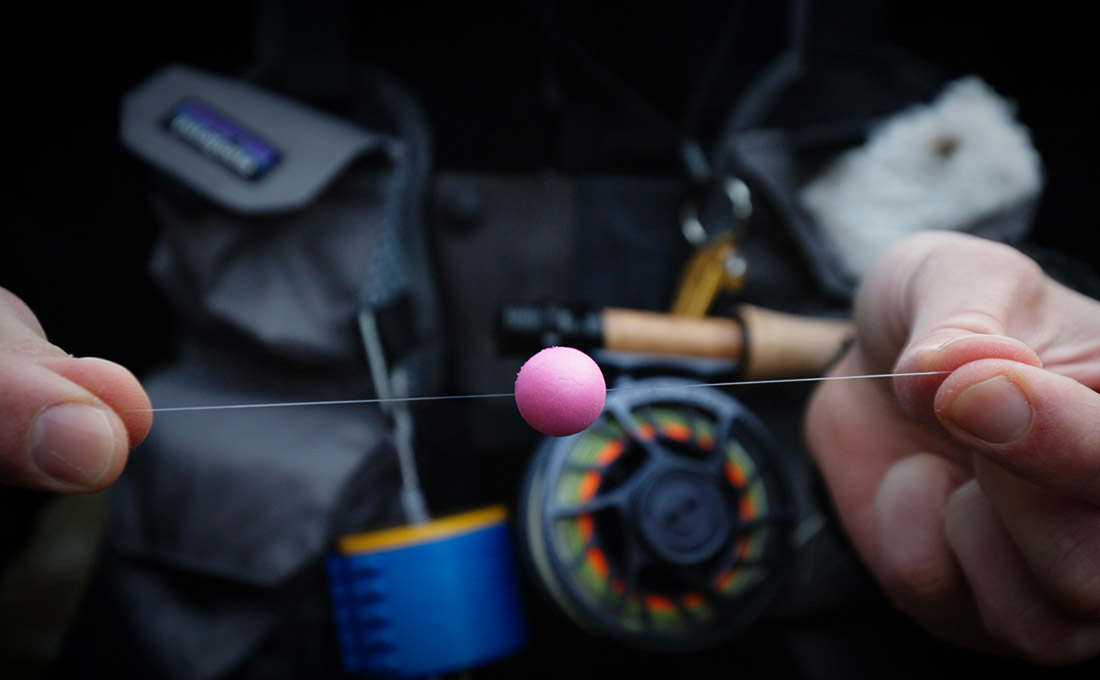 Even on thin leader diameters, the Oros strike indicator sits non-slip.
Our Recommendations:

Small (S): The smallest Oros strike indicators have a diameter of approx. 1.6 cm. This makes them ideal for finer nymph fishing with leaders of 0.15mm and thinner. If you are fishing in the lower line classes and like to fish with 3-weight and 4-weight rods, then this indicator is a great choice.
Medium (M): The medium Oros strike indicators have a diameter of approx. 2.1 cm. They are very versatile and also an excellent choice on fast running waters. Ideal for leaders with a diameter of 0.18mm and thinner and for line classes #3 to #5.
Large (L): The large Oros bite indicators have a diameter of approx. 2.6 cm. This makes them particularly suitable for fishing with heavy nymphs, for example for Barbels or big Trout. They can be best attached to leaders with a diameter of 0.20mm or thinner and cast best with line classes #5 and up. Super for big, deep waters!
The Oros Strike Indicators at a glance:
High-quality strike indicators in brilliant signal colours
No kinking of the leader thanks to a clever fastening element
Special foam for excellent floating performance
Carries significantly more weight than conventional indicators
Smooth surface designed to repel water and dirt and reduce drag when casting
Manufactured with a biodegradable additive that accelerates biodegradation during prolonged exposure to natural environments (not during normal use)
Top and bottom colours can be mixed or matched for optimum visibility
Contents: 3 indicators (pink, orange, white)