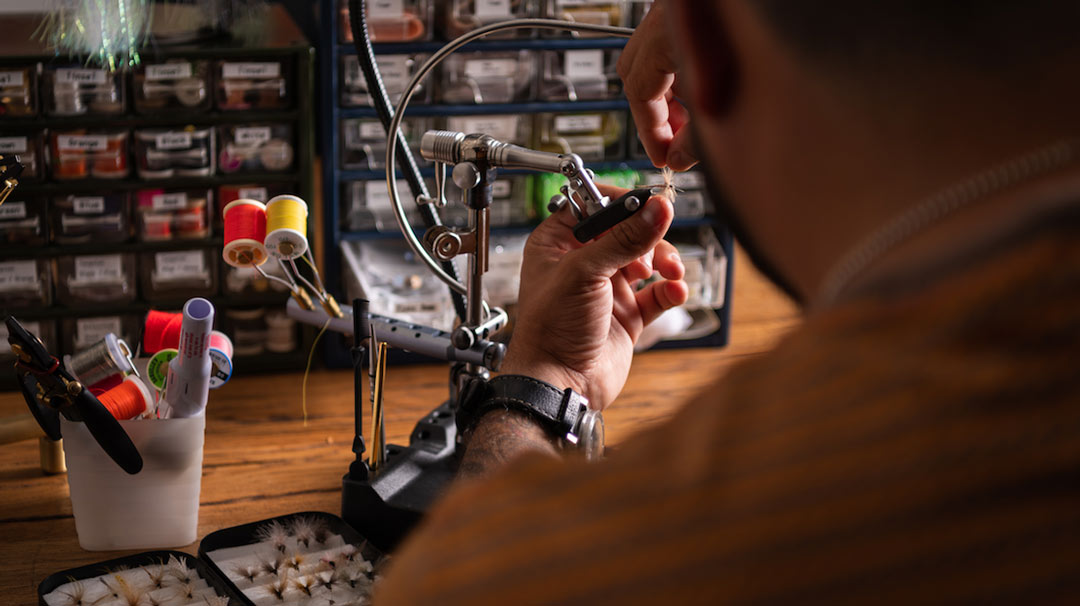 These 10 tools will help you get started in the exciting world of fly tying. We explain which tools you should have on your tying desk and which accessories you really need to tie your own fly patterns.
For many fly fishers, tying their own flies is an inseparable part of fishing. Because catching a fish with your own pattern is something very special! In addition, fly tying not only allows one's own creativity, but also proven flies can be adapted to one's own wishes and requirements. And last but not least, fly tying is a multifaceted hobby that closely connects us with our passion of fishing after work or during off season.
This freedom and diversity of fly tying has led to a large selection of tying materials, tying vices and tying tools on the market today. It is understandable that a beginner in fly tying can lose the overview. That's why we've put together the 10 most important tools that will make your start in fly tying a success. Tying tools whose functionality and quality we are 100% convinced of and which offer you a great price-performance ratio.
1) Fly Tying Vice
The tying vice is the heart of your tying table. It's where you refill your boxes after a long season or prepare for a trip to the water. For many years, the DANVISE tying stick from Danica with base plate was the first recommendation for an inexpensive start into fly tying. Nothing has really changed in this respect! Many well-known tying professionals have tied their first flies on this vice. With the tying vicess from Stonfo there is now an interesting alternative, which is also very convincing in terms of price-performance ratio. First and foremost, the versatile KAIMAN - with which all models, from small hooks for dry flies to strong Pike hooks, can be used securely and firmly. Another plus point: the functional storage area for hooks and beads, which ensures more order at the tying place. And if you are looking for even more flexibility: Make sure to check out the TRANSFORMER by Stonfo!
2) Bobbin
The bobbin is your most important tool and you need it for every fly. It holds your tying thread and with its help you fix all tying materials on the hook. A good bobbin should feel comfortable in your hand, lay down tying thread neatly on the shank, run smoothly and grip spools of different widths. Bobbins where you can adjust the trigger lock and the distance between the side arms are therefore advantageous. The BOBTEC models from Stonfo offer a great price-performance ratio.
3) Tying Scissors
A clean, precise, smooth cut makes it easier for you to work with many fly tying materials. However, the sharpness and life expectancy of cutting edges vary, which is why we strongly advise you to use a quality pair of scissors. Loon offers a wide range of scissors for small and large hands, with long or short blades. You will find exactly what you are looking for! An alternative are the Allround scissors by Future Fly from Denmark, where the tension of the blades can be readjusted. A price-performance tip are our adh-fishing scissors, which are available in different versions and which you can get from us at even lower prices in sets. Whichever pair of scissors you choose: Please do not cut any wire so that you can enjoy your tool for a long time.
4) Whip finisher
A whip finisher is a helpful tool for tying a finishing knot. Whether you are tying a dry fly, a nymph with a bead or a large streamer, this tool will lay the thread neatly and precisely and allow the knot to be pulled tight. Tastes in whip finishers are as varied as the fly patterns themselves. Personally, we prefer a knot tool with flexible wire arms. A simple model from Stonfo is sufficient here for starters.
5) Hackle Clamp
A hackle clamp is not only very helpful when tying dry flies. This tool grips filigree and narrow materials securely - without damaging them. It makes it easier to wind the material (e.g. a hackle) around the hook shank and facilitates interception with the tying thread. A rotating hook clamp has advantages, but it is not a must for the start. We can recommend the Tiemco clamps without hesitation. And of course our adh-fishing clamp, which offers a very attractive price-performance ratio.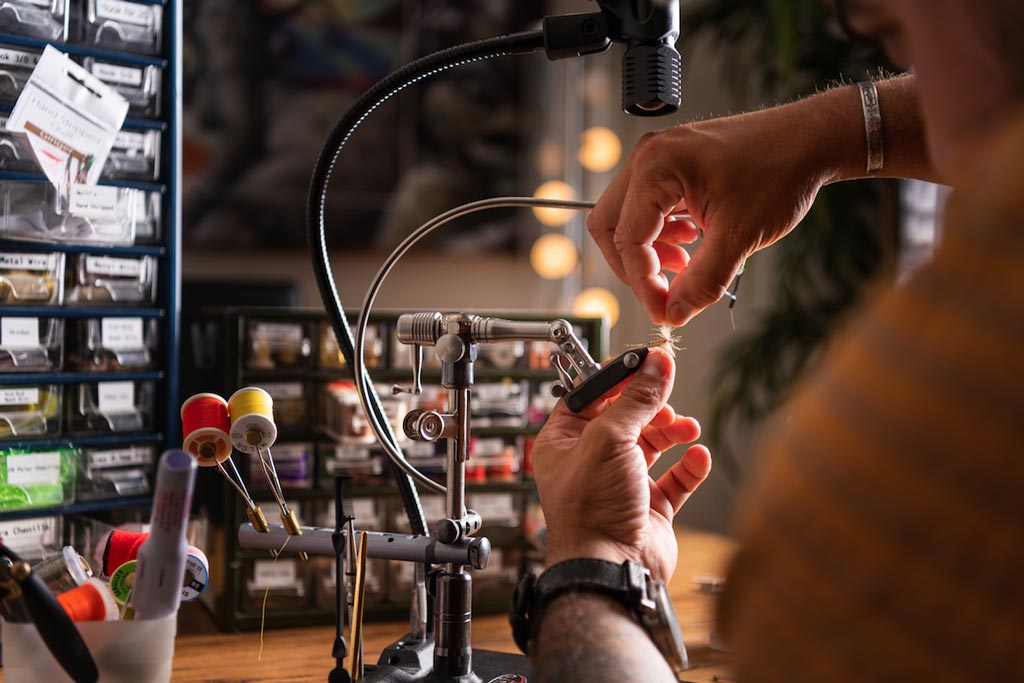 All important tools at hand
6) Dubbing Twister
A dubbing twister is not only used to make a dubbing strand with the tying thread, but can also be used for flash materials. With the help of a wire you can, for example, make great flash hackles for Pike streamers or your own brushes from synthetic fibres. The possible uses are as varied as the dubbing twisters themselves. An all-round solution is the rotating Dubbing Twister from Fly Scene, which comes with different heads. For smaller flies, a model like the Rotodubbing from Stonfo is also sufficient.
7) Material Clamp
A material clamp is very practical - for CDC feathers, for example, but also for flash materials etc. These clamps are a great help whenever you want to grab and cut or process material. A set of clamps of different sizes (e.g. from Fly Scene or Stonfo) has the advantage that you always have the right width for your material at hand.
8) Brush/Comb
After tying, it is advisable to brush out the dubbing or other tying material for many patterns. Only then can a natural look be created, for example on the legs of a Gammarus or the body of a shrimp. Some materials also want to be brushed because they get twisted or caught during tying. A 2-in-1 tool like the one from Stonfo is therefore very practical. For larger streamers (e.g. for Pike) we recommend a stronger comb instead - such as from Loon or Pike Monkey.
9) Needle
A needle is a versatile tool in fly tying. A thin needle can be used to precisely apply thin glue or varnish, for example to strengthen the back of a nymph or to secure the finishing knot. In addition, a pointed, sturdy needle (e.g. from Petitjean) can be used to loosen jammed materials or to trim dubbing before brushing. The applications are very diverse! A glued needle made of sturdy stainless steel can easily be burnt free with a lighter.
10) UV Lamp + UV Glue: Even if a UV lamp is not a tying tool in the strict sense, a UV lamp should be part of a fly tyer's equipment. Working with UV glue and an appropriate UV lamp makes many steps easier and saves a lot of time with many fly patterns - for example compared to working with epoxy. The selection of different UV adhesives from Gulff as well as a powerful UV laser from Fly Scene offer a very good price-performance ratio.
Also interesting are sets that already contain the most important tools for tying flies. The sets from Stonfo or Loon, for example, form a very good basis. And if you're looking for something a little more sophisticated, you should check out the Japanese company C&F Design.
Equipped with these 10 tools, the wide world of fly tying is open to you. We wish you lots of fun and creative hours at the stick desk!
Take a look at our fly tying videos on adh-world too. You'll find lots of inspiration and catchy patterns there! And if, over time, your tying materials grow too big for you, we recommend our TOP10 accessoires to keep your tying area organized.