Sensitive, light, fast. Three characteristics that perfectly describe Centric fly rods from Scott. We tested the flagship of the American premium manufacturer for you on the Grayling River and present an absolute dream combination for dries and nymphs in this video.
The Scott Difference
Fly rods from Scott have long been among our absolute favourites due to their perfect workmanship and timeless, classic look. For over 40 years, the rod makers at Scott have pursued the goal of perfecting design and craftsmanship. Every Scott rod is unique and handmade with great attention to detail. The unwavering commitment to every step of the manufacturing process can be felt in each and every rod, which is made in the workshop from the finest quality custom graphite material. Each rod guide is precisely hand wrapped and each blank fitted with the best components on the market. Proudly and confidently, the American rod makers therefore speak of 'The Scott Difference'.
Yes, Scott rods are different! Already visually they differ from many rod series of other manufacturers. For example, through their unpolished blank, the very minimalist decorative wraps or the filigree lettering, which is applied by hand with ink and brush. The Scott Centric is a particularly good example of 'The Scott Difference' and therefore the centrepiece of our premium combo that we have put together for our Grayling fishing in fall.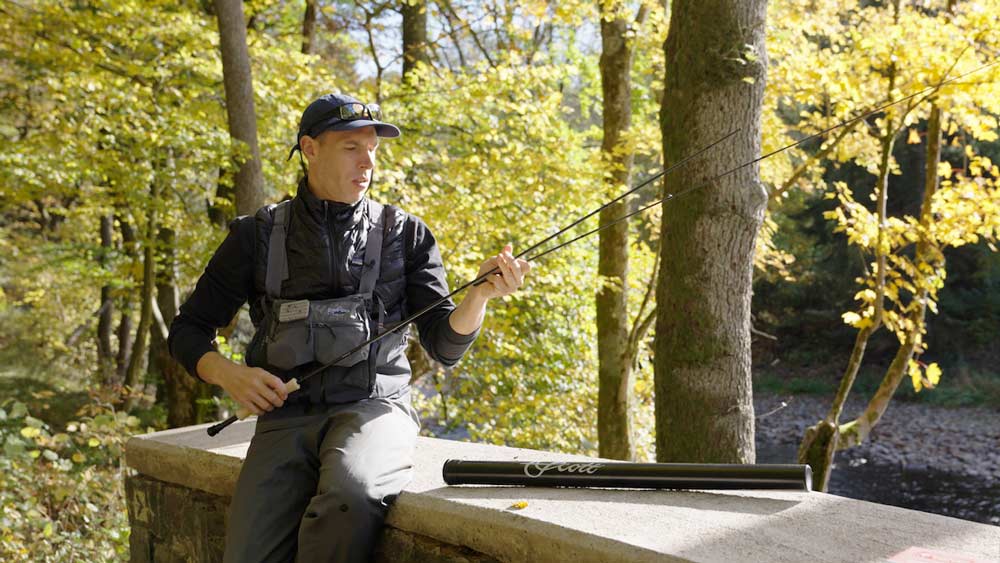 The Scott Centric in test
Scott Centric
The Centric series is the successor to the legendary Scott Radian, which for years was one of the most popular (trout) rods in the premium segment. The unique fast, lively action of the Radian is also found in the Centric models, but the successor has even more feel and is therefore, in our opinion, even better suited for very sensitive fishing with long, thin leaders and small flies. Perfect for our autumn fishing! Because here we often have to deal with cold, clear, low water and especially when Grayling fishing it is important that small patterns are presented precisely and accurately. Tiny CDC dry flies are used on such days as well as nymphs in hook sizes #14 to #18, which become especially important when the Grayling refuse to rise on small mayflies or the last larger caddis flies of the year and instead stand close to the bottom and pick up small insect larvae.
In our test, this is one of the Centric's key strengths. It is extremely versatile and can be fished extremely reliably with a wide variety of rigs, while its lightness and liveliness make it a lot of fun. Even in strong autumnal winds, which make presentation difficult, the Centric performs without restrictions and offers excellent casting control - both at close range and at distance.
It is precisely under these difficult conditions that Scott's innovative technologies, which are used in all models of line classes 4 to 7, become noticeable:
ReAct Technology: It ensures a very high recovery speed of the rod and leads to minimisation of vibrations. The result is an impressive casting feel - both on overhead casts and water contact casts.
Carbon Link Technology: It ensures a very stable yet extremely light blank. Even lighter than the Radian! The result is efficient and fatigue-free casting with maximum precision.
X-Core Technology: This is a special construction of the blank. This unique combination of stability and a great casting feel is already noticeable in our line class 4 test, but becomes even more apparent in the higher classes. In combination with the unique FiberFuse Resin, which ensures a more than 20% stronger connection of the individual blank layers compared to conventional resins, extremely robust rods are created. This is why the Centric in line classes 5 to 7 is extremely well suited to casting weighted streamers and taking on strong fighting predators. As a Sea Trout rod, or as a reliable tool for Perch, Zander, Asp and co. we can absolutely recommend the Scott Centric!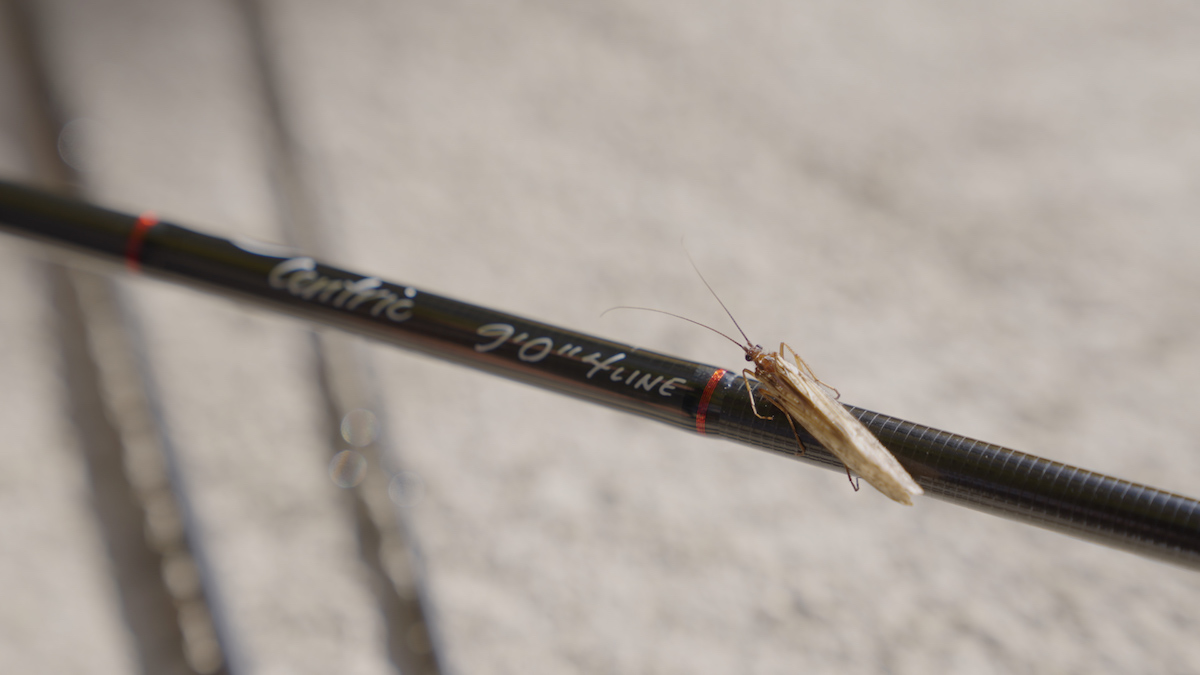 The typical Natural Finish from Scott
In addition to these special features of the Scott Centric, it is also the high-quality equipment features that make this series so special. These include:
Titanium guide ring with extremely smooth zirconia inlay
Exclusive Snakebrand snake rings for best shooting characteristics when casting
Milled aluminium reel seat with Mil-Spec III anodisation with matt black finish
Full-Wells handle made of premium quality cork
The Full-Wells grip is typical for Scott and most other American rod manufacturers, while with European companies in the lower line classes we often find a cigrar shape instead. Full-Wells grips are basically better suited for the thumb position, which is much more popular in the USA. But the slim handle can also be handled very well with the index finger.
For our premium combo we have combined the Scott Centric with a reel that perfectly balances the light rod blank and with its extremely fine brake allows the use of the finest leaders and tippets: the Speedster S from Waterworks Lamson.
Waterworks Lamson Speedster S
The Speedster series from Waterworks Lamson is legendary and we like the latest generation even more with its fresh, revised look. With its super-arbor design, this reel allows extremely high line retrieve speeds and inspires us with an innovative construction method.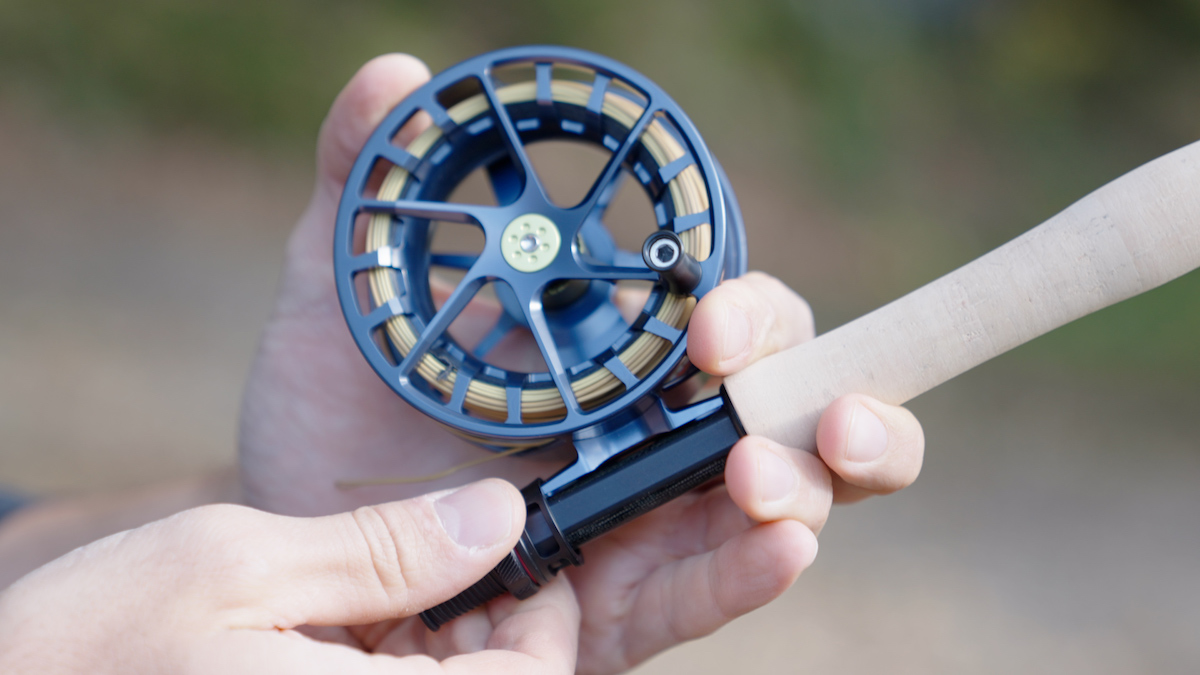 Perfect Match - Speedster S and Scott Centric
Compared to its predecessor, the reel now has a slightly narrower design with an increased diameter and has saved valuable weight overall. Therefore, the 5+ (which weighs only 108 g) also fits very well on our Centric in line class 4 and offers a suitable balance to the rod length of 9 ft. (approx. 274 cm). The inboard reel handle, which is moved slightly inwards (obviously), feels great in the hand and creates an increased gear ratio, which we found very pleasant in the test. The result of Waterworks Lamson's innovative lightweight construction method is a very filigree but equally stable reel. All edges are perfectly machined and all gaps are perfect. The open super-arbor design not only leads to a fast drying of the line, but it also reduces possible memory in the line to a minimum. This is especially interesting when temperatures drop - for example in cold water in autumn or when fishing on the coast for Sea Trout from October to April.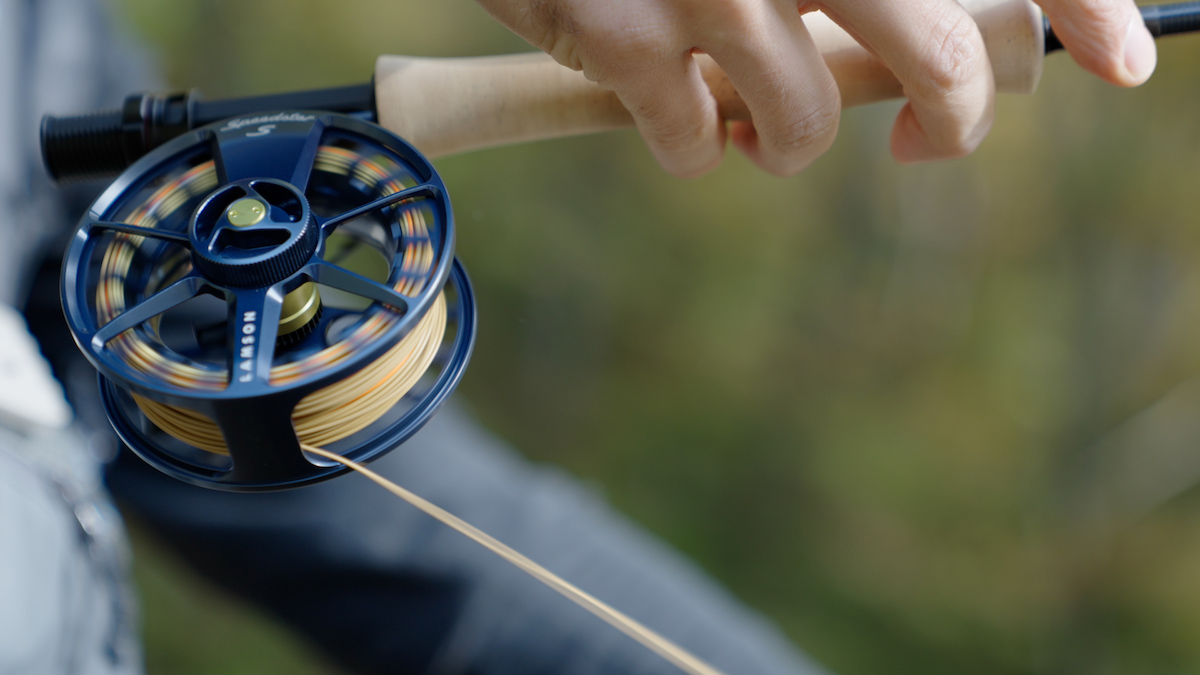 Smooth brake and super-arbor design
In addition to the design, weight and appearance, it was the braking system of the Speedster S that was so interesting to us. The extremely proven Sealed Conical Drag System from Waterworks Lamson ensures smooth drills. This completely closed and extremely reliable braking system is known for its very low starting resistance and absolutely jerk-free line release - which in practice means that you can fish with very fine leader tips without any problems. By the way, the same brake system is also used in all other premium reels from Waterworks-Lamson and is therefore also prepared for absolutely exceptional fish and tough fights. All in all, this is a reel that is highly recommended in the higher line classes, even for strong predators!
Scientific Anglers Amplitude Smooth Dynamic
To complement our Scott Centric, we opted for a universal floating line with a medium-length head for the challenging autumn fishing. The Amplitude Smooth Dynamic from Scientific Anglers not only matches the colourful scenery on the banks of our Grayling river thanks to its three-colour coating (bamboo, orange, brown), but also meets all the requirements we have for a high-end line for the accurate presentation of dry flies and nymphs with long leaders.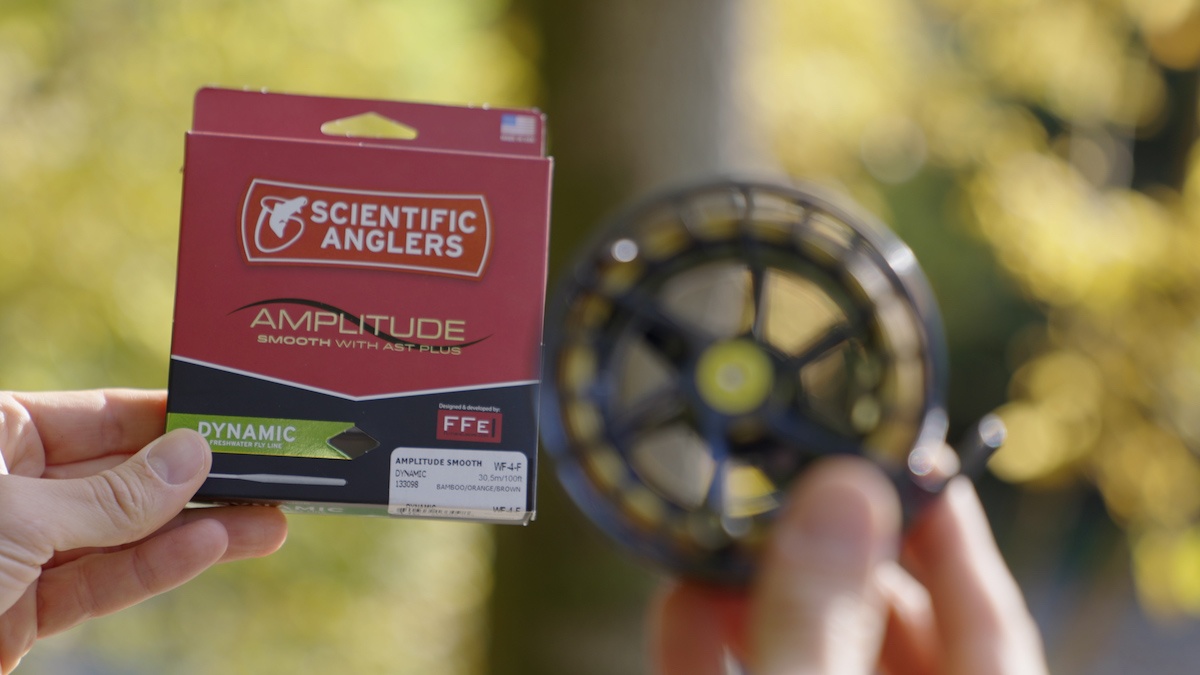 Amplitude Smooth Dynamic with AST+ Technologie
All Scientific Anglers Amplitude Smooth fly lines have a relatively smooth line surface with a fine texture that glides whisper-quietly through the rod rings. For those who are not 100% comfortable with the rougher textured Amplitude series due to noise, the Amplitude Smooth offers a very interesting alternative. Like the other Amplitude fly lines, the Amplitude Smooth series is also equipped with AST+ technology (Advanced Shooting Technology). An additive that is incorporated into the line and ensures a flawless surface even after long use. This is made possible by diffusion, i.e. the additive can migrate from the inside of the coating to the outside and constantly maintain the surface - similar to the self-lubrication of human skin. Scientific Anglers is talking about a line that not only stays smooth for 60 % longer, but also causes 40 % less drag than comparable lines on the market. Whether the percentages are correct or not: in our test, the line convinced us in all respects! The floating texture of the line shows in a very high drift on the water and you notice that this line is very easy and clean to lift off the surface and super easy to mend. This is especially important when fishing with fine dry flies for shy fish!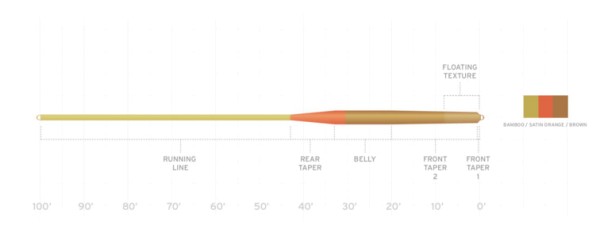 Besides the innovative technology of the coating, the Amplitude Smooth Dynamic convinced us above all because of its special taper: The construction of the head was developed by the Trout experts from FFE in Norway (Fly Fish Europe) and enables very sensitive overhead casts. A very nice, tight loop can be formed with minimal effort and the Dynamic also offers great performance on roll and spey casts. Without much space and with little false casting, dry flies and nymphs can be presented to the point. And even in autumnal headwinds during our test, the line was able to load the fast Centric Blank without any problems. A gentle double haul and above all the powerful front taper of this line make it possible to serve even extra long leaders with ease. A big plus for tricky fish! The rear taper is coloured orange, which provides visual feedback and orientation while fishing. We also liked this very much and it is a great help for accurate casting timing, especially for beginners.
With a head length of approx. 12.8 m and a weight of approx. 11 g (approx. 8 g on the first 9 m), the Amplitude Smooth Dynamic from Scientific Anglers fits our Centric in line class 4 like a glove. Two third of the total belly length is already enough to form a very harmonious loop. However, if you fish primarily at close range and particularly like to fish in high sticking style with the dry fly (e.g. in pocket water), you can confidently go up a line class and overload the rod blank very slightly. This gives you even better feedback from the rod and you can cast even more efficiently with less line.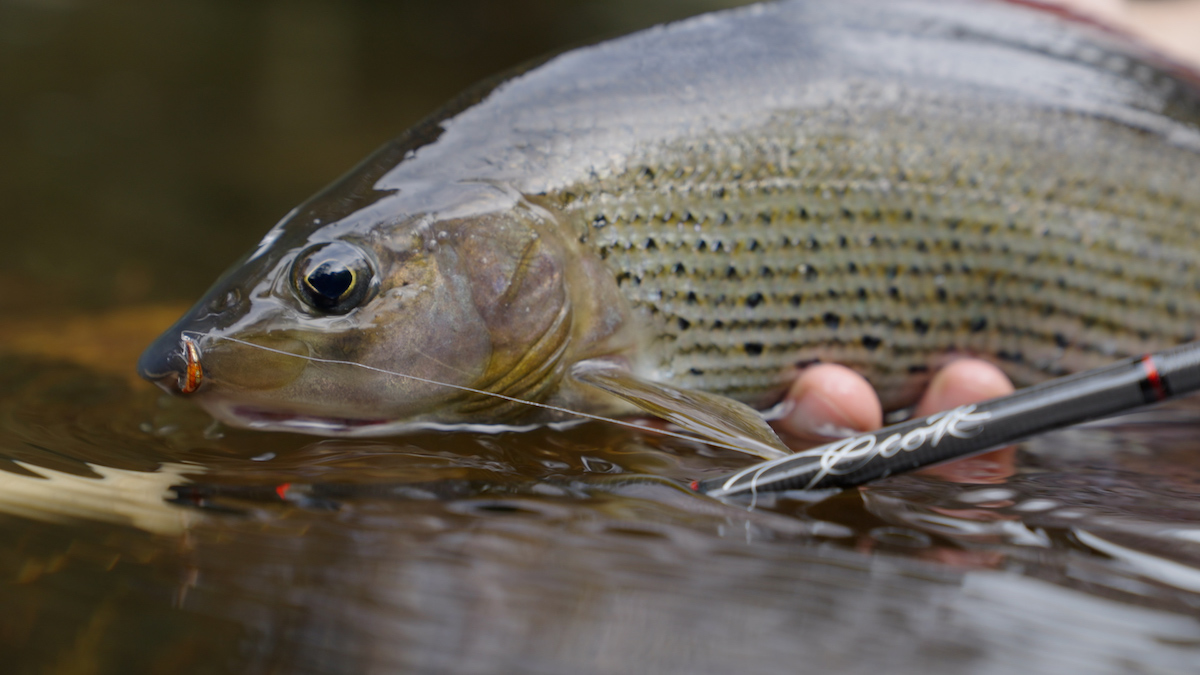 Fine presentation with small dry flies and nymphs
Our Conclusion

The combination of Scott Centric, Waterworks Lamson Speedster S and Amplitude Smooth Dynamic Freshwater from Scientific Anglers is one of the best on the market - if you are targeting Trout, Grayling and similar species on the river. Rod and line harmonise perfectly in our test and are an ideal choice when fine presentation is required. In line class 4, the Scott Centric is extremely versatile and, in addition to a lot of sensitivity and light-weight liveliness, offers an enormously high fun factor when casting and when fighting a fish. If you can do without casting very heavy streamers, this is the line class for you! For all others, there are line classes 5 or 6, and here we recommend a line with a slightly shorter belly. For our Grayling fishing, however, the Amplitude Smooth Dynamic was ideally suited because it presents very accurately, mends and lifts silently off the water. The high-end reel from Waterworks Lamson not only fits our setup in terms of weight and is a lot of fun to look at, but its ultra smooth brake allows you to fish with the finest leader tips without any problems. The smooth sound of the drag is like music to the ears when a nice Grayling takes the fly. Another plus point of the Speedster S: Due to its super-arbor design, it is very versatile and can also be used on higher line classes without hesitation. With the matching E-spool you don't have to change lines and you can easily cover line classes 4 - 6 with one reel.

If you are looking for an absolute high-end solution for Trout and Grayling fishing, our dream combination is the perfect choice without any restriction!