Article successfully added.

Cortland Competition MK II Nymph Rod Single Handed Fly Rod

Cortland Competition MK II Nymph Rod Single Handed Fly Rod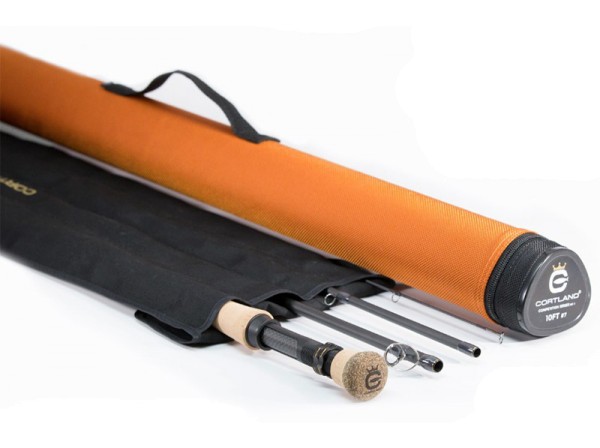 Cortland Competition MK II Nymph Rod Single Handed Fly Rod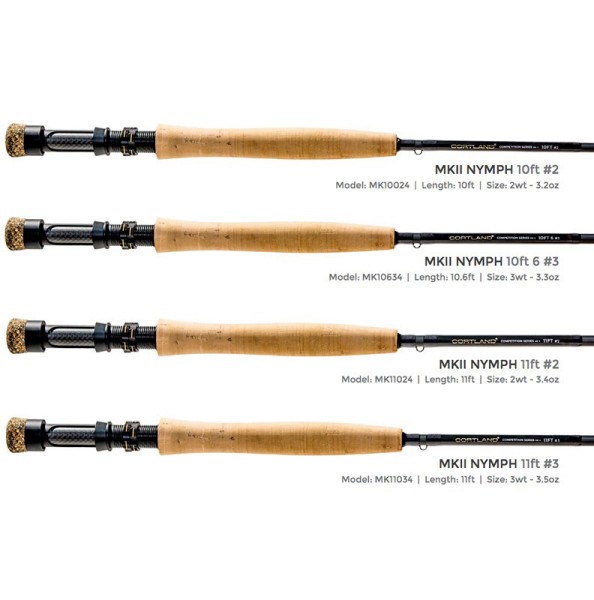 Cortland Competition MK II Nymph Rod Single Handed Fly Rod
10% EXTRA on On-Sale Products (Summer Sale)

Deal valid until 06.07.2022 and while stocks last. The EXTRA discount will be displayed in your Basket.
*1
*1 Offer valid until 07/07/2022
Cortland Competition MK II Nymph Rod Single Handed Fly Rod
The Cortland Competition MK II nymphing rod has been developed in collaboration with internationally competing fisherman from both Europe and the U.S. in order to create a specialized state of the art fishing rod. Already the first prototypes of the second generation Cortland nymphing rod showed off in the 2016 world championship held in Colorado where they caused quite a stir. Compared to the first generation Cortland nymphing rod the MK II shows major improvements when it comes to blank characteristics, component quality and cosmetics.
Just in time for the season opening 2018 Cortland officially released the MK II setting new standards in ultra-sensitive nymphing techniques. The most significant improvement of the MK II is the new high modulus blank that allows unprecedented bite indication and control over the drift. While still showing the sensitivity of its predecessor the MK II now has a much more crispy action and a much stronger butt section for increased lifting power when fighting trophy trout or feisty barbel. The very flexible yet fast recovering tip transfers vibrations and hits right into your index finger and at the same time smoothens the leader for increased casting accuracy and line control during the drift. The MK II comes with a high quality full wells handle and a composite cork fighting butt. The down-locking reel seat of the MK II vastly improves the rods balance and makes upsizing reels unnecessary – only very few nymphing rods come with down-locking reel seats. The MK II has got it and makes effortless high-sticking techniques possible! Further improvements can be found in the guide layout which has been improved in order to minimize slack between guides for enhanced bite detection. Very subtle golden accents decorate the plain black, blank that remains unvarnished for maximum feedback, agility and weight reduction.
The Cortland Competition MK II combines ideal blank characteristics with purposeful assemblage of components to create a very functional, good looking stick that will satisfy hardcore nymphing enthusiasts all over the globe. We've been lucky enough to be able to test the prototype of the MK II throughout the first season. Unable to report on a single negative point about the rod we are looking forward to finally fish the finished rod for seasons to come, dead serious!
Our recommendations:
#2 10ft.: Ideal for ultra sensitive presentations in small to medium rivers. Also great for fishing ultra-light hopper-dropper rigs.
#2 11ft.: A superb choice for fishing grayling and trout with light nymphs – a favorite if space allows it!
#3 10,6ft.: The most versatile model that supports all techniques and river types – hard to beat that one!
#3 11ft.: Fist choice for medium and large rivers where range and long drifts are key. Insane amounts of backbone to help land trophy trout and large barbel.
Details:
Long specialized rods tapered for modern nymphing
Loads of feel and feedback for maximum bite detection and accurate presentaions
Premium portuguese cork handle
Fighting Butt composite-cork
Light weight single foot guides
Subtle design
Black unvarnished blank for quick recovery and agility
Downlocking real seat for improved rod balance
Perfect dampening to protect fine tippets
Reduced swing weight compared to the MK I
Delivered in a cordura rod tube with rod sock
| Model | Class | Length | Handle | Transport Length |
| --- | --- | --- | --- | --- |
| MK1002-4 | 2 | 10 ft (3,04 m) | Half Wells / Fighting Butt | 86,5cm (81cm ohne Rohr) |
| MK1063-4 | 3 | 10,6 ft (3,23 m) | Half Wells / Fighting Butt | 95cm (88cm ohne Rohr) |
| MK1102-4 | 2 | 11 ft (3,35 m) | Half Wells / Fighting Butt | 95cm (88cm ohne Rohr) |
| MK1103-4 | 3 | 11 ft (3,35 m) | Half Wells / Fighting Butt | 91cm (85cm ohne Rohr) |