Article successfully added.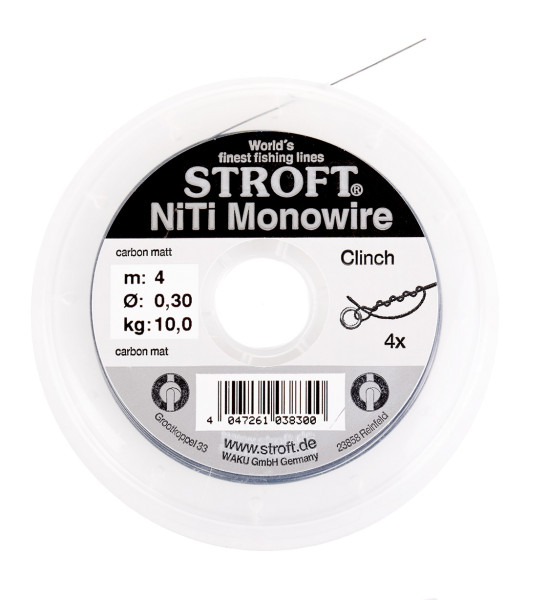 Stroft NiTi Monowire - knotable nickel titanium leader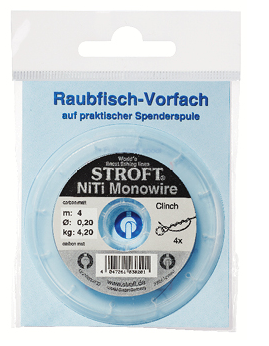 Stroft NiTi Monowire - knotable nickel titanium leader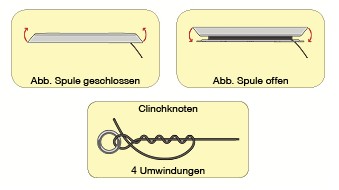 Stroft NiTi Monowire - knotable nickel titanium leader
15% on G.Loomis, Hardy, Einarsson, Mako, Galvan, Stroft and Monic (Black Week)

Deal valid until 30.11.2023 and while stocks last. Also valid for on-sale items. The (extra) discount will be displayed in your Basket.
Browse all Black Week Deals for Fly Fishing.
*1
*1 Offer valid until 01/12/2023
Stroft NiTi Monowire - knotable nickel titanium leader
Stroft NiTi Monowire is a monofilament, knotable nickel-titanium bite wire for pike, barracuda and other toothy predators. The alloy has been specifically adapted to the needs of modern predator fishing - memory free, superelastic, reliable and strong.
Stroft NiTi Monowire is easy to clinch knot making crimping sleeves and forceps redundant up to a diameter of 0,30 mm. The superelastic properties of the alloy reduce memory to almost nothing and allow the line to retain its original shape even after countless attacks and snags. Euipped with a low-reflex surface NiTi Monowire allows subtle presentations. The strength and actual knot-strength of the material are nothing short of fantastic and certainly stand up to the high standarts of Stroft. Delivered on a practical spool with plastic seal that stops the line from gliding off.
Stroft NiTi Monowire offers top noth performance and will be our go-to leader when targeting toothy predators!
*NiTi Monowire is a stiff monofilament leader material and an excellent choice fo articulated Streamers and stinger hook rigs because it is not prone to tangling compared to multifilament, more supple leader materials.
Details:
Knotable Nickel Titanium bite wire
Superelastic: retains original shape
Memory free
Sufficient stretch: 8%
High strength and knot strength
Anti-reflection surface for subtle presentations
Easy to clinch knot up to 0,30mm (above crimping sleeves are recommended)
| Diameter | Strength (linear) | Strength (Clinch-Knot) | Length |
| --- | --- | --- | --- |
| 0,12 mm | 1,3 kg | 1,3 kg | 4 m |
| 0,14 mm | 1,6 kg | 1,6 kg | 4 m |
| 0,20 mm | 4,2 kg | 4,1 kg | 4 m |
| 0,30 mm | 10 kg | 9 kg | 4 m |
| 0,40 mm | 20 kg | 20 kg | 3 m |
About Stroft:
Established more than 45 years ago, the German manufacturer Stroft is known for high-quality fishing lines – made in Germany! This impressive selection includes the perfect leader material for all kinds of fly fishing and spin fishing techniques – whether mono, fluorocarbon or titan. In addition, Stroft also offers premium braided lines and running lines. In fact, all of these lines have one thing in common: their outstanding quality with absolutely no imperfections. Therefore, these lines are an extremely reliable connection between you and the fish of your lifetime!