Article successfully added.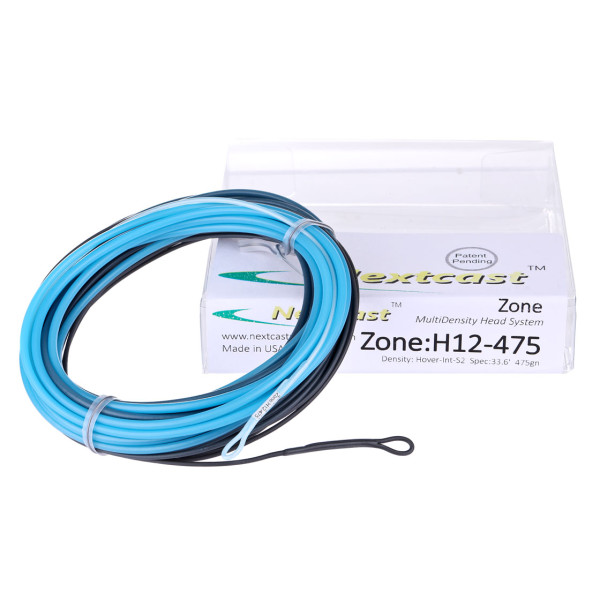 Nextcast Zone 3D H12 Shooting Head Hover/Intermediate/Sink2
Nextcast Zone 3D H12 Shooting Head Hover/Intermediate/Sink2
Nextcast Zone 3D H12 Shooting Head Hover/Intermediate/Sink2
The shooting head systems from NEXTCAST are becoming increasingly popular. Especially among ambitious salmon and steelhead anglers, a true hype has been ignited in recent years around the well though-out shooting heads. We have also learned to love the adapted, user-friendly tapers and let the terrific casting characteristics put a smile on our faces every time. In addition to the very popular two-handed shooting heads and the matching tips and running lines, the extensive collection also includes very successful lines for modern streamer fishing for trout. We especially like the fact that you can definitely find the right line for every casting style and water condition in the Nextcast range.
Nextcast Zone
This line has become Nextcast's absolute top seller in recent years. Why? Quite simply, this line is as universal and user-friendly as a two-handed line can be. Nextcast itself calls this shooting head rather a hybrid between Scandi and Skagit. The power and power transmission of a Skagit with the graceful presentation characteristics of a Scandi shooting head. This is mainly due to the special taper design of the line. Lots of weight in the back of the head, so the rod loads effectively with minimal effort. But more importantly, this line gets you closer and faster to the fish because you have to think less when casting, you save energy and can focus solely on the fly in the water. It doesn't matter which casting style you prefer. Even beefy T-tips can be cast effortlessly due to the efficient energy transfer.
Zone 3D
With the Zone3D, Nextcast literally "seamlessly" follows up on the success of the Zone2D by offering a completely connection-free 3D system. These Zone "singlepieces" require no sink tips and work perfectly "out of the box". The seamless transition between sinking rates provides an even cleaner casting feel, allows for more energy transmission and more beautiful presentations. In addition, choosing the right casting weight is even easier, because all the weight to perfectly load the rod is completely contained in the shooting head. No extra tip is needed! But also with the 3D lines it was especially important to Nextcast to deliver the right line for every conceivable situation. From full-floating all the way to sink6/sink8/sink10, everything is covered. From brutal spring fishing with heavy sinkers in cold high water to fine summer fishing with long leaders, everything is covered. Just add a leader and go!
Details:
Compact two-handed shooting head
Hybrid between Scandi and Skagit
Powerful taper for effective casts
Can be used with all casting styles
Multidensity: 3 graduated sinking rates for a more homogeneous sinking behavior
Ready-to-fish: no extra tip needed
Available in many densities
Easy handling
Reliable, welded loops at both ends
Line-ID: A unique label for quick and easy identification of the line - confusion impossible!
| Weight | Length |
| --- | --- |
| 400 grains (25,9 g) | 9,5 m (31,2 ft.) |
| 425 grains (27,5 g) | 9,8 m (32 ft.) |
| 450 grains (29,2 g) | 10 m (32,8 ft.) |
| 475 grains (30,8 g) | 10,2 m (33,6 ft.) |
| 500 grains (32,4 g) | 10,5 m (34,4 ft.) |
| 525 grains (34,0 g) | 10,7 m (35,2 ft.) |
| 550 grains (35,6 g) | 11 m (36 ft.) |
| 575 grains (37,3 g) | 11,2 m (36,8 ft.) |
| 600 grains (38,9 g) | 11,4 m (37,6 ft.) |
| 625 grains (40,25 g) | 11,7 m (38,4 ft.) |
| 675 grains (43,7 g) | 12,2 m (40 ft.) |
| 725 grains (47,0 g) | 12,6 m (41,6 ft.) |
| 775 grains (50,2 g) | 13,2 m (43,2 ft.) |
| 825 grains (53,5 g) | 13,6 m (44,8 ft.) |
adh-world
Our Test on adh-world
"We have tested the shooting heads intensively on the water and together with Stephan Dombaj and Simen Strømhylden (Nextcast Europe) we give you a comprehensive overview of the versatile fly line systems from Nextcast in our extensive blog post incl. video."
About Nextcast:
As in every season, the lines from the American manufacturer Nextcast cause a sensation along salmon rivers all over the world. Due to their truly innovative design, they offer absolutely amazing and very unique casting properties. First of all, they are surprisingly easy to cast. Furthermore, their extremely powerful casting properties always allow a successful presentation – even in challenging conditions. In addition to the very popular double-handed shooting heads, matching tips and running lines, this large collection also includes fantastic lines for targeting trout with streamers. These lightweight shooting heads have a lot in common with their larger relatives – but in a much smaller dimension. Like all Nextcast lines, they allow a new level of efficiency, which will easily please the most demanding fly fishermen.