The shooting head systems from NEXTCAST are gaining increasing popularity. Particularly among ambitious salmon and steelhead anglers, there has been a true hype surrounding these well-thought-out shooting heads in recent years. In addition to the highly popular double-handed shooting heads, as well as the matching tips and running lines, the extensive collection also includes very successful lines for modern streamer fishing for trout. We extensively tested the shooting heads on the water, and in our latest video, together with Stephan Dombaj and Simen Strømhylden (Nextcast Europe), we provide a comprehensive overview of the versatile line systems from Nextcast.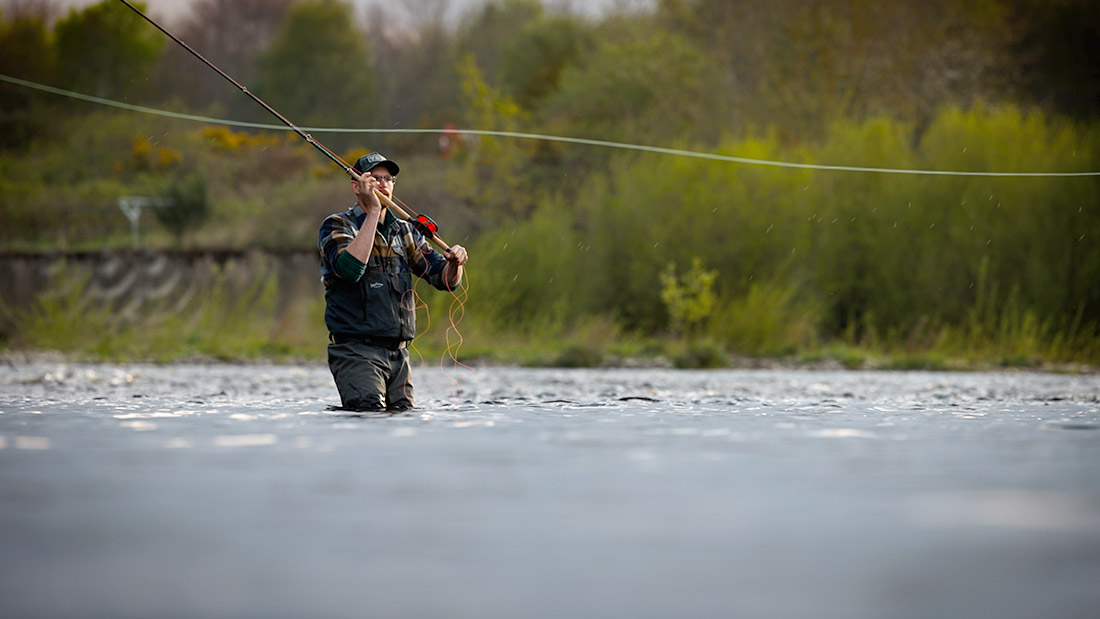 What makes two-handed fishing particularly interesting for many is the casting technique. Nextcast offers a product range that caters to every casting style and purpose, providing the perfect shooting head for each.
The use of shooting heads in fly fishing for salmon, sea trout, steelhead, and other species has become indispensable today. Two-handed casting with a well-matched shooting head system is not only incredibly fun but also highly effective, allowing for versatile adjustments to quickly respond to different conditions. And that's precisely why Nextcast's lines have caused such a stir in the spey fly fishing scene in recent years! The extensive range of lines truly covers every imaginable shooting head fishing scenario. After all, the constantly growing shooting head lineup includes over 350 different products, a number unmatched by any other manufacturer in the market!
The creative mind behind Nextcast is Simon Hsieh, a two-time Spey-O-Rama casting champion and long-time line designer. Simon has been developing Spey lines tailored to his own needs for many years. To meet the specific requirements of two-handed anglers around the globe, he has collaborated with the expertise of renowned fly fishermen. The hallmarks of Simon's lines are their excellent casting behavior, precise tracking, and superb turnover, even under demanding conditions. These qualities are evident in all Nextcast lines and immediately noticeable on the water. The passion for two-handed fishing particularly stems from the love for Spey casting, so it's no wonder that the competition lines of the two-handed world champions in various disciplines have frequently come from Nextcast.
An Overview over the Nextcast Shooting Heads:
Nextcast's product range is as wide as hardly any other manufacturer in the shooting head market. On the one hand, this is fantastic when it comes to finding the right line for the intended use. On the other hand, it can quickly become confusing and overwhelming. Therefore, we want to shed some light on the matter and make it easier for you to choose the appropriate shooting head for your type of fishing.
CORE: Short and powerful:

Core16: The Core16 shooting heads are the shortest two-handed lines in the Nextcast lineup. They are particularly suitable for situations where you need maximum power and maximum turnover with limited backspace.
Core23: The Core23 shooting heads are the ideal all-around Skagit lines. They are suitable for situations where you need maximum power and maximum turnover while also aiming for considerable distances.
Thanks to the available sinking rates, with the Core shooting heads you can find the appropriate line for every situation where Skagit heads are used. All Core lines offer the ability to handle very heavy sink tips and large flies without much effort. Sink tips ranging from 15-18 ft. up to T20 and bushy or weighted flies can be easily transported with these lines, providing user-friendly handling even in challenging water conditions.
Note: All Nextcast Core lines should be combined with a tip for optimal performance. The weight of the tip is also relevant for the final casting weight to perfectly load the rod.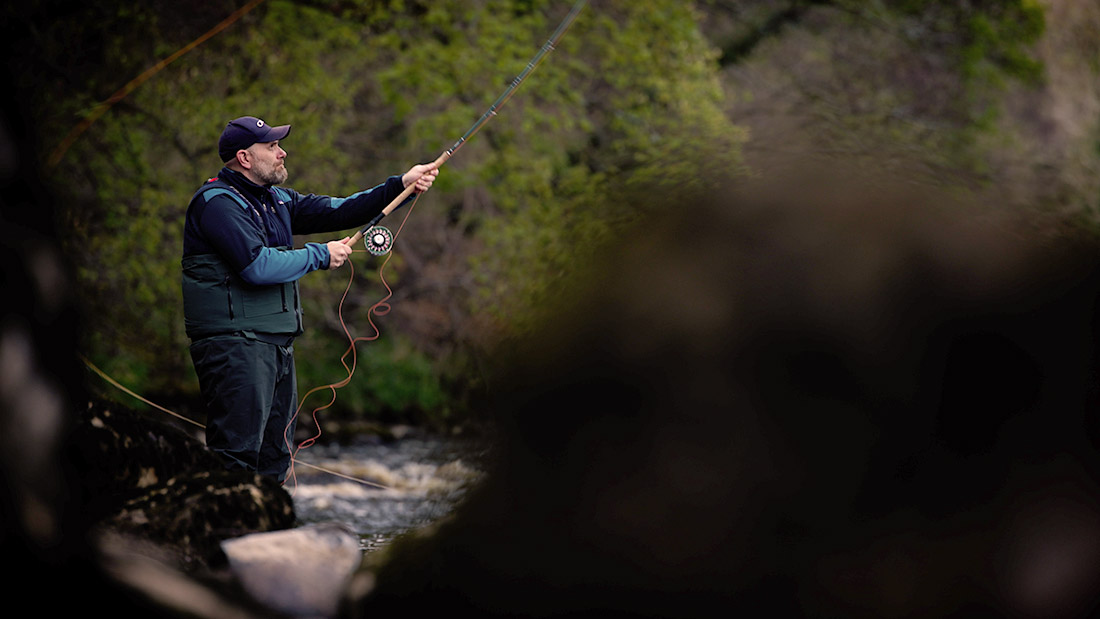 The Core shooting heads are balanced Skagit lines and are perfect when you want to cast heavy flies and sink tips with limited backspace.
ZONE & SALARFINDER40: The perfect all-rounders
Zone: This line has become Nextcast's absolute bestseller in recent years. Why? Quite simply, it is as versatile and user-friendly as a two-handed line can be. Nextcast itself refers to the line as a 'hybrid' between Scandi and Skagit. It combines the power and power transfer of a Skagit with the graceful presentation characteristics of a Scandi shooting head. This is mainly due to the special taper design of the line: a lot of weight in the rear part of the head, allowing the rod to load effectively with minimal effort. The length of the line falls right in the middle spectrum, making it perfect for smaller to medium-sized salmon and sea trout rivers.
Salarfinder40: The Salarfinder is Nextcast's ultimate salmon shooting head that has gained many, many followers over the years. The reason for this is the special taper design, the durability of the coating, and, last but not least, the incredible user-friendliness when casting and fishing. The Salarfinder40 is the more compact version of this Scandi-style salmon line, which is particularly suitable for medium-sized waters. The taper of the shooting heads has been specifically designed for effective casts and clean presentations at all distances. The weight is distributed in the line in such a way that high line speeds can be achieved with little effort. This results in tighter loops and more efficient, energy-saving casts. The length of the line depends on the casting weight, ensuring that the line harmonizes perfectly with the corresponding rods, from light to heavy.
SALARFINDER45: Maximum distance, clean presentations
SalarFinder45: The Salarfinder45 is a slightly longer Scandi-style shooting head that is particularly popular among Spey casters and on large waters with longer two-handed rods. However, even with these longer lines, the special taper design ensures effortless casting, as the line accelerates tremendously with even small impulses. You can effortlessly make long, energy-saving casts throughout the day, gracefully laying your fly across the river. With this line, you can easily cast across large rivers and effectively place your fly on the opposite bank. But the Salarfinder45 is also fantastic for those looking to improve their two-handed casting technique, as it helps you perfect your timing and anchor placement.
Especially at the beginning of the season on the large Scandinavian rivers, the density compensated 3D singlepiece versions of these lines are extremely popular because they can cast larger flies to incredible distances and enable effective fishing under high, cold conditions.
All SalarFinder lines are available in a variety of sinking rates as part of their multidensity approach, covering a wide range of applications. Whether it's the start of the season with high water and cold temperatures or the height of summer with long, delicate leaders in extremely challenging conditions, the SalarFinder lineup has the perfect line for your fishing area and two-handed rod.
TROUTFINDER: Single-handed fishing for trout, sea trout and salmon
TroutFinder: The TroutFinder is the little brother of the Zone shooting heads and is ideal for shooting head fishing for trout and other species in rivers and streams. But even for salmon and sea trout fishing with a single-handed rod, the TroutFinder shooting heads offer an ideal solution. Whether on a Trout-Spey rod, a light switch rod, or your single-handed streamer rod, this line loads efficiently even with limited backcasting space and effectively carries heavy sink tips and weighted streamers to the other side of the river. The length and taper of the tips allow for a clean turnover even with heavy T-tips. With longer polyleaders, you can also achieve delicate presentations with small wet flies or soft-hackle patterns. Just as we have come to expect from NextCast, the TroutFinder heads are offered in various sinking rates. Combined with the appropriate tips, you achieve a perfectly graduated sinking behavior throughout the length, ensuring that you always maintain direct contact with the fly and compensate for the speed of the current. Similar to the Zone lines, the TroutFinder can be seen as a hybrid between Scandi and Skagit. It combines the power and power transfer of a Skagit with the graceful presentation characteristics of a Scandi shooting head. The best of both worlds!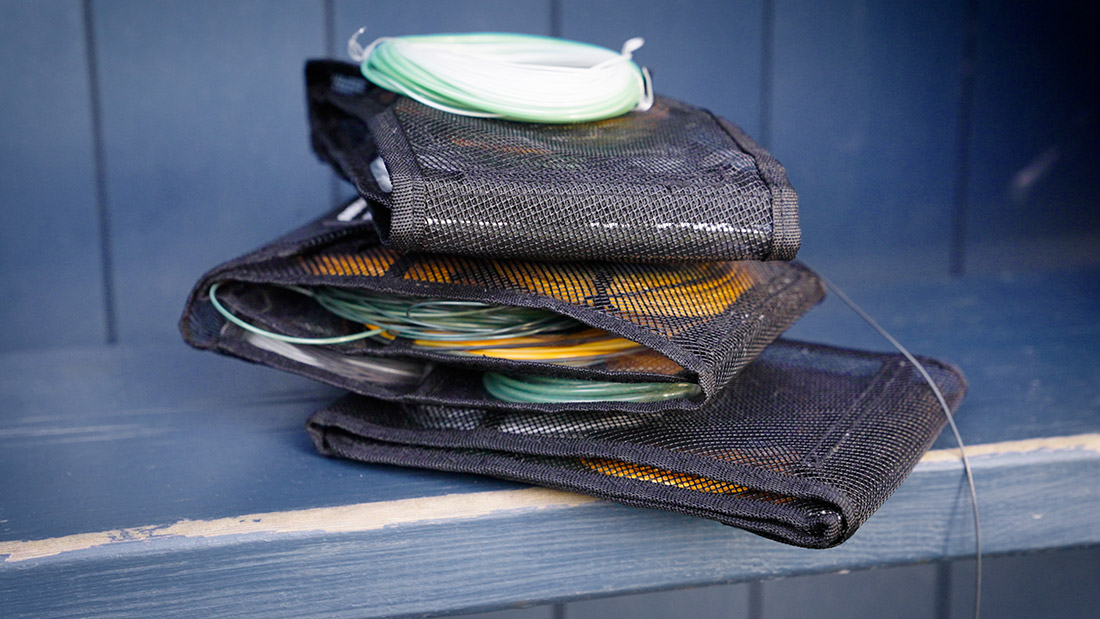 A suitable shooting head for every situation. In a shooting head wallet, you can perfectly organize your shooting heads and be prepared for all eventualities on the water.
Energy transfer and versatility - singlepiece vs. multi-tip
Multi-density lines have become particularly popular in recent years. It means that different sinking rates transition along the length of the shooting head. This compensates for current and the profile of the riverbed, allowing you to fish at the right depth and maintain direct contact with the fly. Additionally, the density gradient ensures even better energy transfer during the cast, resulting in a perfect loop formation and a clean turnover.
This graduated line design is now seen among many line manufacturers. However, Nextcast offers a broader range of different sink rates and shooting head lengths than any other brand on the market. This may make the choice of the right head more challenging, but at the same time, Nextcast provides the opportunity for perfect adaptation to specific water conditions. Moreover, the taper and coating are developed in Nextcast's own manufacturing facility in the USA, allowing the company to experiment with ideas and new concepts. A significant advantage!
Many line models from Nextcast are available as both Singlepiece (3D) and Multi-Tip (2D) versions, which work with corresponding separately available sinking tips. Both options have their advantages. The choice of which system is better for you ultimately depends on your fishing style.
Singlepiece: All Singlepiece lines come in a 3D design, meaning they have three graduated sinking rates that seamlessly transition into each other. This gradation allows for an extremely clean energy transfer during the cast, resulting in a more beautiful and stable loop formation. As a result, longer casts are possible, and the line stretches more effectively.
Multi-Tip: The body of these lines comes in a 2D design and is then complemented by the corresponding Nextcast sink tips to create a 4D shooting head. The ability to change the sink tips offers incredible flexibility and allows for quick adaptation to changing conditions or adjusting tactics. Additionally, it saves you money in the long run, as for your fishing trip, you may only need 2 bodies and a carefully selected range of sink tips to cover all potential situations.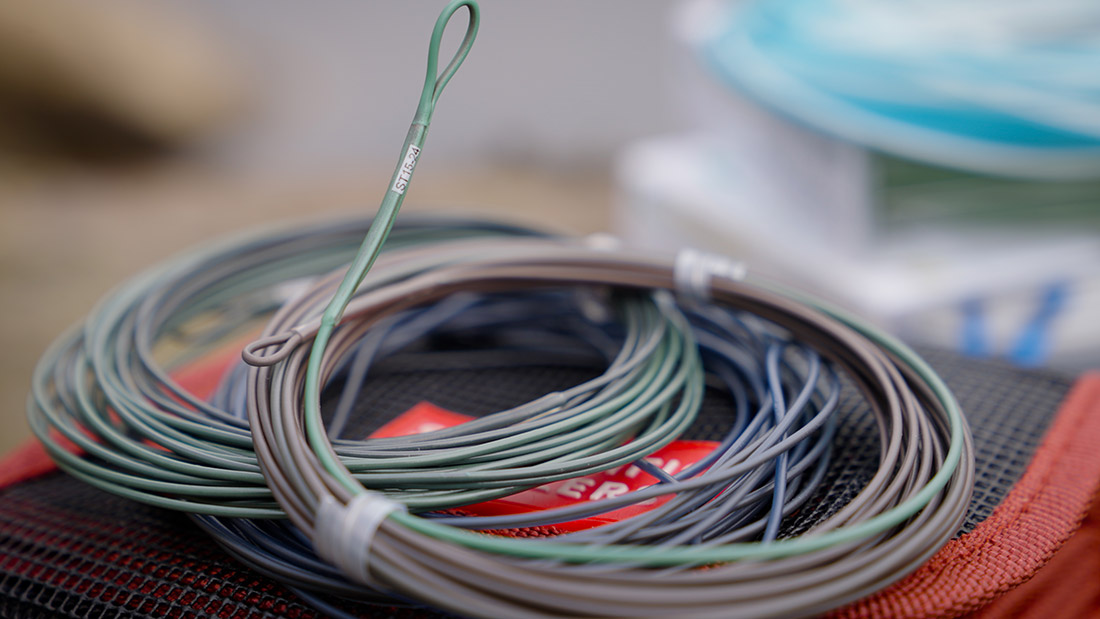 With Nextcast's interchangeable tips, you can transform your multi-tip shooting head into a versatile 4D line to adapt to any water condition.
How do I properly combine a shooting head and sink tip?
This has been a topic of concern in the two-handed fishing world for several years, and the product options out there are increasing every year. Fortunately, Nextcast provides clear recommendations for each 2D shooting head regarding the recommended length of the tips. And you can rely on them! One advantage is that all Nextcast tips of the same length have the same weight. This helps in matching the setup when you want to interchange different sink rates on the same rod and body while aiming for a similar casting outcome.
Choosing the right tip at Nextcast is not entirely intuitive, as the length of the tip should be determined based on the specific 2D body used. Nextcast recommends the following combinations:
15' tips: Zone and Core
12' tips: Zone and SalarFinder40
10' tips: TroutFinder, SalarFinder40 and SalarFinder45
Note: Of course, interchangeable tips from other manufacturers can also be combined (and vice versa). However, these recommendations provide you with a very good reference point.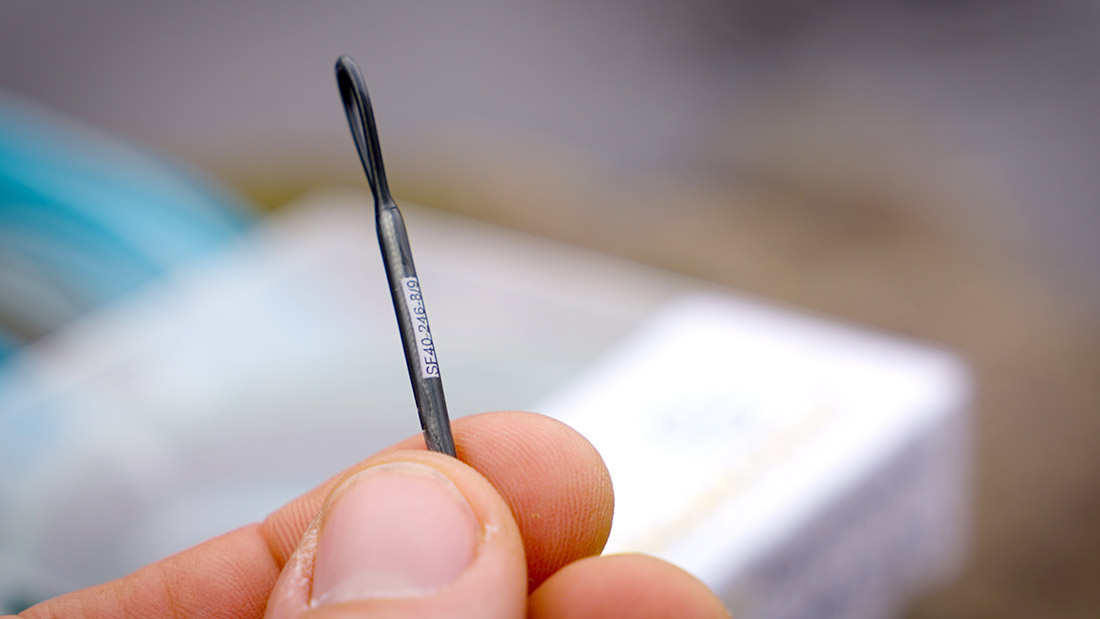 All Nextcast shooting heads and interchangeable tips have a line-ID for quick identification. This ID is welded into the loop and retains its readability.
PU coating in Nextcast's multi-density sinking lines and sink tips
What's new with Nextcast lines is that they use a specially developed PU coating for all sinking lines. This coating is noticeably harder and significantly more abrasion-resistant than many competing products. This not only increases the lifespan, which is particularly important for sinking lines, but also allows for better energy transfer, improving long-distance casting, especially in windy conditions. Polyurethane coating is also more environmentally friendly than phthalate-containing PVC coating. It is UV-resistant and tear-resistant compared to its PVC counterpart. So, these lines are not only sustainable due to their chemical composition but also because they last longer.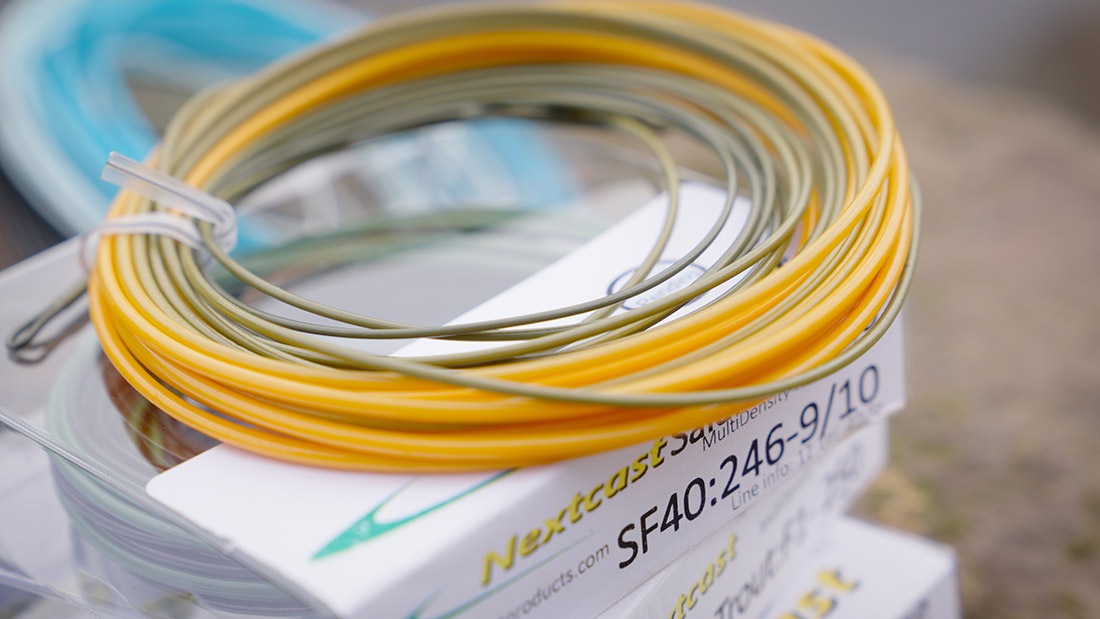 The new PU coating on Nextcast's 3D lines is extremely durable and ensures optimal energy transfer.
Our conclusion
For those familiar with the intricacies of shooting head fishing and casting, it quickly becomes apparent that Nextcast products rank highly in the Champions League of spey lines. We are extremely pleased to finally have their extensive product range available in our shop.
With a background in the competition casting world, it becomes evident that these lines are not only designed to fish well but also to provide a lot of fun during casting. The clever minds behind these versatile line systems are not only highly focused on practical applications and spend a lot of time on and in the water, but they are also adventurous experimenters. This is the incredible advantage of having their own production facility located in the USA, exclusively utilized by Nextcast, where the innovative ideas of the line designers come to life.
It is not always easy to find the right product from Nextcast right away, given the extremely wide range they offer. However, this is also what sets this US company apart. Once you have gained an overview, you will quickly find what you need and be rewarded with an extremely well-thought-out, application-specific product.
We hope that this article has provided you with a comprehensive overview, and if you still have any uncertainties, we are more than happy to assist you with personal support via phone or email.