Article successfully added.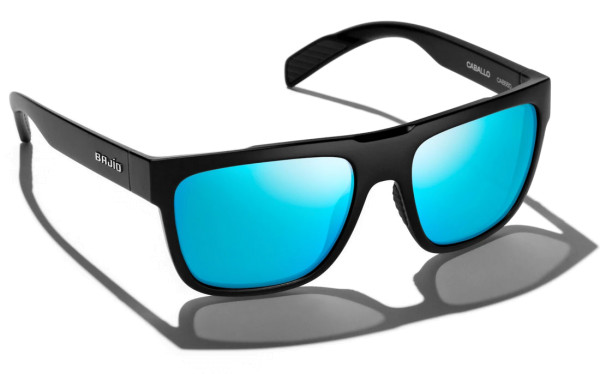 Bajio Polarized Glasses Caballo - Black Matte (Blue Mirror Glass)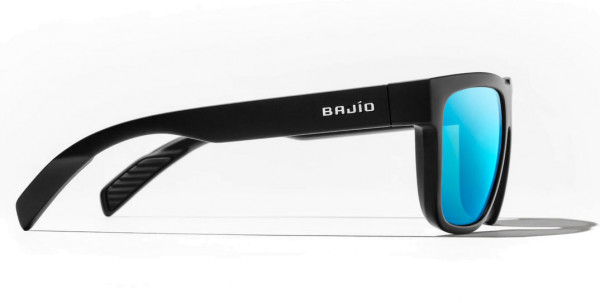 Bajio Polarized Glasses Caballo - Black Matte (Blue Mirror Glass)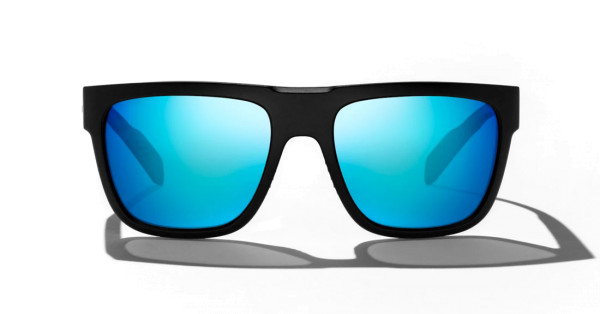 Bajio Polarized Glasses Caballo - Black Matte (Blue Mirror Glass)
Bajio Polarized Glasses Caballo - Black Matte (Blue Mirror Glass)
Bajio Polarized Glasses Caballo - Black Matte (Blue Mirror Glass)
The so-called Caballo are modern sports glasses with a practice-oriented and stylish design. They have a slightly bent shape for maximum eye coverage. This prevents light from entering from the sides, which otherwise would cause a distracting glare. In fact, this is a huge advantage in bright situations with a constantly changing angle to the sun – for instance while fishing saltwater flats. Due to their extremely robust frame made of bio-based nylon, they have an impressively light weight. Combined with the flex hinges and the non-slip rubber nose pads, this creates outstanding wearing comfort – even after hours of fishing. Further, these relatively large glasses are particularly suited for larger heads.
Furthermore, these glasses also set new standards in terms of optical performance. Due to the innovative LAPIS™ technology, they block 95% of the blue light with a wavelength of 440 nm and the majority of intense yellow light at its peak of 580 nm. In other words: significantly more than the glasses of the competition. This reduction of the distracting light provides impressive clarity and it prevents eye fatigue, which allows you to fish longer and more effectively. Combined with one of the best polarization layers on the market, this creates a truly impressive view – both above and below the surface of the water. Therefore, it is hardly surprising that most fishermen are astonished by their truly remarkable optical performance. Further, since these lenses are made of glass, they offer maximum visual clarity and an impressive resistance against scratching. In fact, these mirrored lenses in the dark colour "Blue Mirror" are particularly great for bright situations – for instance for fishing saltwater flats or a stream in very bright sunlight!
Details about the Caballo frame:
Very light and extremely robust frame with a sporty design
Slightly bent shape for maximum eye coverage
Flex hinges and generous non-slip rubber nose pads for outstanding wearing comfort and a perfect fit
Rubber temple tips for a secure hold
Made of plant-based materials and bio-based nylon which is better for the environment and 10 times stronger than petroleum-based plastic
Frame size: XL – ideal for large heads!
Frame width: 145 mm
Bridge width: 14 mm
Temples length: 135 mm
Size of the lenses: 58 x 45 mm
Colour of the frame: Black Matte
Comes with a premium cleaning cloth and a stylish case made of plant-based cactus leather with a 100% cotton lining
Packaging and instruction manual made from 100% recycled paper and printed with sustainable algae-based ink
Details about the Blue Mirror Glass lenses:
High-quality lenses made of glass
Innovative LAPIS™ technology for a significant reduction of the distracting light and impressive clarity
Premium polarization layer for a breathtaking view into the underwater world
Oleophobic lens coatings on both sides for easy cleaning and reliable scratch protection
Colour of the lenses: Blue Mirror (Grey Base) – the darkest colour from Bajio with a visual light transmission (VLT) of 10% and therefore ideal for very bright situations!
adh-world
All about Bajio's sustainably produced polarized sunglasses for fly fishers on adh-world.
"The Spanish word "Bajio" (pronounced "Bah-hee-oh") describes all kinds of shallow water zones – for instance saltwater flats, gravel banks and the shore areas. These areas often function as "nurseries" where the young fish are born and raised. Therefore, they play an important role for the entire ecosystem. In favour of the environment, the brand Bajio Sunglasses is dedicated to the preservation and renaturation of these areas."
adh-world
On adh-world we explain how polarized sunglasses work and what to keep in mind when purchasing a new pair.
"Polarized sunglasses play an important role in fly fishing. They not just protect the eye from erred flies or streamers and dangerous uv-radiation, but also reduce glare from the surface and help you spotting fish and reading the water more effectively."
About Bajio:
The Brand Bajio Sunglasses offers a stylish collection of high-quality polarized sunglasses which are specifically designed for fishing. These glasses are among the best on the market due to their impressive optical performance. According to the slogan "see more, catch more" they allow a breathtaking view into the underwater world – both in fresh and saltwater. In addition, throughout the selection of materials and the manufacturing process great emphasis is placed on sustainability. Thanks to this company philosophy all products from Bajio Sunglasses are completely CO2 neutral!