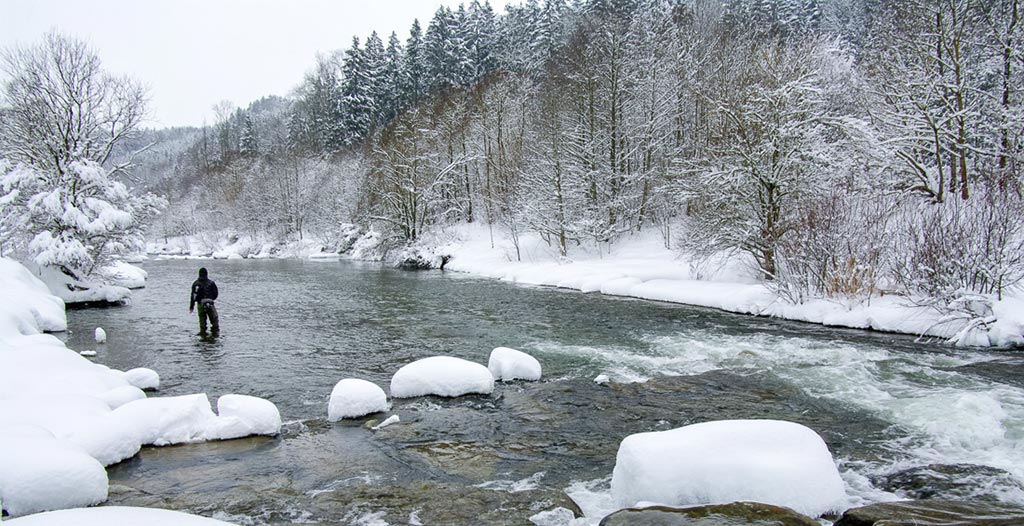 Dedicated to fly fishing, we spend a lot of our free time outside by the water. No matter which time of the year, no matter which weather. We don't know boundaries and there are always possibilities to follow our passion. Even in late fall, during winter or in early spring. For example when chasing sea trout, grayling, danube salmon or pike – while others prefer sitting by the stofe with a hot cup of tea.


When temperatures are low, wind is freezing and rain or snow are trying to stop us it's all about proper clothing. Just if we feel comfortable and warm we can enjoy fishing to the max. In the end there's a parallel to the hottest period of the year. In both cases we have to protect our bodies. The major difference is, that now it's not about suitable protection from aggressive UV-radiation (Fly Fishing and Sun Protection). No, now we're trying to stay warm as long as possible! Chattering teeth don't scare fish, but it's just so much more fun without shivering.


Onion principle
Luckly it's not that difficult to be well prepared for nasty weather. We have some good tips for you, how you can combine the advantages of the different garments with each other. The main idea is pretty simple and known from other outdoor activities: the onion principle. It's a multi-layer system of different functional garments and fabrics. Cause it's a myth that you keep warm longer if wearing as much as possible. Even in low temperatures and while freezing, our bodies still produce moisture. This humidity has to be transported away from our skin to the environment. Therefore we need special pieces of clothing doing the job properly – without storing the moisture.


No cotton
In the wintertime cotton is no option at all! Comfy sweat pants or jeans worn underneath the waders are counterproductive, cause they block moisture transportation. Instead the sweat is stored and the fabric gets wet faster. This cools us down rapidly.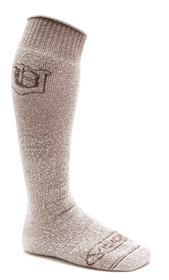 Popular tennis socks are not qualified too. Because wet foot become cold foot in the twinkling of an eye. During regular activities our foot produce 3 g of moisture per hour. When walking much each foot can produce up to 30 g per hour. That means that you better keep your foot dry if your goal is to stay warm. Water transmits warmth 25 times faster than air. Thus your foot are wet once, an enormous amount of warmth gets lost quickly! Two more reasosn: Walking with wet socks lead to blisters and cotton socks start smelling after a while. No one likes that. So...no tennis socks and no cotton when fishing in the winter time!


Wool or merino wool are both suited much better instead. Both natural fabrics pick up the bodies moisture little bit slower and don't keep it, but transmit it to the next layer. And even if wool is wet, it can store up to 30% of it's weight without giving you the feeling of wetness. Synthetic fibers (e.g. Polyester) are breathable too and regulate humidity. But those fabrics are not as warm as wool. So, if you tend to freeze, we recommend to get a high quality pair of woolen underwear and socks made out of thick merino wool. If you're more active while fishing and have to walk a lot, polyester pants and shirts should be prefered instead.


1st layer
By doing so you've created the inner ring of the onion and built up a nice basement for the next layer. But stop! If you're wading boots are not too small you should think a second about wearing two pair of socks. Two pairs don't mean that your feet stay warm longer. It depends again on how you combine them: One thin pair made of synthetic material (moisture trasnportation) and a much warmer pair (isolation) in addition. Be sure there's enough space inside your waders and wading shoes to wiggle with your toe. Only then you can be pretty sure the air inside your stocking foot is heated up. A lot of fly fishermen therefor choose their wading boots one full size above regular.
The rest of your upper and lower body are covered with high quality underwear; long johns and long sleeve shirt. The right fit is important here. Synthetic or woolen underwear works best when worn tight, next to the skin. Admitted, a loose fit looks much cooler, but that isn't helpful here.


2nd layer

The main function of the 2nd layer is isolation. Depending on the actual temperatures this layer can consist of just one or two different pieces of clothing. For your upper body you choose a pullover made from synthetic fibers (e.g. fleece) or wool/merino wool. Of course the thin one is worn underneath. Fleece is very lightweight and warm but at the same time highly breathable! The 2nd layer is not windproof, waterrepellent or waterproof of course. Otherwise the transportation of humidity would be decreased.


For the lower body you can use a comfortable pair of fleece trousers (e.g. Polartec). Or you go for an overall or bib, covering lower and upper body at the same time. Another advantage of this solution is that everything stays in place, nothing rides up and the sensitive area around your kidneys is kept warm no matter what. Just if you need to leave the water for a short desire it can take a bit longer perhaps ;)


A very interesting alternative to fleece pants are pants with primaloft isolation, a synthetic material similar to down. Those pants are not as good in moisture transmission, but even better when it comes to keeping you warm. If you're standing in the river and nymphing for grayling or sitting in a boat all day long and stripping pike streamers, theres nothing better on the market right now.


3rd layer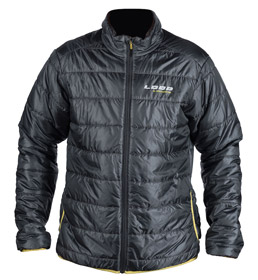 Besides a solid pair of waders your lower body is ready to go now. Of course you can use your regular breathing waders, but those don't add much isolation to the onion. If you reach for maximum warmth, neoprene waders are still the best choice. Ok, they don't look fancy, but they are super comfortable to wear, highly durable and give you the best isolation possible. If you don't walk much whilst fishing, why not?


Above your pullover made of fleece you can wear a down jacket or a synthetic variation with primaloft isolation. Both are lightweight, not too bulky and can be stored away easily in a backpack if needed. This layer shouldn't be worn to tight so that an air buffer is created.


4th layer
The last layer protects your upper body from rain/snow and wind. Even if it rains cats and dogs you should be able to rely on your outer jacket. It has to be 100% waterproof, but still breathable and capable of transmitting humidity to the environment. Nowadays there are a lot of high quality fabrics available doing this job. But not all materials are of the same value. The differences become obvious in extreme situations and even more apparent the longer the jacket is used. To be honest, it's like that: You'll get what you pay for! If you spend some more bucks once, you stay dry much longer.


That's it?

Last but not least your hands/fingers and your head/ears are happy about some warmness too. It's another myth that the human body looses heat especially through the head. Different studies have shown that the size of the surface depends how much warmth is lost, not the actual part of the body is relevant here. But without question it's important to keep your ears warm, especially if it's windy. A fleece lined hat made of wool belongs to every winter collection. Your face can be protected in addition by a buff, for example made of warm fleece or merino wool. Nearly like a sungaitor, but more cosy :)


The kind of fishing determines which gloves are best for you. If you're stripping a lot or need to tie knots quite frequently (nymphing) a pair of fingerless gloves seems to be more appropriate. If you're swinging a fly for winter steelhead instead and don't change your setup much, fold over versions are very comfortable. Whatever, most important is that your pulse is kept warm. The warmer your wrist, the warmer your fingertips.


You see, it's not that difficult to built a nice onion. It's just important to combine the right garments and fabrics with each other correctly. This multi-layer system is flexible and can be adopted to the current weather situation and temperatures. With these simple tips it should be no problem for you to stay focused on what's really important when fly fishing in the winter time: fishing!


We hope you'll have some warm hours on the water – without cold feet and chattering tooth!