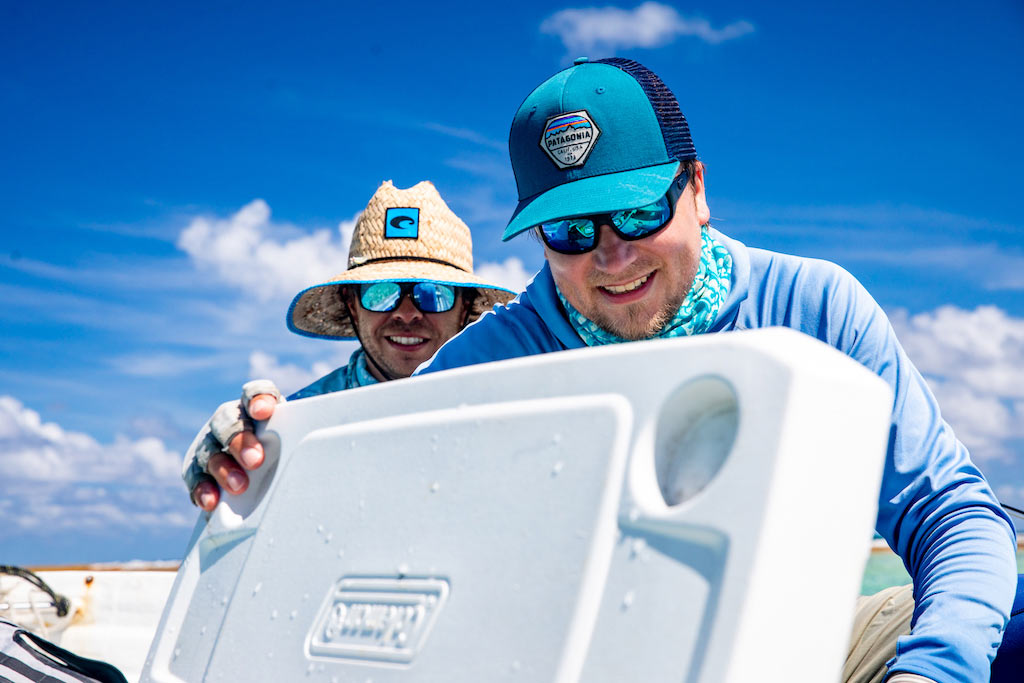 Similar to all other outdoor activities and sports performed on the water, a proper protection from dangerous UV radiation plays a big role in fly fishing too. Especially during summer months when sun's intensity is the strongest. But not just on trips to the south, even on our local rivers and lakes at home. Cause who wants to bring burned arms or a bright red nose back home after a nice day fishing?!
In this article we present you with tips for simple and effective sun protection for fly fishing - from head to toe. But first the question arises: Why do we need to protect ourselves from the sun and UV radiation, especially on the water?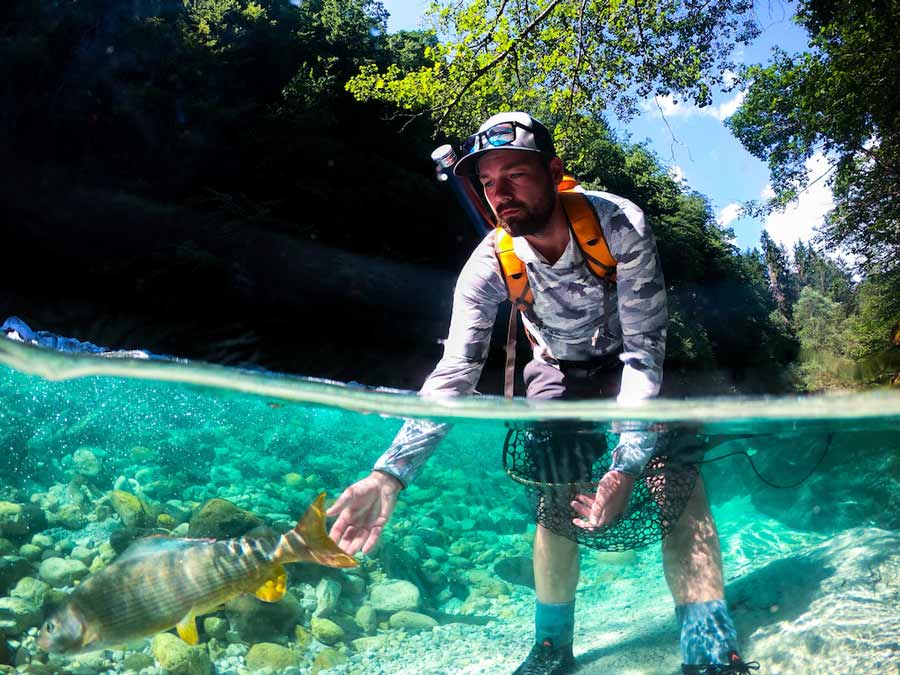 Sun Protection on the Trout River

Why should we protect our skin?

So called 'UVB radiation' is the most harmful for our skin, because these rays are shorter and therefore energy riched. They are responsible for painful sunburn and are strong enough to effect us up to one meter below the water surface. Wearing shorts while fishing on the flats or wet-wading a cold alpine stream is unfortunately not enough to protect our legs from getting burned. Even waterproof sunscreen just helps for a while. In the water the protective film looses it's effect quite fast. Thus you have to put on suncreen more frequently. Which is annoying of course and can be forgotten easily – especially when fishing is good and diverting.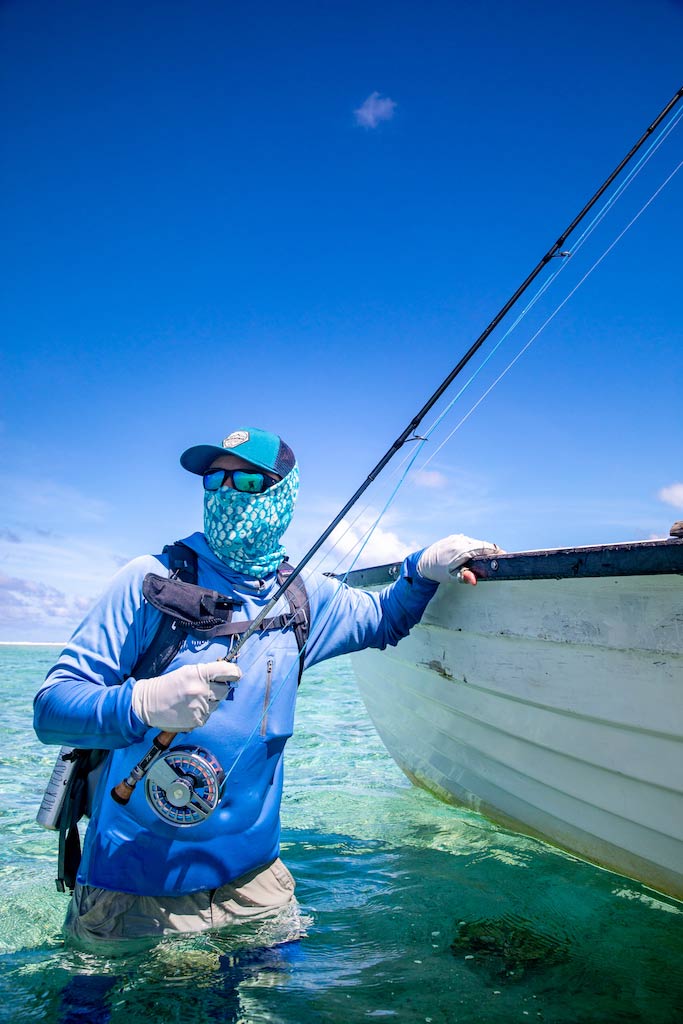 Perfect sun protection from head to toe

But most concerned are all body parts above the surface. Reason for this is 'scattered radiation': Radiation reflected on the water surface or on sand for example has up to 90% more power than direct solar irradiation. Yet among the shades nearly 50% of the sunlight meets our skin. And also a refreshing, cool wind and loose clouds are deceptive when fishing in the summer, because they don't reduce the chance to get burned at all. Even in those conditions a lack of proper sun protection can result in bad surprises the following day.
How to protect our skin?

If you don't want to take a break from fishing during midday and hide away from the sun, you can choose the right clothes to protect your skin. Overall, proper clothing is the most effective way to prevent damages by the sun. Textiles shield the human skin much better than sunscreen! But ordinary, organic fibers only if they're thick enough and woven tightly at the same time. A rule of thumb is: If a fabric can be passed by visible light it doesn't shield your skin from dangerous UVB radiation too.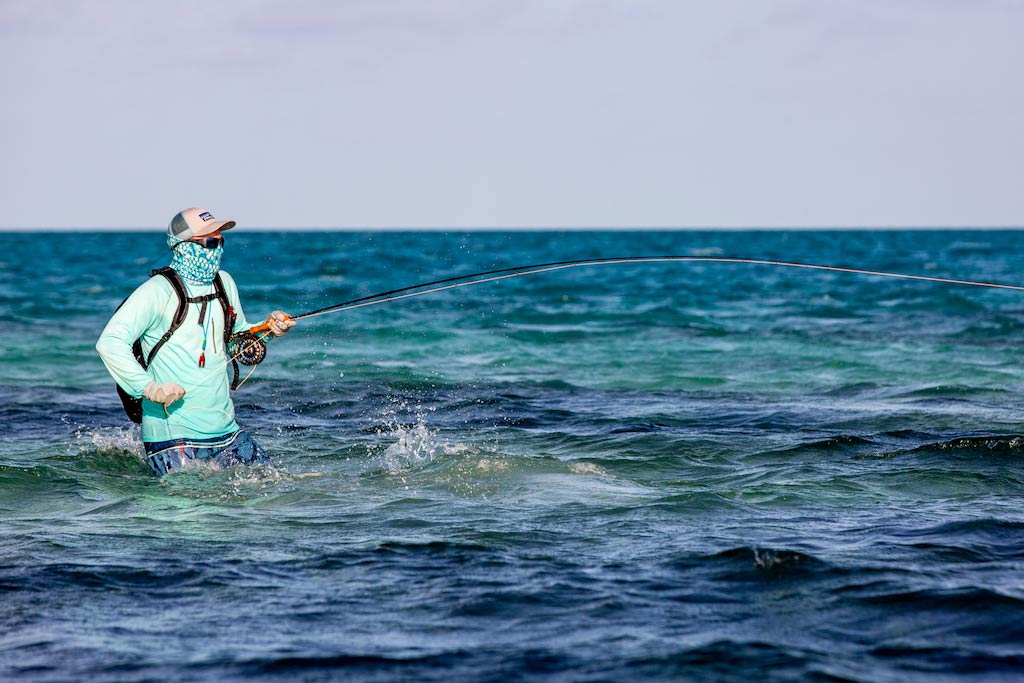 Synthetic garments offer a high UPF

The sun protection factor of textiles is given in UPF (Ultraviolet Protection Factor) and can be compared to the more familiar LSF (Lichtschutzfaktor) or SPF (Sun Protection Factor), which are used for sunscreens. This value tells you how much longer you can stay in the sun without getting a sunburn. A value of 20 means that 1/20 or 5% of sun's UV radiation passes the fabric. A white cotton shirt for example has a UPF of 10. If it's wet, fitting tight or stretched the protection factor is reduced rapidly. Even though a cotton shirt is nice to wear and comfortable on the skin, synthetic clothes are much better when it comes to questions of effective sun protection (e.g. Polyester has a UPF of 40). Modern high-tech-fabrics have some more interesting advantages for the summer fishery: They dry much quicker than cotton and therefore offer maximum protection way longer. In a lot of cases sweat is transported away from the skin, whereas moisture from the outside is repelled. Last but not least those clothes often feature an anti-odor finish which can be usefull on longer trips without a daily shower :)
Longsleeve, Sungaiter, Cap
The most efficient sun protection for your upper body are in the end longsleeves with a loose fit made from synthetic fibers. Dark colors protect you even better than light ones. A UPF between 30 and 50 is suitable, always depending on the sun's intensity. The most sensitive parts like neck, ears, cheeks and nose can be protected with a sungaiter, a kind of sun mask. Besides that, a cap with neck shield or a sun hat is ideal. Also here, Polyester or Nylon are much more appropriate than cotton. Caps with a long bill protect your eyes and face even more and support you observing the water surface. A dark under brim reduces glare additionally – an interesting side effect when sight fishing on the river or on the flats!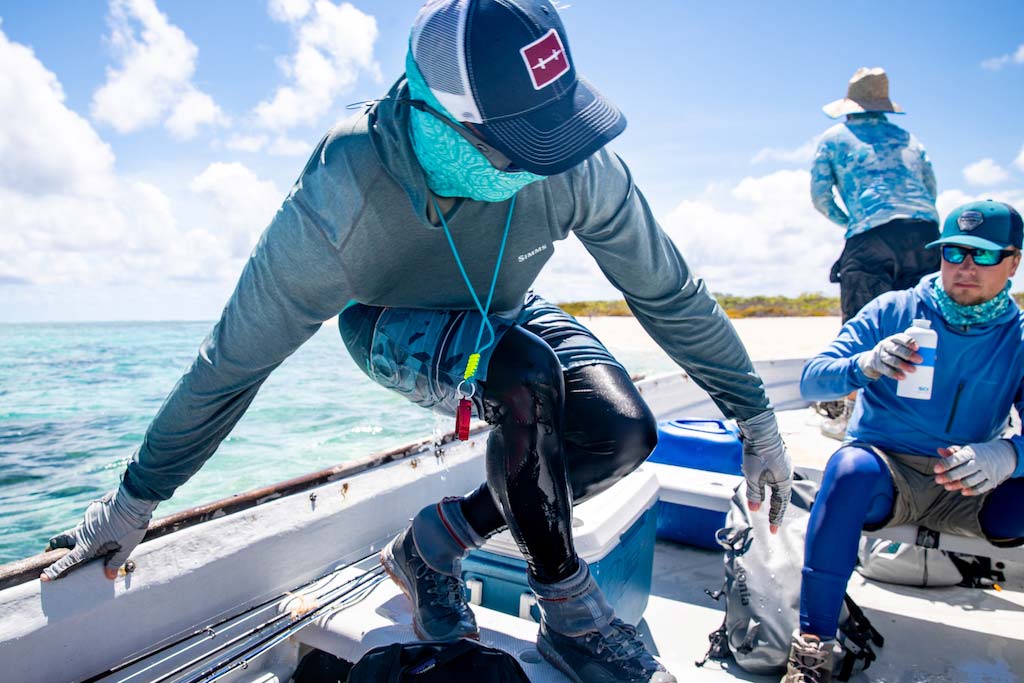 Ohne Kappe kein Fischen :)
Polarized Glasses

Protecting your eyes from UV radiation is of great importance. Sunlight's short-wave UVB part especially attacks your eye's cornea and conjunctiva. Not using proper (polarized) sun glasses when fishing could lead to permanent damages. Besides the lenses' own UV protection their shape as well as the frame's shape play an important role too. Small, round lenses offer much less coverage from light entering the eye from the side. Bigger lenses and a frame with generous side coverage fulfill the function much better instead. Choose one of those specially designed sun glasses and your eyes will be thankful! We'll discuss the ins and outs of finding a good pair of fishing glasses in an own blog article soon.
Perfect eye protection

Gloves
The rest of your face can be prepared with waterproof sunscreen. Your hands too. But watch out: As not all the fly lines can be used in hot conditions and are UV consistent, not every single coating can handle sunscreens or insect sprays too. This is why thin sun gloves with high UPF are an interesting alternative. Variations with reinforced palms and integrated stripping guards work great especially in saltwater. Cause the combination of salt and sand act on your skin like emery paper and could leave some bloody marks. Talking of insects ... To repel those small blood sucking creatures there are nowadays special textiles on the market which offer long lasting, odorless protection without harming your skin. A very practical solution and an impressive effect!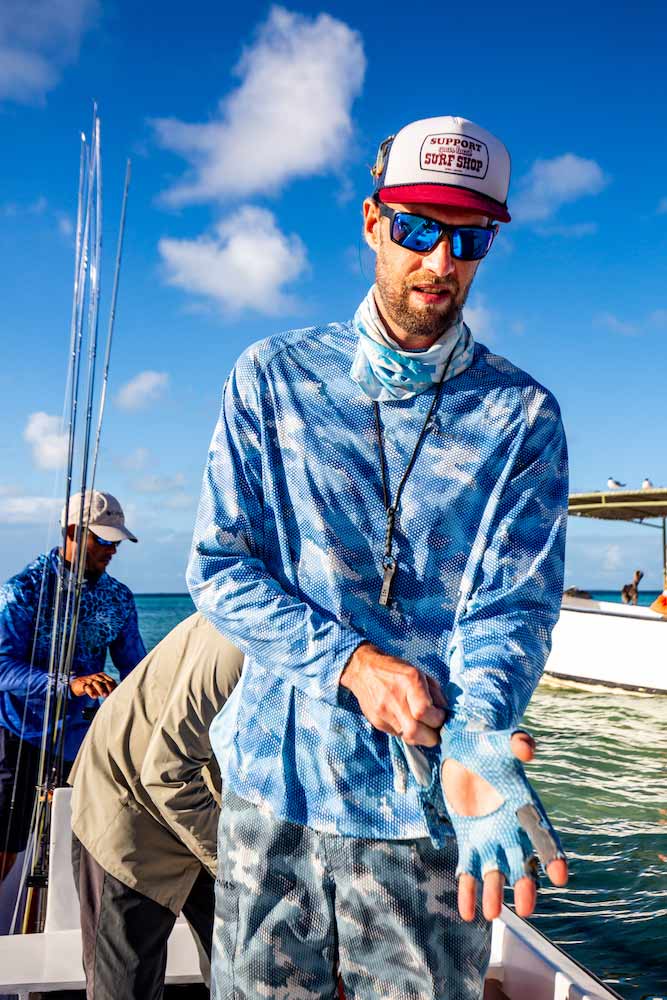 Gloves are essential when fishing saltwater

After all, when fishing from a boat but also when fishing on the beach or wading without waders, trousers are given preference. A lot of lightweight, quick drying products offer much better sun protection than ordinary shorts but still are comfortable to wear. And this is what we are looking for when the sun is intense and we're out on the water: Cool clothes to cool down instead of getting burned!
Equipment is important

The right clothing always plays a role in fly fishing. This applies to both summer and winter fishing. As fly fishermen we are constantly exposed to the weather and should protect ourselves as best we can. In winter from the cold and in summer especially from aggressive UV radiation. Otherwise, the fun of fishing - whether on our home river, on the Baltic coast or somewhere on a tropical flat - is quickly spoiled. A conscious composition of the right clothing is therefore essential, especially for extreme temperatures.

We have put together some product recommendations for the perfect sun protection below and you will find a large selection of clothing and accessories for sun protection in our shop.