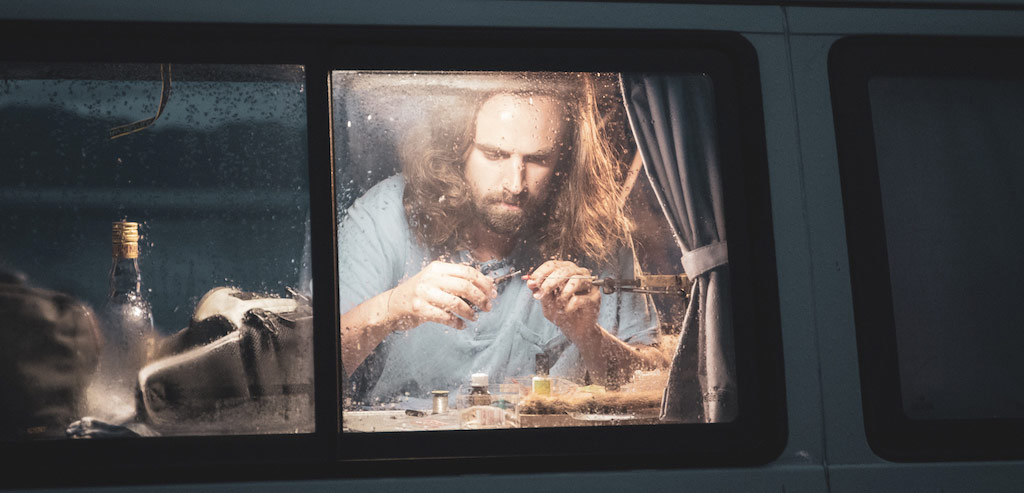 Fly fishers are always in search of something: This may be the perfect rod, the best fishing spot, the fish of a lifetime or – more often than we would like – an untraceable fly tying material that somehow disappeared in the chaos on your fly tying desk. But, after you had to tie dry flies the third evening in a row – simple cause you couldn't find the tungsten beads that you needed for your favourite nymphs – something has to change! At first, the outcome of this annual organisation marathon will feel extremely good. The satisfying, almost stimulating feeling of being in control will lead to a determined resolution of long-term improvement! But, these intentions tend to disappear faster than a dry fly, which has landed in a bush on the opposite bank. And sooner or later, the creative fly tyer will be searching these 'damned tungsten beats' once again!

We would like to give you some suggestions so you don't get overwhelmed by this 'creative chaos'. Therefore, the following recommendations will definitely improve the organisation of your fly tying desk. Our Top10:
Wapsi Snap Top 6 Closet – This well-thought-out organizer offers a total of 48 separate compartments for storing bits and pieces such as eyes, hooks or beads – redefining organisation!


Wapsi Tool Stadium Fly Tying Tool Rack – As a matter of fact, the term 'stadium' is a very appropriate name for this tool rack, because it offers slots for up to 45 fly tying tools plus a few varnishes and glues.


Wapsi Flasha-Go-Round Flash Dispenser – This 'roundabout' helps you to arrange flash materials in an accessible way on your fly tying desk. A must-have for pike junkies!


Wapsi Rib Runner Tinsel and Wire Dispenser – An unique tinsel and wire dispenser that maintains constant tension on the spools to virtually eliminate tangles or wasted material.


C&F Design CFT-190 Magnetic Dust Pocket – A magnetic waste bin, which can be placed beneath the head of your vice to catch the falling waste.


Wapsi Spool Safe Spool Dispenser / Rack – This rack can hold up to 72 spools. In other words: It's the perfect home for an extensive collection of threads, wires and tinsels.


Hareline Silicone Bead Pad – A non-slip pad that will protect your table and can be shaken out over the dustbin at the end of a fly tying session.


Fly Tying Innovations TyWheel Complete Set – An allround solution for your tying vice. Arrange many tools and spools as well as hooks, beads and other small items while tying.


Frödin SOS - Salar Organizing System for tying material – A clever organisation system by fly tying expert Frödin. Comes in different sizes and keeps materials and tools of all kind in place.


C&F Design CFT-CA Marco Polo Carry All Fly Tying Case – A great solution for a tying night at your friends house or for organizing your tying materials during the next fly fishing trip.
The world of fly fishing offers more than enough exciting challenges – therefore, scanning piles of tying materials for untraceable items shouldn't be part of it. After this chaos has been cleared up, your entire energy can be used for the creative process of creation. As a matter of fact, an organised fly tying desk makes it much easier to fully enjoy the meditative character of fly tying.
Happy Tying!