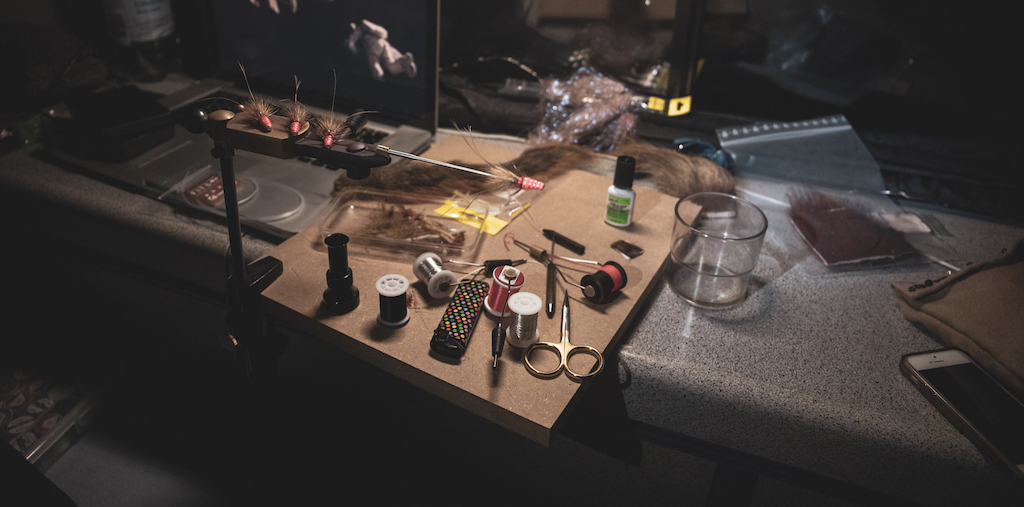 For many fly fishermen, self-tied flies are an integral part of the fly fishing experience. Outsmarting a fish with your own pattern adds another level of complexity and makes it that much more special! In addition, fly tying not only allows you to use your own creativity, but also lets you adapt proven fly patterns to match the conditions of your home waters. And last but not least, fly tying is a multifaceted hobby that connects a community of like-minded people with a fun activity, perfect for spending time after work or during the off-season, when the only thing you can think about is getting back on the water.
Fly tying has become very popular due to the freedom and variety that allows fly anglers to create the perfect patterns to find success during their pursuits. This has resulted in a market with a wide variety of fly tying materials, tools, vices, and more. As a beginner, it can be simply overwhelming to figure out where to start!
That's why we put together a list of the 10 most important tools that will help you get started tying flies. This list contains tools that are completely functional and of good quality which we are 100% convinced will set you up for success, all of which offer a great value for the money.
Vice: The vice is the heart of your fly tying table. This is one of the tools that you will have for years, where you will spend countless hours filling your fly boxes, season after season. For a long time, the DANVISE vice from Danica with the pedestal base has been the top recommendation for a cost-effective entry to fly tying - and nothing has changed! Many world-renowned fly tyers whipped up their first patterns with this vice. Stonfo also offers a great alternative with a nice quality to cost ratio. The Stonfo KAIMAN vice is capable of holding all hook sizes, from the smallest dry fly hooks up to large streamer hooks. Another advantage: the functional pedestal base holds hooks, beads, and other materials helping you keep your space neat and tidy - an important factor in fly tying.


Bobbin: The bobbin is your most important tool which you will need for every fly you tie. The bobbin holds your thread and with its help, you will fix all of the materials to the hook. A good bobbin should be comfortable in the hand, lay the thread neatly, allows the spool to spin smoothly, and is capable of holding different widths of thread spools. Therefore, bobbins which can be adjusted in pressure and width are an advantage. The BOBTEC model from Stonfo offers a great value for money and check all the boxes for a great bobbin.


Tying Scissors: A clean, precise, and smooth cut makes it easy to work with many tying materials, a necessity for tying beautiful flies. Two very important factors in your tying scissors are sharpness and edge retention - two factors that are often the nemesis of each other. Loop has a wide range of scissors suitable for small and large hands and different models with both long or short blades, known for their sharp edges and life longevity. An alternative are the adjustable scissors from Future Fly out of Denmark. The adjustability of these scissors is a nice feature, allowing you to maintain a perfect cut for a variety of materials. Regardless of which set of scissors you choose, make sure you don't cut wire material with them in order to keep your tying scissors nice and sharp!


Whip Finisher: A whip finisher is a useful tool for tying the final knot of your pattern. Whether it's a dry fly, a nymph with a bead head, or a large streamer: this tool allows you to lay down a clean and tight knot to finish your fly. People's preferences in whip finishers vary nearly as much as the fly patterns they tie. We personally prefer a whip finisher with flexible wire arms. A basic model from Stonfo is a perfect tool to start with.


Hackle Pliers: Hackle pliers have many uses beyond applying hackle to dry flies. This tool can securely grip small, fine materials - without damaging them! It helps in accurately winding hackle feathers around the hook shank, can hold your thread tight while preparing other materials, and more. A rotating hackle plier has advantages but is not a necessity for getting started. We recommend the Tiemco Hackle Pliers without any hesitation as a perfect place to start.


Dubbing Twister: A dubbing twister not only serves to create a dubbing loop with the thread, but can also be used for applying flash materials. With a wire, one can create great flash hackles or your own unique brushes made of other synthetic materials - a wonderful addition to many different Pike streamers! The application options are as diverse as the different dubbing twisters that are available. An all-around solution is the rotating Dubbing Twister by Fly Scene, which comes with different heads for a variety of applications. For smaller flies, a model like the Rotodubbing by Stonfo is perfectly suitable.


Material Clamp: A material clamp is very convenient - great for holding CDC feathers, flash materials, dubbing for dubbing loops, and much more. Whenever you need to grasp and cut or process materials, these clamps are a huge help. A set of clamps in different sizes (such as those from Fly Scene) offers the advantage of always having the right width for your material at hand.


Brush/Comb: After tying most patterns, it is often best to brush out the dubbing or other tying materials. This is the only way to create a natural look, for example, the legs of a fine Brook Trout pattern or the underbody of a shrimp. Some materials also need to be brushed because they get tangled while tying. A great 2-in-1 tool like Stonfo's is very handy for both scenarios. For larger streamers (such as Pike) we recommend a coarser comb instead - such as the Loon comb.


Needle: A needle is a versatile tool for fly tying. Thin glue or paint can be precisely applied with a thin needle, for example, to build a carapace on a nymph or to secure the final knot. In addition, materials that are bound within the pattern can be picked out with a sharp, sturdy needle (ex. Petitjean) to free them before using a dubbing brush. There are countless uses for a needle while tying flies - a truly indispensable tool. One small tip: the glue that gets stuck on the end of your needle can easily be burned off with a lighter.


UV Lamp + UV Adhesive: Even though a UV lamp in the narrower sense is not a fly tying tool, it certainly has earned its place in the arsenal of most fly tyers. Rightly so, because working with UV glue and a UV lamp helps produce a cleaner finish and saves a lot of time for many different fly patterns. One of the major benefits is that UV active adhesives don't dry as fast other glues or resins, giving you more time to finish your pattern, and then can be instantly cured with the UV light. Gulff offers a variety of different UV adhesives and a strong UV laser from Fly Scene will reliably cure them - both at a great price-performance ratio.
Equipped with these 10 tools, the world of fly tying is open to you. We wish you many fun, creatives hours at the vice!
Don't forget to take a look at our tying videos on adh-world for inspiration, tips, and tricks for a variety of different popular patterns. Also, if you find your tying materials growing over your ears, then check out our Top 10 List for Organization at the Vice!