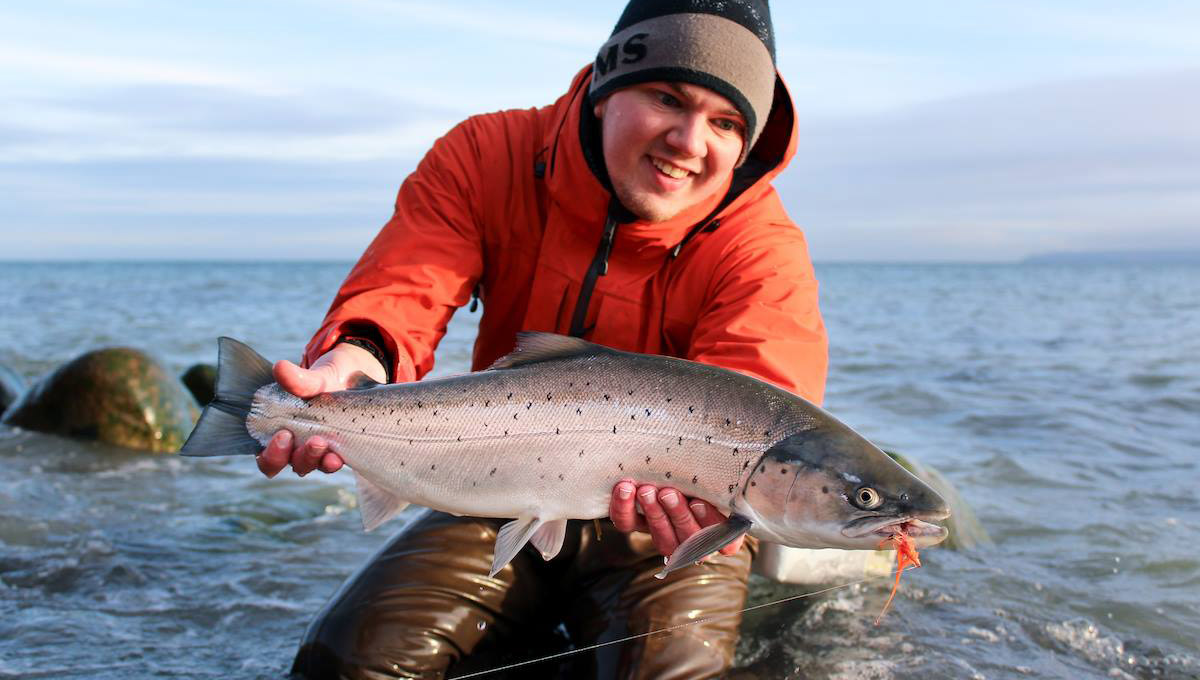 "Fish of a thousand casts" – the reputation of the sea trout isn't really helpful when it comes to convincing novices to start fishing for them. According to this image, sea trout fishing is an immense challenge with very little prospect of success. Hours of wading in the cold water of the Baltic Sea without a take doesn't really seem appealing to everyone. But, thanks to the right equipment one can enjoy stunning scenarios in harsh conditions and with the right tactic the dream of a Baltic bar of silver can be achieved in much less than a thousand casts.
Just the German Baltic coast has a length of more than 2000km formed by numerous islands and bays with countless potential hot spots. Where should we start fishing? The imagination to stand in front of the almost endless vastness of the ocean, equipped with nothing but a fly rod can be pretty intimidating. This is the moment in which 30m of fly line can seem like a joke, especially compared to creek fishing, when reaching the fish isn't an issue. But, that's the charm of costal sea trout fly fishing.
We have to admit that this article isn't able to cover the whole complexity of the topic – honestly, this isn't what it's aiming for. It's about creating a guide for beginners and to encourage novices to get in touch with the "fascination sea trout". Roughly speaking, coastal sea trout fly fishing can be divided into two major components: equipment and tactical approach.

What do I need?
Let's focus on the less complex component first: the equipment. It's the equipment that protects us from harsh conditions and shapes the magical connection between fisherman and fish.
Due to the fact that this discipline involves an immense amount of casting, the rod is the heard of every setup. Different conditions – from "duck pond" to hurricane – justify a big range of line classes. If a delicate presentation close to the bank is needed a light 5# weight rod can do the business. In contrast to this, a heavy class #9 rod enables you to fish in the hardest winds and to benefits from these good catching conditions. Generally speaking, if you are looking for a suitable all-purpose sea trout rod a 7# weight in 9' or 9' is the one to go for. It should be fast and salt water resistant, and there are several rods in different price classes available, which are ideal for this type of fishing: for example the Hardy Demon, the Guideline LPXe, or the Scott Meridian.
Due to the high casting frequency and the need for distance the ideal interaction between rod and line is crucial. Just as in many other disciplines, following question divides the scene: Fly line or shooting head? Eventually, both options work absolutely fine. It's just a case of personal preference. But, the suitable sinking rate is of higher importance. Mostly Slow Intermediate and Intermediate lines are the name of the game – especially during colder months while fishing during the day. Very good and popular lines are the Guideline Coastal Slow Intermediate, the Vision Kust or shooting heads such as the Guideline Coastal RTG Single-handed Shooting Head Slow Intermediate. But, summer night fishing is an exception. Now it's time for floating lines such as the Guideline Bullet Evolve or the Guideline Coastal RTG Single-handed Shooting Head Floating. One needs to keep in mind, that the fly should be fished high up in the water to create a nice silhouette in front of the night sky out of the fish's perspective. Another exception is a deep spot with heavy current. A sink 1 or sink 2 line can offer the needed depth and can function as some sort of joker. Yet again, the Vision Kust in the suitable sinking rate can be recommended.
Ideally, the chosen costal line is stored on a salt water resistant reel with a very reliable drag system and a proper amount of backing. One should always keep in mind, that sea trout fishing might bring you into contact with a true fish of a lifetime. Nothing is harder than loosing such a beast while fighting. Therefore, light high-quality reels such as the Waterworks-Lamson Litespeed Micra 5 or a Hatch Finatic Gen 2 won't let you down.
The fly line is followed by a tapered 9' fluorocarbon leader with a 0,22-0,28mm tippet. As always, the strength should be suited to the conditions, but one can say that sea trout aren't really afraid of lines. It's of higher importance what you tie to the end of this material.
Most sea trout fly boxes include a mixture of brightly coloured patterns and natural imitations. Flies like the Polar Magnus and the famous Pattegrisen are ideal for winter and spring fishing – in other words: cold water.
Warmer water fills the coastal zone with life and requires a "match the hatch coastal style". Flies like the Tobisen 2, worm imitations, natural shrimp patterns and the unremarkable, but very successful Kopperbassen match the sea trout's natural supply of food. Fishing with two flies – a dropper and a point fly – became very popular in the last few years. This technique offers the psychological advantage that you and the fish always have two options. That's often a very relaxing thought!
Hence, the question of the perfect connection between fisherman and fish is answered. But, what helps us to create this magical connection? Proper clothing is just as important as the ideal rod setup. Even the best rod setup is useless, if a fishing session finds an early ending because of ongoing coldness.
Needles to say, high waders are advisable. Furthermore, a fishing jacket with waterproof cuffs at the wrists is definitely worth buying. Otherwise, wet sleeves will end many fishing sessions earlier than planned, especially in cold weather. Accessories, such as fingerless gloves – for example the Simms Half Finger Glove – can make hours of fishing much more enjoyable and will provide you with more endurance. Stripping Guards reduce friction caused by intensive stripping – even after days of fishing. Details like this can make a huge difference and improve your endurance. Consequently, the fisherman – and not the weather – should decide when it's time to call it a day.
Following and often essential accessories finalize the ideal equipment for coastal sea trout fly fishing:
A thermometer, to check one of the most important factors in the world of sea trout fishing – the temperature

The tactical approach
It's time for the more complex component: the tactical approach. How, where and when can we catch sea trout? It has to be said that this article can't cover every detail of the entire topic. But, it offers compact and essential tips, which will make your sea trout start much easier and will help you to enjoy this meditative discipline right away.

Where do we find the fish?
To catch sea trout with a fly rod we need to find places where they are feeding close to the bank. In other words: leopard areas, kelp or seaweed within casting range. Especially transitions between structure and plain sand are very interesting. It's unlikely to find sea trout on pure sand. In fact, if you find fish, most commonly the reword is a take. Therefore, the success of a fishing session – in terms of catching – is highly related to the choice of the correct spot. Finding the fish should always have highest priority. Thanks to very handy and helpful coastal guides by North Guiding one can easily get a good overview of the potential spots in a specific area. These books make finding fish much easier – absolutely worth it! Nevertheless, a good sea trout spot does not automatically lead to success. It is all about fishing the ideal spot for the current conditions, which can change every single hour. Even the best sea trout spot is only productive if the conditions are right.
The nightmare of a sea trout fly fisher: sunshine and absolutely no wind or waves – also known as "duck pond". Sea trout hunters, just as surfers, belong to the few species that prefer "miserable" weather. Conditions in which we mostly have the beach to our selves: wind, waves, some clouds and a strong surf the day before. But, we need to be realistic: most of us don't life next to the coast and can go fishing whenever the conditions are ideal. Mostly we go sea trout fishing for a few days, hoping that the conditions are good. And, that's when things go wrong! Therefore, many people prefer destinations like islands or peninsulas, which offer shores facing different cardinal directions. It is a huge advantage to have various strategic options to pick a fishing spot according to the wind direction.

Time of the year
Not only the current weather conditions should be part of the decision-making process – the time of the year is just as important! If the water of the open coast has not yet reached the magical 4-degree mark it is a good idea to look for spots with a lower salt content. The estuary of a small creek or even the tiniest trickle can make a huge difference. Additionally, the sun can heat up flat bays, which is why these places come to life much earlier. Trust your thermometer: one degree is a massive difference when it comes to sea trout fishing! During winter fishing a so-called winter quarter can be a real bonanza. These are flat, muddy bays with freshwater estuaries and a lower salt content – places, that won't hold fish in summer time!
But, not only the spot choice is influenced by the time of year. It also has a huge impact on the productivity of the different daytimes. Whether summer or winter: temperature is always an issue. In the winter months and the main season (March-May) sunshine warms up the water during the day, which makes fishing in daytime most productive. Contrary to this, the coastal region cools off in summer nights and therefore the temperature is back in the comfort zone of the sea trout. Now it's time for incredibly exciting night fly fishing with floating lines and black surface flies. Compared to the cold period, a mild summer night offers very pleasant conditions.

Recommended literature
Successful sea trout fishing is based on right tactical decisions including time of year and current weather. There are many good books such as North Guiding – Coast Strategy Sea Trout, which is compact and still creates a very good overview. Also the extensive book Meerforellen – Küstenangeln mit Profi-Taktiken by Jens Bursell is definitely worth reading. The author's critical approach gets you thinking about established ways of fishing and will provide you with very detailed and useful knowledge.

The following helpful tips will end the chapter concerning the tactical approach:
Who ever invented it, the saying "old wave equals good fishing" will help you to achieve your dream of a Baltic bar of silver! Earlier morning hours on a shore that had proper waves the previous evening can be super productive.
No matter which time of year: the change of light – whether in the morning or the evening – is always worth fishing. Consequently, if you are fishing in springtime and you don't want to fish from dawn till dusk a midday break is a good idea!
Don't start wading right away: the coloured, shallow water shaped by the waves already convinced numerous sea trout to attack a fly. Due to the current unprotected prey is forced into open water. Hence, first casts should always be done from the beach.
The line should always land straight to create a direct contact to the fly. If the sea trout are in a feeding frenzy, takes can occur directly after our fly touches the water!
No matter which fly you go for: the way of retrieving should always be varied. In case you get a false take you should imitate the prey's flight instinct. In other words: high speed!

The real challenge
As trivial it might sound: keep casting. Fly fishing for sea trout is not just physically challenging. Often, it's the mental component that sets the limit. The philosophic aspect of sea trout and salmon fishing have a lot in common: The longer you wait for a fish, the bigger the pleasure of finally catching it. In the end, endurance pays off!
The need for tactical decisions makes this type of fishing so fascinating. For many people, that's what sea trout fly fishing is all about: tactical discussions with good fishing buddies in front of a warm fireplace. But, what motivates so many sea trout fly fishermen? The constant chance of catching a wild fish of a lifetime or simply the view of jumping sea trout within casting range. A feeling, that can't be described and you truly have to experience on your own.