Article successfully added.

Guideline LPXe Single Handed Fly Rod

# 4 - 6

# 7 - 8

Guideline LPXe Single Handed Fly Rod

Guideline LPXe Single Handed Fly Rod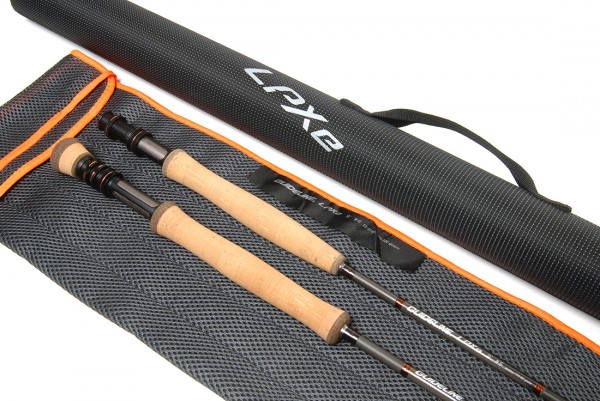 Guideline LPXe Single Handed Fly Rod
Guideline LPXe Single Handed Fly Rod
-20% on Guideline LPXe Rods

Deal valid until 03.08.2021 and while stocks last. The discount will be displayed in your Basket.
*1
*1 Offer valid until 04/08/2021
Guideline LPXe Single Handed Fly Rod
The legend Guideline LPXe rod series has been on the market for not less than 13 years – and yet still backups fly fishermen all over the world. Its sensitive and yet crisp action inspired a lot, both with single hand and double handed style.
Meanwhile rod building technology stepped forward with fibre technology and as well different components. That's why Guideline finally decided to take action and design an all new series: state to the art carbon fibre technlology, well tested guides of the RSI series and a completely new look. More than 2.5 years they casted adapted and of course caught many fish until final models where satisfying in every single class. And here it is, the brand new LPXe series!
Guideline managed to keep the soul and heart of the LPXe which delivers the same sensitivity than its previous models. Yet the blank is quite a bit faster and you feel more power in the core bottom. Light, crisp and fast describes it perfectly, although the blank bends down ¾ deep during casting as well. This allows tight loops with great feeling and provides a perfect combination for overhead and water based casts like switch cast and underhand.

Regarding its design, the new LPXe "shines" with a matte sanded blank finish! Copper decorative wrappings fit nice and the rods are completed by a futuristic milled aluminium reel seat. Also new: Starting with # 7 you'll find a counternut which makes sure your reel won't get loose in any condition. The rod sock is made of thick mesh material that will protect your rod like no other sock and guarantees increased air circulation.
As you can see, every detail has been surveyed and years of experienced have been usede to bring you the best version of the LPXe possible up to date. We for our part are sure that the new series will again spread around the world and inspire many of us!

Seven models of the sindle handed line up cover everything from small creeks up to lakes and even coastal fishing. # 4 – 6 in 9 ft length offer great all-round rods for trout and greyling fishery, while its longer # 7 and 8 take care of big trout waters, carp, sea trout and even single handed fishery for salmon.

Details:
fast, progressive action (yet deep loading)
Matte black finish with copper decorations
Special Fuji KW stripping guides for less friction during casting
Crome coated lightweight single foot wire guides
# 4 - # 6: 5A Reverse Half-Wells handle
# 7 - # 8: 5A Full-Wells handle with Fighting Butt
Anodized and milled aluminium reel seat with counternut (starting # 7)
4-piece
Delivered in fancy rod tube and thick mesh rod sock
| Length | Class | Weight | Action | Casting Weight |
| --- | --- | --- | --- | --- |
| 9 ft | 4 | 87 g | fast | 9-11g / 140-170 grains |
| 9 ft | 5 | 89 g | fast | 11-13g / 170-200 grains |
| 9 ft | 6 | 90 g | fast | 13-15g / 200-230 grains |
| 9,6 ft | 7 | 110 g | fast | 17-19g / 260-290 grains |
| 9,6 ft | 8 | 116 g | fast | 20-22g / 310-340 grains |
| 10 ft | 7 | 118 g | fast | 17-19g / 260-290 grains |
| 10 ft | 8 | 123 g | fast | 20-22g / 310-340 grains |