Article successfully added.
Savage Gear Line Thru Sandeel Sandaal 11 cm 15 g Hotspot Farben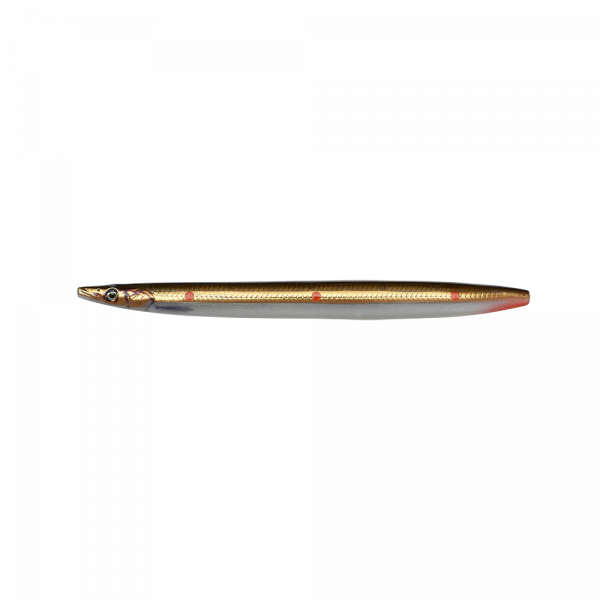 Brown Copper Red Dots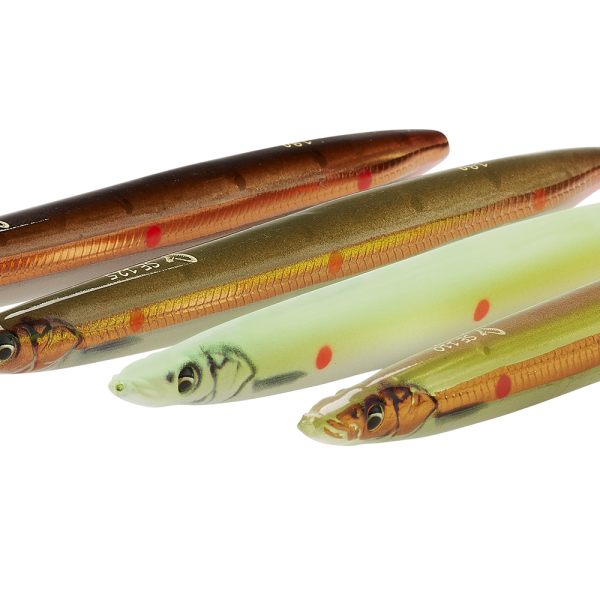 Savage Gear Line Thru Sandeel Sandaal 11 cm 15 g Hotspot Farben
Savage Gear Line Thru Sandeel Sandaal 11 cm 15 g Hotspot Farben
Savage Gear Line Thru Sandeel Sandaal 11 cm 15 g Hotspot Farben
The Line Thru Sandeel from Savage Gear is probably one of the most proven classics in the sea trout range. It is characterised by its ingenious properties, perfect running action, outstanding casting distances and the elimination of drill dropouts to an absolute minimum!
Savage Gear's product developers have carefully studied the swimming movements and behaviour of sand eels to create the optimum lure and the result is truly incredible! The 3D LT Sandeel swims with the head pointing slightly upwards in a seductive and sleek S-curve. The lure flutters and reels backwards, true to life like a fleeing sand eel trying to bury itself in the sand. When twitching, the lure breaks out arrow-like and unpredictable and flashes incredibly lifelike! The body is made of a super strong ABS body equipped with fantastic details! The unique inner spear rod ensures very long casting distances even in windy conditions. This fishing machine is rounded off with Savage Gear's tried and tested Line-Thru system, which ensures the perfect lure presentation and guarantees that the predatory fish don't use the weight of the lure to break free from the hook.
As a leader we recommend a fluorocarbon onto which the bait is simply strung and then rounded off with one of the included beads for knot protection and the hook at the end of the line. It hardly gets any catchier than this!
During extensive testing, Savage Gear's product developers also found that sea trout react particularly aggressively to UV red and orange dots combined with copper finishes in winter and spring, when water temperatures are very low. This has led to the creation of the Hotspot Colour series, three new colour combinations for even better catching success!
The lure is supplied with a single hook and treble, so you have the option of fishing with just a single hook, which is much gentler on small fish.

Details:
Length: 11cm
Weight: 15g
Hook: Y-Treble #6, single hook 3/0
Line Thru System
Ultra realistic barrel
Very good casting distances
ABS body with fantastic details
Hotspot colours for the cold seasons

About Savage Gear:
Savage Gear is no longer a new name in the spin fishing world. Back in 2005, founder Mads Gosell started developing his own artificial lures that were not available on the market. Today, the Scandinavian company is entirely dedicated to modern artificial lure fishing. Especially thanks to their sophisticated and innovative development of new lure concepts and designs, Savage Gear not only quickly became a household name, but also shaped the spin fishing scene from the ground up. Behind the company are passionate anglers who pour their passion and years of experience into this brand, driven by innovation and cutting-edge technology. Today, Savage Gear serves the entire spectrum for the modern spinning angler: lures, rods, nets, accessories, clothing and, most recently, spinning reels. By spinning anglers for spinning anglers!