Article successfully added.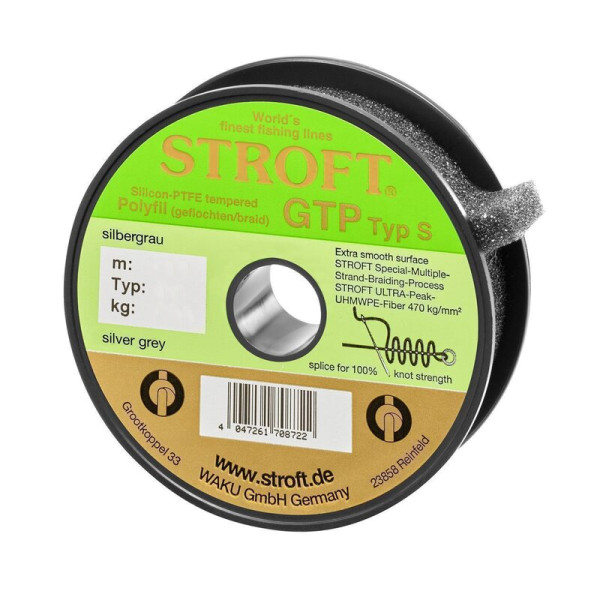 Stroft GTP Typ S silver-grey 150 m
15% on G.Loomis, Hardy, Einarsson, Mako, Galvan, Stroft and Monic (Black Week)

Deal valid until 30.11.2023 and while stocks last. Also valid for on-sale items. The (extra) discount will be displayed in your Basket.
Browse all Black Week Deals for Fly Fishing.
*1
*1 Offer valid until 01/12/2023
Stroft GTP Typ S silver-grey 150 m
The properties of braided lines are fundamentally different from fishing lines made of monofilament nylon. Their elasticity is infinitesimal and the breaking strain on the respective diameter is many times higher than that of nylon. But even with braided lines there are significant differences that need to be taken into account. Quality of the fibers, braiding method, finishing process, etc. significantly influence the properties of a polyfilament line.
Stroft is a household name for every angler, and the brand more than lives up to its reputation in the braided line category as well. GTP (Tempered Polyfil), unlike most braided lines on the market, is circular and the very best single fibers are always used. At Stroft, these are called Peak-UHMWPE. The value printed on the label is 100% guaranteed, and often these claims are even conservative and the actual breaking strain is significantly higher.
About UHMWPE:
UHMWPE, or Ultra High Molecular Weight Polyethylene is also known as Dyneema, Spekra or Tivar. It is the unique material which combines high load capacity with low elongation and a very thin diameter. Perfect, therefore, for the modern predatory fisherman.
Stroft uses only the world's best available fibers and further processed in a special braiding process that a "real braid" is created. A sheathing/coating is deliberately avoided and the quality of the surface is created solely by the meticulous processing procedure.
Stroft GTP S
Type S stands for "smooth" and this designation definitely says it all. If you know Stroft's Type E, you might hardly believe that it is possible to create an even smoother, "real" braided line. But once again Stroft has outdone itself and the difference to monofilament is hardly noticeable when you let the line glide through your fingers. The Type S lines are manufactured using the multi-strand process and the Ultra-Peak UHMWPE fibers used are unrivaled in their quality. In this process used, even finer fibers are woven with an increased braiding angle, so the fibers are bent slightly less than in the Type R and E - resulting in even slightly higher tensile strengths. Type S is the absolute non-plus-ultra in terms of fiber, braiding and surface smoothness. In terms of surface smoothness, there is hardly any difference to a monofilament.
Type S is an absolute premium line and pretty much the best the market currently has to offer. The slightly higher price is reflected all the more in the quality of the end product. Especially if you want to minimize friction in the rings in order to get the maximum casting distance out of your set-up and at the same time not make any sacrifices in terms of breaking strain and longevity, Stroft GTP Type S is the right line for you.
Details:
150 m / spool
Color: silver-grey
Top class braided line
Extremely high tensile strength (dry and wet)
Very high knot strength
Circular profil
Low stretch and direct feedback
Ultra compact
No memory effect
Very good casting properties
Extreme surface smoothness and hardly any dimples
Very low noise when running through the guides

Stroft deliberately does not specify diameters for braided lines, as this is difficult and inaccurate for braided lines anyway. The diameters given below are a comparison to monofilament to give you a tendency for the appropriate amount to fill your reel.
| Type | Breaking Strain | Comparable Diameter |
| --- | --- | --- |
| S04 | 3,50 kg | 0,09 mm |
| S05 | 4,00 kg | 0,11 mm |
| S06 | 4,50 kg | 0,13 mm |
| S1 | 5,00 kg | 0,15 mm |
| S2 | 6,00 kg | 0,18 mm |
| S3 | 8,00 kg | 0,20 mm |
| S4 | 10,00 kg | 0,22 mm |
| S5 | 13,00 kg | 0,25 mm |
| S6 | 16,00 kg | 0,28 mm |
| S7 | 20,00 kg | 0,30 mm |
About Stroft:
Established more than 45 years ago, the German manufacturer Stroft is known for high-quality fishing lines – made in Germany! This impressive selection includes the perfect leader material for all kinds of fly fishing and spin fishing techniques – whether mono, fluorocarbon or titan. In addition, Stroft also offers premium braided lines and running lines. In fact, all of these lines have one thing in common: their outstanding quality with absolutely no imperfections. Therefore, these lines are an extremely reliable connection between you and the fish of your lifetime!