Article successfully added.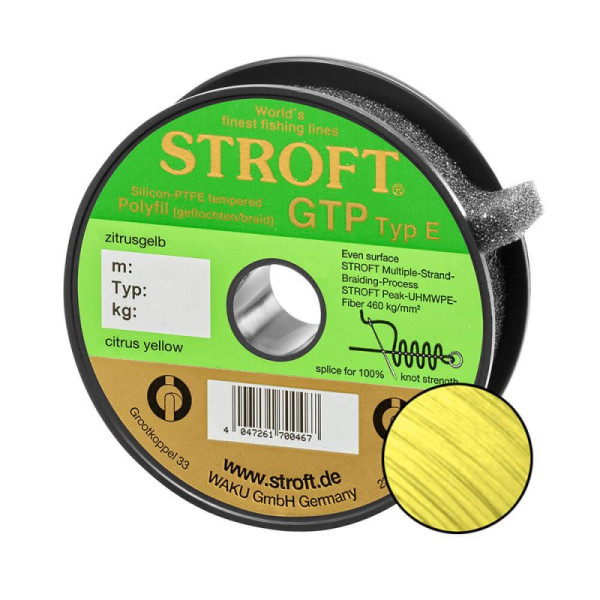 Stroft GTP Typ E citrus yellow 125 m
was

€41.90 *

(16.71% Saved)
€34.90 *
Content:
125 meter (€0.28 * / 1 meter)
Prices incl. VAT plus shipping costs
Stroft GTP Typ E citrus yellow 125 m
The properties of braided lines are fundamentally different from fishing lines made of monofilament nylon. Their elasticity is infinitesimal and the breaking strain on the respective diameter is many times higher than that of nylon. But even with braided lines there are significant differences that need to be taken into account. Quality of the fibers, braiding method, finishing process, etc. significantly influence the properties of a polyfilament line.
Stroft is a household name for every angler, and the brand more than lives up to its reputation in the braided line category as well. GTP (Tempered Polyfil), unlike most braided lines on the market, is circular and the very best single fibers are always used. At Stroft, these are called Peak-UHMWPE. The value printed on the label is 100% guaranteed, and often these claims are even conservative and the actual breaking strain is significantly higher.
About UHMWPE:
UHMWPE, or Ultra High Molecular Weight Polyethylene is also known as Dyneema, Spekra or Tivar. It is the unique material which combines high load capacity with low elongation and a very thin diameter. Perfect, therefore, for the modern predatory fisherman.
Stroft uses only the world's best available fibers and further processed in a special braiding process that a "real braid" is created. A sheathing/coating is deliberately avoided and the quality of the surface is created solely by the meticulous processing procedure.
Stroft GTP E
Type E stands for "even". The Peak UHMWPE fibers are distributed over significantly more individual strands, which are then braided. This makes the cross-section of the line almost circular with an incredibly smooth surface, which has significantly fewer and especially smaller dimples. In direct comparison with other braids, GTP E is thus considerably more supple, compact and even on its surface. This is directly noticeable by a significantly quieter running noise of the line.
Compared to the competition, this braid is also characterized by significantly higher tensile strength in both dry and wet conditions. This also results in a very high knot strength and the low-stretch properties always ensure direct contact with the lure.
GTP E is for us definitely one of the best braided lines available on the market. If the link between the rod and the fish is as important to you as the rest of the equimpent, you should not shy away from this investment. It is worth it, the line is 100% reliable.
Details:
125 m / spool
Color: citrus yellow
High tensile strength (dry and wet)
High knot strength
Circular profil
Low elongation and direct feedback
Ultra compact
No memory effect
Very good throwing properties
Reduced dimples and high surface smoothness
Low noise when running off the line

Stroft deliberately does not specify diameters for braided lines, as this is difficult and inaccurate for braided lines anyway. The diameters given below are a comparison to monofilament to give you a tendency for the appropriate amount to fill your reel.
| Type | Breaking Strain | Comparable Diameter |
| --- | --- | --- |
| E06 | 4,25 kg | 0,13 mm |
| E1 | 4,75 kg | 0,15 mm |
| E2 | 5,75 kg | 0,18 mm |
| E3 | 7,50 kg | 0,20 mm |
| E4 | 9,50 kg | 0,22 mm |
| E5 | 12,00 kg | 0,25 mm |
| E6 | 15,00 kg | 0,28 mm |
| E7 | 19,00 kg | 0,30 mm |
| E8 | 24,00 kg | 0,35 mm |
About Stroft:
Established more than 45 years ago, the German manufacturer Stroft is known for high-quality fishing lines – made in Germany! This impressive selection includes the perfect leader material for all kinds of fly fishing and spin fishing techniques – whether mono, fluorocarbon or titan. In addition, Stroft also offers premium braided lines and running lines. In fact, all of these lines have one thing in common: their outstanding quality with absolutely no imperfections. Therefore, these lines are an extremely reliable connection between you and the fish of your lifetime!