Article successfully added.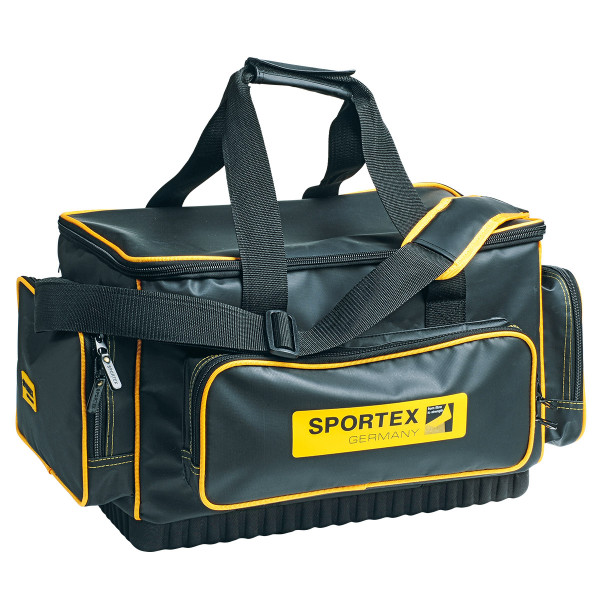 Sportex Carryall Bag
Sportex Carryall Bag
With the Carryall bag, the name says it all: a practical carrying bag in which you can neatly store and organize all your important fishing equipment. With all the money we spend on expensive fishing equipment, we should protect it accordingly well. In the Carryall bag your equipment is not only softly padded, it is also safely protected from wind and weather, because both the sturdy zippers and the durable PVC material is waterproof. In the spacious main compartment you get large tackle boxes, provisions, spare clothes, valuable electronics and other accessories safely stowed. The main compartment can be opened completely via a large lid, so you always have complete access to the contents. Additional accessories such as tools, leader material, smaller boxes, etc. can be perfectly stored in the practical side pockets.
For transport, you can simply hang the bag on the comfortably padded carrying strap or grab it by the ergonomic EVA handles.
Details:
Waterproof zippers
Spacious, padded interior compartment
Convenient exterior pockets for quick access
Padded shoulder strap
Sturdy carrying handles with comfortable EVA padding
Material: PVC
Dimensions:

small 48 x 33 x 29 cm
large 60 x 38 x 33 cm
About Sportex:
Sportex is one of the relevant brands that have shaped the sport of fishing for a long time. Through the highest technical implementation, the highest quality components and refined innovation, Sportex has been one of the strongest players in rod building for years. Many of today's widely used technologies once came from their company and were then established on the global market. Owners of a Sportex rod know what huge potential lies in the fine sticks and anglers who want to experience the full power of today's technologies cannot walk past the top models from Sportex.