Article successfully added.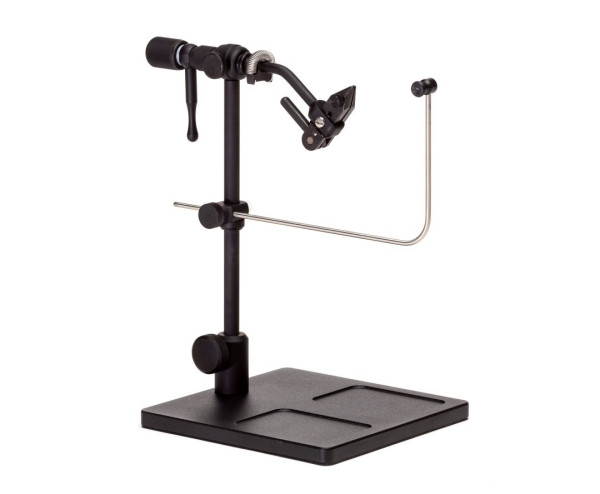 Renzetti Saltwater Traveler 2300 Pedestal Base Fly Tying VIse
Renzetti Saltwater Traveler 2300 Pedestal Base Fly Tying VIse
Like many success stories, the one of Renzetti began in a small garage, back in the early 1970s in Pennsylvania, USA. Unsatisfied with the tying vises available at the time, Andy Renzetti sat down at the drawing board himself. Not long after, the young visionary launched the world's first true rotary fly tying vise, a milestone for many fly tyers and just the beginning of a company history marked by innovation and creativity. Since then, much has changed and the market for high-quality fly tying products has grown considerably. What has not changed: The high standard for the outstanding quality of Renzetti products. Because today, as then, the family-owned company delivers absolutely well thought-out quality products to demanding fly tyers all over the world. All Renzetti components are still manufactured in the USA.
Already in 1988, the first True Rotary Traveler tying vise was launched on the market and since then has been constantly further developed and improved over the years. Today, the Traveler series is the most comprehensive series of vises from Renzetti and includes a range of very well thought-out models for different areas of application. What all Traveler True Rotaty Vises have in common: They are conveniently portable (better for traveling), have incredibly strong jaws, and are excellent value for money.
Saltwater Traveler 2300
A lot has changed since the original Traveler vise was introduced to the market. In addition to upgrades in the jaw mechanism, base plate and finish, the 2300 model has also undergone a complete visual makeover. Because it is now completely black anodized. And that suits it very well, in our opinion!
The new strong, patented cam jaws with anti-corrosion coating are designed for particularly large flies in this Saltwater version. Hook sizes between #4 and 8/0 find bombproof hold, so perfect for all your larger saltwater flies and predator streamers. Also, the larger base plate and longer 7" (17.5 cm) stem provide an even more stable stand when tying big flies. The black anodizing not only gives the vise a cool look, but more importantly makes its surface even more resistant and durable.
Of course, the Saltwater Traveler 2300 is also a True Rotary Vise: The 360° stepless rotation makes many tying processes immensely easier, whether it's creating body ribbing or gluing your streamer heads. The finely adjustable hinge of the jaws can be individually adjusted to your fly sizes, so that each hook of sizes #4 to 8/0 sits wobble-free from the first to the last wrap.
The design of the jaws and rotating shaft provides maximum room and freedom for your hands to precisely perform intricate fine work on a wide variety of fly patterns. And do you still sometimes lack a third hand to manage your tying material? No problem, because the material clip provides a remedy, just like the robust brass bobbin holder. Tying thread and protruding material are kept out of the way, leaving you both hands free for more challenging tying steps and always achieving the best possible end result.
Details:
High quality tying vise, especially for large fly patterns
Perfect for hook sizes #4 - 8/0
Completely black anodized aluminum
Black oxidized patented jaws
Complete 360° rotation
Adjustable rotation resistance
Adjustable bobbin holder
Material clip
Spinning attachment: For faster rotation around its own axis
Polyurethane O-ring
A new 6" x 6" black powder coated base plate with a 7" aluminum stem