Article successfully added.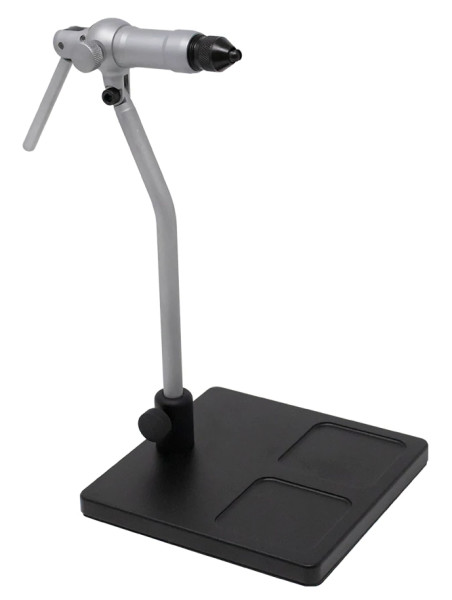 Renzetti Apprentise Rotary Vise Pedestal Base Model
Renzetti Apprentise Rotary Vise Pedestal Base Model
Like many success stories, the one of Renzetti began in a small garage, back in the early 1970s in Pennsylvania, USA. Unsatisfied with the tying vises available at the time, Andy Renzetti sat down at the drawing board himself. Not long after, the young visionary launched the world's first true rotary fly tying vise, a milestone for many fly tyers and just the beginning of a company history marked by innovation and creativity. Since then, much has changed and the market for high-quality fly tying products has grown considerably. What has not changed: The high standard for the outstanding quality of Renzetti products. Because today, as then, the family-owned company delivers absolutely well thought-out quality products to demanding fly tyers all over the world. All Renzetti components are still manufactured in the USA.
The Renzetti Apprentise Rotary Vise is a simple, 360° rotatable tying vise of the highest quality. The tying vise stands for a secure hold on a powder-coated base plate, which has two recesses. These recesses allow hooks, beads or other small items to be placed without rolling off the workstation. The shaft can be removed from the base plate for transport or for stowing the tying vise. It is secured with a set screw that can be loosened in no time.
The aluminum shaft as well as the housing of the Apprentise is glass bead blasted, which gives the tying vise a special look! The oxide coated jaws can be opened and closed very quickly with a lever at the end of the housing. An adjusting screw at the head of the stick allow to change the span, so as to always guarantee a perfect hold for the respective hook size.
The Renzetti Apprentise Rotary Vise is a simple but high quality tying vise that will give beginners to master tyers lots of fun!

Details:
High quality Rotary Vise from Renzetti
360° rotating head
Oxide coated jaws ensure a secure hold of the hooks
Easy to open and close
Adjustable clamping width by means of a set screw
Small pack size
Powder coated base plate
Glass bead blasted aluminum