Article successfully added.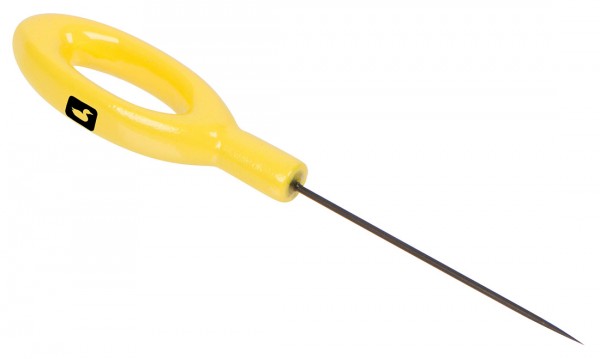 Loon Ergo Bodkin Dubbing Needle
Loon Ergo Bodkin Dubbing Needle
A very versatile tool that you shouldn't miss on your fly tying desk! The big, powder-coated grip with thumb hole allows comfortable and safe handling with your fingers and the sharp pointed dubbing needle directed precisely. Use it to split your thread for dubbing brushes, loosen tied in materials (especially when you are dealing with long fibre materials) or to apply and form varnish or glues. To cut a long story short: This needle helps to tie your best flies and you will have it handy whenever you are in front of your tying vise. ;-)

Tip: If there's varnish, glue or other stuff soiling the needle, just burn it clean with a lighter.

Details:
Length: ca. 11 cm
Enlarged ergonomic finger/thumb hole
Strong Japanese steel needle
Powder coated grip
About Loon:
The American manufacturer Loon Outdoors is known worldwide for all kinds of high-quality tools and accessories. Due to their practice-oriented design, these proven products will come in handy in many different situations – both while fishing and tying flies. Thereby, they make the small challenges in the world of fly fishing much easier – whether it's a complicated fly tying step or unhooking a fish. Last but not least, these products with their iconic black and yellow design offer a truly outstanding value for money.