Article successfully added.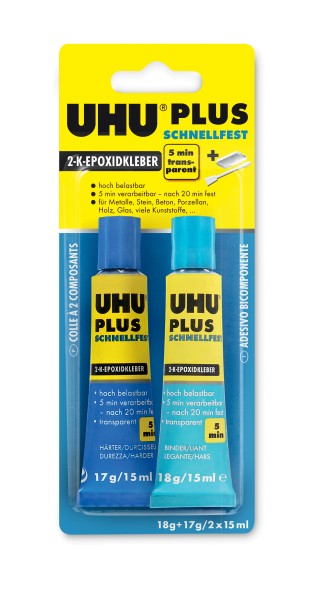 UHU Plus Fast-Dry Epoxy 35g
was

€12.90 *

(22.87% Saved)
€9.95 *
Content:
35 gram (€0.28 * / 1 gram)
Prices incl. VAT plus shipping costs
Delivery time: 1 - 3 work days
UHU Plus Fast-Dry Epoxy 35g
The company UHU from Germany is known around the world for adhesives of all kinds. UHU produces some very useful adhesives for fly-fishermen and fly-tyers, including the Fast-Dry Epoxy.
The UHU Plus Fast-Dry is a solvent-free, two-component, epoxy-based adhesive for fast, strong bondings. It allows for an easy application and can be cleanly prepared due to the spatula and plastic dish which is included. The mixing ratio is 1:1, so the binder and hardener can be mixed in equal proportions (equal length beads) on the enclosed plastic dish. This epoxy allows high-strength bonds to almost all solid materials. At the tying bench, it is typically used to form bodies or heads on streamers or for securing eyes on either synthetic or natural materials. The processing time is up to 5 minutes and the full strength is reached at 20 minutes. The epoxy hardens to a transparent finish, which allows you the ability to color with a permanent marker or leave clear for more transparent patterns.
Details:
Powerful 2-component epoxy resin adhesive
Allows for fast, high-strength bonding on small surfaces
Transparent once cured
Impact-resistant, long-lasting, and temperature resistant
Mixing ratio Binder : Hardener = Volume 1:1
Contents: 15.5g
Tip: The best and most consistent results can be achieved with a special dryer for epoxy flies, such as the C&F Design CFT-210.