Article successfully added.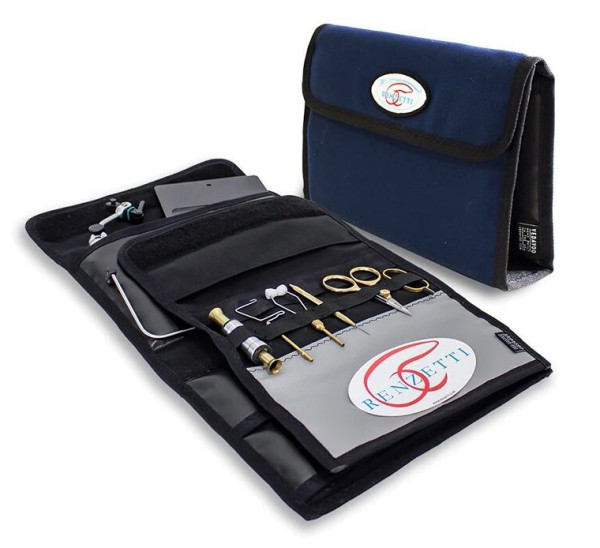 Renzetti Vise Storage and Transport Bag
Renzetti Vise Storage and Transport Bag
The well thought-out tools and accessories from Renzetti strike exactly in the same notch as the high-quality premium binding sticks of the traditional company. Quality, functionality and ergonomics are the cornerstones of the practical equipment and all have one thing in common: they make your work on the tying vise much easier and lead you to even more beautiful tying results.
Attention all fly tying junkies, last minute tyers and travel enthusiasts! If you can't go on a fly fishing trip without your tying equipment, then the R-Evolution Storage and Transport Bag is just what you need! The case offers you the perfect, space-saving solution to store your tying vise, including base plate and all your important tools safely, padded. At home and on the road! The 1680D outer material is virtually indestructible, so no problem if it gets a little bumpy on the road. The sturdy rubber straps keep all your tools in place, while the vise, base plate and bobbin cradie quickly slide into the large compartments. Just fold up the Velcro and off you go. All together smaller than an A4 sheet.
Details:
Practical tying bag for tying pole and tools
Softly padded
Space saving
1680D ballistic nylon material
Dimensions: 28 x 15 x 5 cm
Made in USA
About Renzetti:
Like many success stories, the one of Renzetti began in a small garage, back in the early 1970s in Pennsylvania, USA. Unsatisfied with the tying vises available at the time, Andy Renzetti sat down at the drawing board himself. Not long after, the young visionary launched the world's first true rotary fly tying vise, a milestone for many fly tyers and just the beginning of a company history marked by innovation and creativity. Since then, much has changed and the market for high-quality fly tying products has grown considerably. What has not changed: The high standard for the outstanding quality of Renzetti products. Because today, as then, the family-owned company delivers absolutely well thought-out quality products to demanding fly tyers all over the world. All Renzetti components are still manufactured in the USA.