Article successfully added.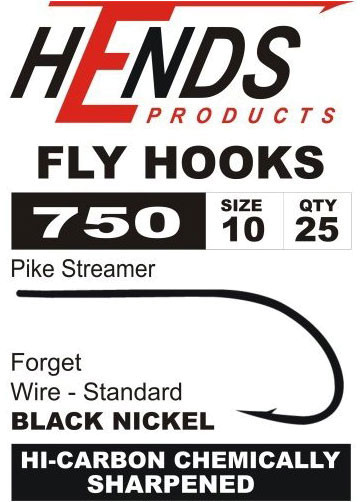 Hends 750 Streamer Hook
Hends 750 Streamer Hook
Hends does not only offer modern fly tying materials, but also an extensive collection of very reliable hooks. These hooks live up to the great reputation of their manufacturer due to their good quality and an outstanding value for money.
The Hends 750 is a great all-round streamer hook. Due to its versatile shape, it can be used for tying countless different patterns – for example Wooly Buggers or baitfish. It offers outstanding hooking properties due to its chemically sharpened point with an upwards bend. Further, the modern Hi-Carbon material makes it very strong, and therefore you will always be ready for the fish of a lifetime.
Without a doubt, the Hends 750 Streamer Hook will provide lots of joy – during the process of tying and while fishing!
Details:
Very versatile hook for tying streamers
Relatively long shank
Chemically sharpened point with upwards bend
Straight eye
With barb
Made of a very reliable Hi-Carbon
Colour: black nickel
| Hook Size | Content |
| --- | --- |
| 2 | 14 pcs. |
| 4 | 15 pcs. |
| 6 | 16 pcs. |
| 8 | 18 pcs. |
| 10 | 20 pcs. |