Article successfully added.
Thomas & Thomas Contact II Single Handed Fly Rod
Thomas & Thomas Contact II Single Handed Fly Rod
Thomas & Thomas Contact II Single Handed Fly Rod
Thomas & Thomas Contact II Single Handed Fly Rod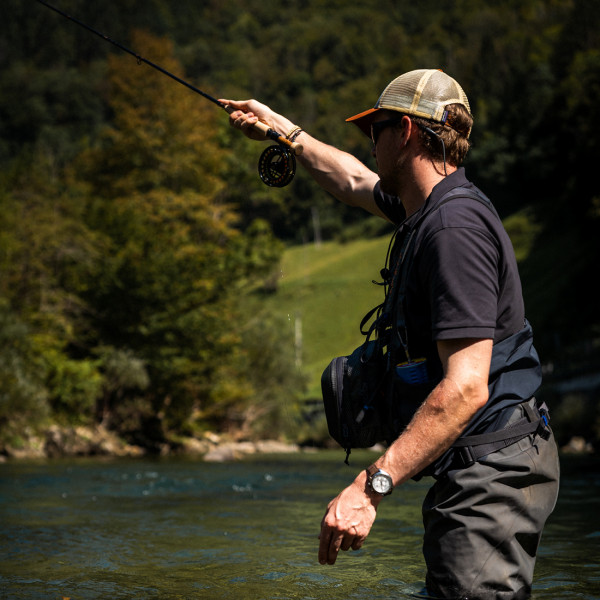 Thomas & Thomas Contact II Single Handed Fly Rod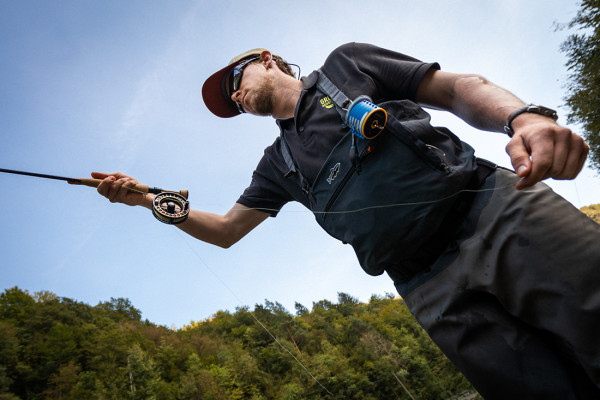 Thomas & Thomas Contact II Single Handed Fly Rod
Thomas & Thomas Contact II Single Handed Fly Rod
Thomas & Thomas Contact II Single Handed Fly Rod
After almost three years of development and intensive practical tests, Thomas & Thomas presents the continuation of a success story with the Contact II. Because the first series of nymph rods from T&T was already the first choice in the premium segment for many passionate nymph fishermen.

Compared to the first generation, the Contact II has become even more precise and dynamic. This is due to the new design, which uses five different types of high quality carbon and glass fibres. The alignment of these fibres at strategic angles during rolling improves the accuracy, sensitivity and strength of the rod blank. The final blank is still unsanded - also to save weight or lacquer. All components have been carefully selected to maximize performance and comfort when fishing with the Nymph. This includes the fact that a downlocking reel seat is now standard equipment. This is a useful addition, as it shifts the weight of the reel to the rear and the long nymph rods are better balanced. An optimized distance between the rings also minimizes line (or special leader) sagging during fishing and reduces the distance between the angler's hand and the first guide ring. The ultra-sensitive Contact II is therefore even better able to transmit every fine vibration from the nymph to the fingertip. That's why the Contact II from Thomas & Thomas is also an excellent choice if you are a fan of ntight line fishing (Euro Nymphing, French Nymphing).

All Contact II rods use Thomas & Thomas patented StratoTherm resin, which results in extremely light rods. And lightness is very important in this fishery, because you get the optimum drift with a raised, stretched rod arm. This is much easier with the Contact II than with many other models on the market. The flexible but fast cushioning rod tip of the Contact Nymph rod eliminates almost all shock waves in the leader after the cast, so that your Nymphs can get into the water without any problems and the detection of fast bites in the sinking phase or early phase of the drift is improved.

The Contact II nymph rods have a special taper based on the positive experience with the first generation. However, some models have been adapted and are now slightly faster - other models have usefully added to the series. Furthermore with these rods a small impulse and a minimal rod movement from the wrist is enough and the hook is successfully set. The taper of the Contact makes it possible to fish a wider range of rod positions and angles very effectively and thus cover more water with less wading. An important point when fishing nymphs in European style. Also when fishing with classic bite indicators the Contact II convinces with a great performance. This is also due to the low swing weight and fast recovery of this rod series, which can still develop great power from the lower part. Combined with a DT flying line or a balanced WF line with a medium-length head, the Contact rod can even deliver dry flies smoothly onto the water. This is less fun with many other nymph rods, as they often act a little slower overall due to their length. This makes the Contact II a versatile rod for lovers of trout and grayling fishing. We like that very much!

The Contact II effortlessly follows in the footsteps of the first generation of high-quality nymph rods from the manufacture of Thomas & Thomas - but convinces us even more due to sensible updates! Thanks to the successful combination of well thought-out functionality and first-class craftsmanship, it is the best choice for all those who are interested in a nymph rod from the premium segment and appreciate perfect craftsmanship. A clear purchase recommendation from us!

Details:
Optimized guide spacing with lowered stripping guides to decrease line sag between the hand and first guide
Down-locking reel seat
Increased backbone power to improve hook sets and assist landing larger fish
Extra dense premium flor grade cork grips increases feel and bite transmission
Matte black downlocking hardware as standard with T&T's trademark roll stamped logo and burled Black Ash spacer
Black RECoil single foot snake guides
Black hook keeper and winding check
Black "Low Rider" style stripping guide keeps line tighter to blank for improved strike transmission and accuracy
New low-profile rounded fighting butt for balance and comfort
Stealthy brown and olive thread wraps
1086 Contact, primarily designed for migratory fish has a full well grip and longer diameter uplocking reel seat as standard configuration
Made in the US
| Model | Class | Length | Handle | Weight | Transport-Length |
| --- | --- | --- | --- | --- | --- |
| 1002-4 | 2 | 10,0 ft (3,05 m) | Western / Fighting Butt | 85 g | 85 cm |
| 1092-4 | 2 | 10,9 ft (3,32 m) | Western / Fighting Butt | 87 g | 92 cm |
| 1003-4 | 3 | 10,0 ft (3,05 m) | Western / Fighting Butt | 86 g | 85 cm |
| 1093-4 | 3 | 10,9 ft (3,32 m) | Western / Fighting Butt | 88 g | 92 cm |
| 1094-4 | 4 | 10,9 ft (3,32 m) | Western / Fighting Butt | 89 g | 92 cm |
| 1123-4 | 3 | 11,2 ft (3,41 m) | Western / Fighting Butt | 91 g | 94 cm |
| 1086-4 | 6 | 10,8 ft (3,30 m) | Full Wells / Fighting Butt | 138 g | 92 cm |
About Thomas & Thomas:
100 % American Hand Made Fly Rods seit 1969! Vor über einem halben Jahrhundert gründete der legendäre Rutenbauer Tom Dorsey zusammen mit Tom Maxwell das Unternehmen Thomas&Thomas mit dem Ziel, unvergleichliche Fliegenruten zu bauen. Heute, ein halbes Jahrhundert später, wird dieses Ziel vom neuen Eigentümer und begeisterten Fliegenfischer Neville Orsmond aber immer noch zusammen mit Tom Dorsey weiter verfolgt. In den letzten 50 Jahren hat das Unternehmen so einige Wandel erlebt und durchlebt. Zum Beispiel den häufigen technologischen Wandel bei der Herstellung von Fliegenruten, aber auch den Wandel der Wertschätzung für handwerkliche Qualität und eine unvorstellbare Akzeptanz unseres Sports, dem Fliegenfischen! Diese Höhen und Tiefen sorgen heute für eine unglaubliche Erfahrung in puncto Rutenbau, die sich auszahlt. Fünfzig Jahre Erfahrung, Neville Orsmond und letzten Endes das unermüdliche Streben nach Innovation, überragender Qualität und kompromissloser Leistung bei der Herstellung der Fliegenruten sorgen heute für die Wiederbelebung der Marke Thomas&Thomas sowie für die wahrscheinlich besten handgefertigten Fliegenruten der Welt – The rod you will eventually own!