Article successfully added.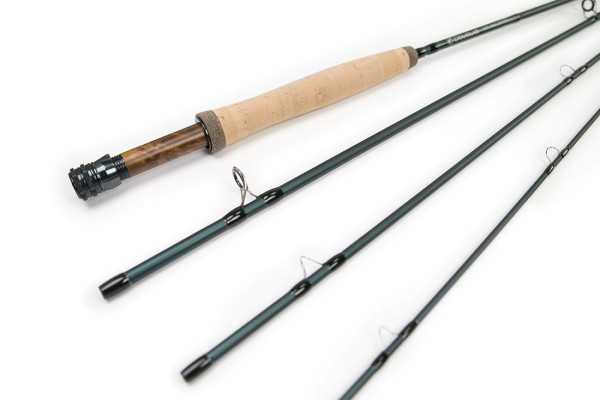 Douglas DXF Single Handed Fly Rod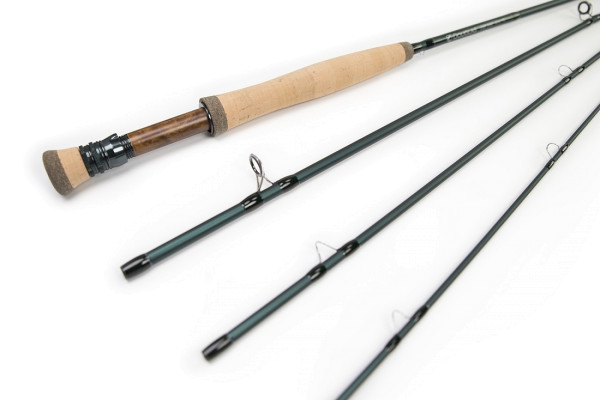 Douglas DXF Single Handed Fly Rod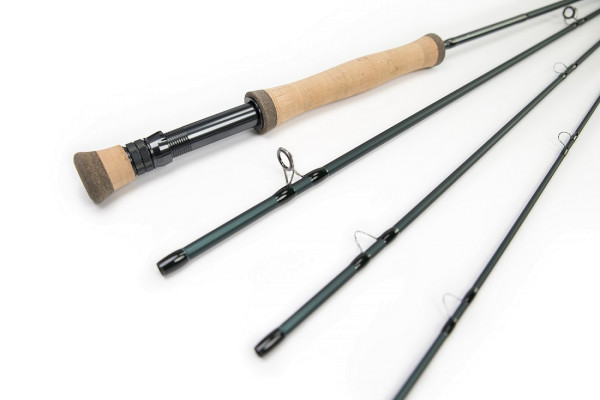 Douglas DXF Single Handed Fly Rod

Half Wells

Half Wells / Fighting Butt

Full Wells / Fighting Butt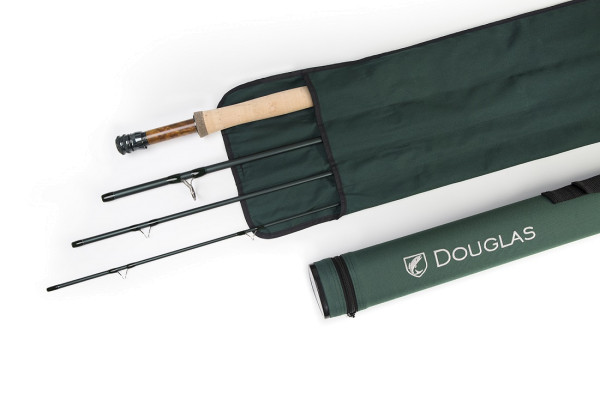 Douglas DXF Single Handed Fly Rod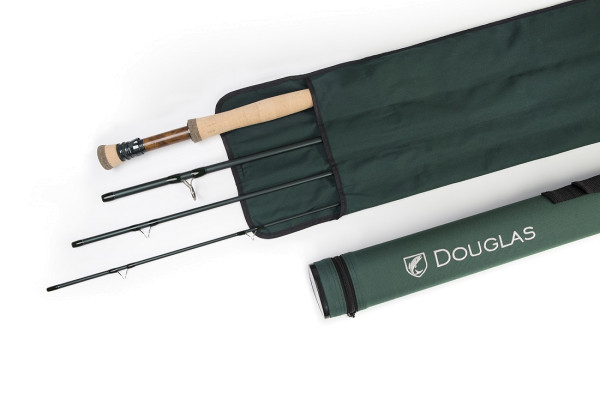 Douglas DXF Single Handed Fly Rod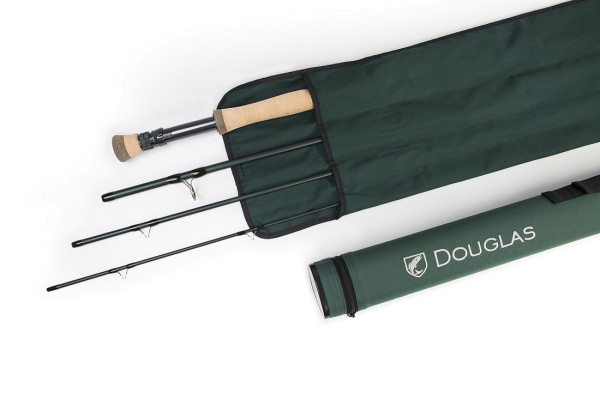 Douglas DXF Single Handed Fly Rod

Douglas DXF Single Handed Fly Rod
Douglas DXF Single Handed Fly Rod
Douglas DXF Single Handed Fly Rod
Douglas Outdoors was founded in 2014 near Lake Ontario/NY in the USA. The philosophy of the young rod building company is based on the focus on highest craftsmanship, modern technologies and first-class quality. With the needs of the most demanding fly fishers always firmly in mind, you won't find mass-produced, low-priced rods off the rack at Douglas. All Douglas fly rods are lovingly handcrafted for daily use on the fishing water and reflect the passion for fishing and quality in all components. The American rod makers know exactly what demands experienced fly fishers make of their equipment and what influence fishing has on the lives of fly fishers. This philosophy also guides the DXF Series - which includes models for modern nymph fishing, classic models for Trout and Grayling fishing, and powerful saltwater rods for both domestic and exotic predators.
The DXF Series from Douglas was a big hit in Yellowstone Angler's big rod comparison test (line class #6) in the 'Mid Price' category, beating off strong competition. Since then, the multiple award-winning rod has been the talk of the town! This rod series not only offers first-class casting performance at a moderate price, but also an extensive selection of different models that cover all areas of modern fly fishing. In the development of the individual rod models, the experienced rod builders at Douglas have incorporated the relevant practical functions into both the action of the blank and the components used.

All DXF rods are made with Douglas' XMatrix Carbon Technology, which combines lightness with durability. The blanks on the freshwater models offer a moderate, medium-fast action and are designed to present your fly accurately. These rods have impressive sensitivity and allow you precise handling and effortless line control. The longer, finer models for modern nymph fishing feature a small fighting butt and downlocking reel seat for better balance. These rods with lengths from 10ft. to 11ft. are effective tools for Euro Nymphing and comparable tight line techniques. The freshwater allround rods for Trout and Grayling present both the smallest dry flies as streamers on heavy sink tips and feature a classic uplocking reel seat in addition to a fine wood insert. All predator rods, on the other hand, which thanks to 100% saltwater-resistant components can be used not only for fishing for Sea Trout on the Baltic Sea but also for heavy tropical fishing, are constructed with an anodised aluminium spacer and a sturdy aluminium reel seat. The tip of these rods shows a slightly faster recovery speed and allows you to get your line to distance without effort even in adverse conditions (e.g. strong wind). Real powerhouses that bend under load deep into the lower part of the blank to handle on not only Sea Trout, Pike and other species in your backyard, but also the strongest predators in the tropics.

The DXF Series' premium components also include SIC Hard Chrome Stripping Guards and chrome Snake Guides, which ensure minimal friction on the fly line. The AAA-Flor cork grips on all models fit beautifully in the hand and are shaped to suit the area of use. The rods are delivered in a case and with a robust Cordura transport tube.

If you are looking for a Douglas rod with a perfect price-performance ratio, then the DXF Series is just right for you! Here you will find the right model for every application with practical functionality. The workmanship of these single-handed rods is impeccable and the components are carefully selected and built up in a first-class manner. For us, a real price-performance winner!
Details:
Multi modulus blanks with a matte green finish
Tapers for both strength and presentation
Anodized uplock
Burled wood reel seat
SIC hard chrome stripper frames and snake guides
Alignment dots
AAA cork grip scaled for each rod size
Packaged with codura tube and sock
Awarded 'Best Mid Priced Rod' by George Anderson's Yellowstone Angler in 5 and 6 weights
Saltwater rods 6-10 weight (Handle C)
Specialty nymphing in weights 3-4 (Handle B)
30 year manufacturer's warranty
| Class | Length | Transport Length | Handle |
| --- | --- | --- | --- |
| 3 | 9 ft (2,74 m) | 78 cm (74 cm without tube) | Half Wells |
| 3 | 10 ft (3,05 m) | 85 cm (81 cm without tube) | Half Wells / Fighting Butt |
| 3 | 11 ft (3,35 m) | 93 cm (89 cm without tube) | Full Wells / Fighting Butt |
| 4 | 8,6 ft (2,62 m) | 75 cm (71 cm without tube) | Half Wells |
| 4 | 9 ft (2,74 m) | 78 cm (74 cm without tube) | Half Wells |
| 4 | 10 ft (3,05 m) | 85 cm (81 cm without tube) | Half Wells / Fighting Butt |
| 4 | 11 ft (3,35 m) | 93 cm (89 cm without tube) | Half Wells / Fighting Butt |
| 5 | 8,6 ft (2,62 m) | 75 cm (71 cm without tube) | Half Wells |
| 5 | 9 ft (2,74 m) | 78 cm (74 cm without tube) | Half Wells |
| 5 | 10 ft (3,05 m) | 85 cm (81 cm without tube) | Half Wells / Fighting Butt |
| 6 | 9 ft (2,74 m) | 78 cm (74 cm without tube) | Half Wells |
| 6 | 9,6 ft (2,92 m) | 82 cm (78 cm without tube) | Full Wells / Fighting Butt |
| 7 | 9 ft (2,74 m) | 78 cm (74 cm without tube) | Full Wells / Fighting Butt |
| 8 | 9 ft (2,74 m) | 78 cm (74 cm without tube) | Full Wells / Fighting Butt |
| 9 | 9 ft (2,74 m) | 78 cm (74 cm without tube) | Full Wells / Fighting Butt |
| 10 | 9 ft (2,74 m) | 78 cm (74 cm without tube) | Full Wells / Fighting Butt |
| 12 | 9 ft (2,74 m) | 78 cm (74 cm without tube) | Full Wells / Fighting Butt |