Article successfully added.

Zpey Ztealth Classic Handle Double Handed Fly Rod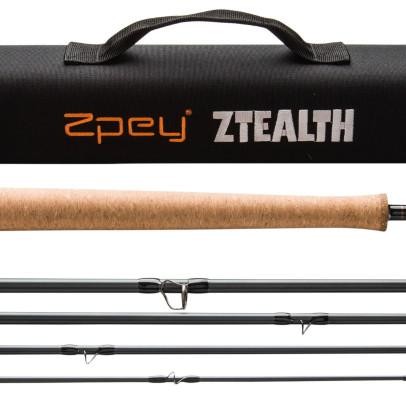 Zpey Ztealth Classic Handle Double Handed Fly Rod
Zpey Ztealth Classic Handle Double Handed Fly Rod
Now with a classic handle for all the people who prefer a traditional straight handle for Zpey's bent one.
Since years the name 'Zpey' stands for innovative ideas and revolutionary concepts in rod building. The Ztealth Double Handed Series is no exception and holds something special too: All models are available with two different handles. For the handles Zpey uses an amazing mix of cork dust, resin and polyurethane that looks great, lasts longer and is far better to hold than ordinary cork.
The rod's action is fast and powerful and the matt blank bents deep down when loaded. You can shape tight loops and achieve high line speeds with ease. Still the tip offers enough sensitivity. In direct comparison to other brands Zpey rods are slightly lighter when it comes to casting weight. For class 9 a head weight of 27g up to 30g is recommended.

The 13,5 ft. #7 is a super lightweight rod which can be used on smaller salmon rivers and in all situations where accurate presentation is more important than ultra long casts. If you target sea run brown trout on running waters this model is a great choice too.
The 13,5 ft. #9 is an allrounder for many different scenarios. We wouldn't hesitate one second to fish this powerful rod on the Mörrum or most other scandinavien waters.
With the 14,6 ft. #10 you don't feel lost on the banks of those majestic salmon rivers like the famous Gaula. This model is just perfect if you need extra casting distance to reach the opposite bank and more power to hold a big, fresh fish in the pool. Heavy sink tips, weighted flies? No problem for this working horse!
We're amazed by the Ztealth DH rods due to their high-quality components, their extra ordinary casting performance, the fair Zpey warranty conditions and the travel-ready segmentation.
Note: Delivery without the reel.
Details:
Powerful Double-handed rod
Fast recovery speed
Deep, smooth action
Color: matt black
Classic Handle
Delivered with square rod tube
5-piece & 6-piece
| Class | Length | Casting Weigth | Sections |
| --- | --- | --- | --- |
| 6 | 12,5 ft (3,81 m) | 20 - 23 g | 5 |
| 7 | 13 ft (3,96 m) | 23 - 27 g | 6 |
| 8 | 12,6 ft (3,84 m) | 27 - 30 g | 5 |
| 9 | 13,5 ft (4,11 m) | 27-30 g | 6 |
| 10 | 14,6 ft (4,45 m) | 34-37 g | 6 |