Article successfully added.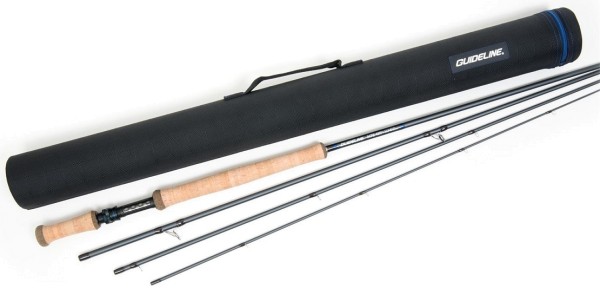 Guideline NT8 Four Double Handed Fly Rod

Guideline NT8 Four Double Handed Fly Rod

Guideline NT8 Four Double Handed Fly Rod
Guideline NT8 Four Double Handed Fly Rod
Guideline NT8 Four Double Handed Fly Rod
Guidelines next-level nano technology fly rods.
The NT8 fly rod series represents the new premium segment of salmon and sea trout rods made by Guideline. NT-8 rod blanks are made of highly responsive, high modulus IM8 carbon fiber featuring a special nano tube resin for increased strength. This material composition results in blanks with exceptional performance and are considered to be the strongest and yet lightest rods produced by Guideline to date.
The action of the blanks presents itself as deep loading and medium-fast with extremely quick recovery and a furious backbone. When casting the NT8 it quickly becomes obvious that the rod operates with a wide bandwidth of power potential. The rod steadily increases line speed with increasing input, never gives up and always does what its asked for. Neither precise casts out of the rod tip nor ´long bombs´ utilizing the full potential of the blank present a problem to the NT-8. Lifting off long lines, generating high line speeds and forming accurate anchors when Spey casting is where the NT-8 is at home – dynamically and with ease. Self-explanatory that these rods work great with heavy sinking lines and tips. Due to the deep loading action the NT-8 fits a broad range of casting styles and line types.
NT8 nano tube fly rods come in a satin charcoal finish with ultra light anodized titanium single-leg guides and Fuji KW stripping guides. Finest 4A Portuguese cork handles with sturdy composite cork caps make up for a premium grip. It's needless to say that the stylish Guideline custom made reel seat locks your reel tight and secure. All NT8 rods feature a 6-piece construction for easy traveling without inconveniences. Delivered in a thick, protective air-mesh rod bag and a lightweight rod tube.

Details:
High class rods for Salmon, Sea Trout and Steelhead fishery
Nano tube technology
The strongest and lightest Guideline rod to date
Action: medium-fast, deep loading, quick recovery, strong backbone
Anodized titanium single leg guides
Fuji KW gunsmoke stripping guides
Portuguese 4A premium cork handle with sturdy composite caps
Delivered in a protective, thick air mesh rod sleeve and a lightweight rod tube
4-piece constructio
25 year NT8 Guideline warranty
Guideline NT8 - 25 years of warranty

The NT8 rod series by Guideline comes with a 25-year original owner warranty. This warranty covers faults in material and/or workmanship. During the warranty period (from the date of purchase) you will be entitled to the repair or replacement (at Guideline's discretion) of damaged or defective sections of your rod. If the rod model is discontinued and/or Guideline is unable to repair or replace a rod section, Guideline will replace your rod with a comparable rod model. A handling fee of €75 that covers repair/replacement, handling and return postage, will be chargeable for all claims made under the NT8 warranty. Please ensure you retain proof of purchase as this will be requested upon making a claim under this warranty. The NT8 warranty is in addition to and does not affect or reduce the owner's statutory rights in accordance with applicable consumer legislation.
| Class | Length | Weight | Casting Weight | Transport-Length |
| --- | --- | --- | --- | --- |
| 8/9 | 12,9 ft (3,93 m) | 201 g | 30-33g / 465-510 grains | 107 cm |
| 9/10 | 13,9 ft (4,23 m) | 228 g | 34-37g / 525-570 grains | 114 cm |
| 10/11 | 14,9 ft (4,54 m) | 259 g | 41-44g / 630-680 grains | 122 cm |
| 10/11 | 15,9 ft (4,84 m) | 271 g | 41-44g / 630-680 grains | 130 cm |
About Guideline:
The Scandinavian cult brand Guideline offers almost everything that you need for fly fishing. In addition to modern rods and reels, this impressive selection also includes high-quality wading clothes and all kinds of accessories. In fact, all Guideline products have one thing in common: They combine a practice-oriented design with an outstanding value for money. This applies for all price levels – from entry-level to premium models. Furthermore, Guideline places great emphasis on sustainability, which leads to eco-friendly production methods and an inspiring company philosophy.