Article successfully added.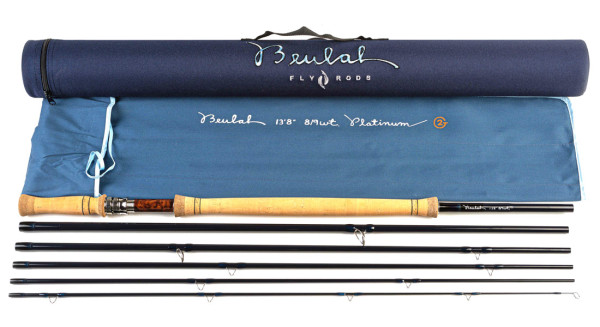 Beulah G2 Platinum Graphen Spey Two-Handed Fly Rod
Beulah G2 Platinum Graphen Spey Two-Handed Fly Rod
Beulah G2 Platinum Graphen Spey Two-Handed Fly Rod
Beulah G2 Platinum Graphen Spey Two-Handed Fly Rod
15% EXTRA on Sale Products (Spring Cleaning)

Deal valid until 10.04.2023 and while stocks last. The extra discount will be displayed in your Basket.
*1
*1 Offer valid until 11/04/2023
Beulah G2 Platinum Graphen Spey Two-Handed Fly Rod
The G2 Platinum two-handed rod is new edition of the popular Platinum, which became the absolute favorite rod for many Spey anglers. Why? Because it is perfectly balanced, fantastic to cast and can be combined with all spey line systems. But above all, it was also a small piece of art. And the new G2 Platinum is no different, Beulah once again makes the hearts of many steelhead, salmon and sea trout anglers beat faster. The Spey Series of the new G2 Platinum truly covers every conceivable application from light grilse or trout fishing, over tactical fishing on sea trout and salmon waters, to the rip-roaring steelhead river.
But why a new edition then? Quite simply because the rod designers at Beulah were sure they could combine the popular rod characteristics of the old series even better in a new series thanks to more modern blank technology. And that is through the use of graphene resin! The special matrix structure of graphene gives the carbon fibers an even higher structural integrity, making the blank extremely robust and at the same time very light. The result of the exclusive material mixture are rods that impress especially with their low swing weight. This is noticeable from the first meter of line you move through the air.
The modern material blend has been paired with the characteristic blank properties of the Beulah Platinum series: a moderate, continuous flex with a fast recovery. The new blanks not only reduce the dead weight and swing weight of the rod during casting, but also eliminate unwanted lateral vibrations. This makes casting clean loops even easier and more effortless, your cast is more precise and the rod is generally more compatible with different line systems. Thus, you can realize precise underhand casts with tight loops with a fine Skandi shooting head, or fire big flies with little backspace to the other river bank on the same rod with a heavier Skagit and heavy tips.
The look and feel of the rod are impeccable. The sleek, black/blue blank has been fitted with high quality stainless steel snake guides and titanium stripping guides. Of course, perfectly wound and cleanly varnished. The high-quality cork handle with subtle embellishments feels great in the hand, interrupted only by the beautiful polished up-locking aluminum reel seat with burl wood inlay. Hand lettering on the blank completes the work of art.
Details:
High-performance, hand-built two-handed rod from Beulah
High quality carbon fiber reinforced with graphene resin
Moderate flex with a high recovery
Excellent casting characteristics with all two-hand line systems
Titanium stripping guides and stainless snake guides from Snake Brand
Timeless, up-locking reel seat with two lock nuts and burl wood inlay
Medium-fast action for versatile rod use
AAAA cork quality with noble burl inlay
Rod case and Cordura tube
Color: Iris Black
adh-world
Our Test on adh-world
"Thanks to the new material mix, the G2 has become even lighter and can be fished effectively with all casting styles and shooting heads without any effort. In addition, the look and feel of this rod are impeccable. Anglers who appreciate a classic and timeless design, but do not want to do without the latest technology, will be very happy with this rod series. "
| Class | Length | Weight | Sections | Action |
| --- | --- | --- | --- | --- |
| # 6 | 12,8 ft (3,85 m) | 167 g | 4 | Medium-Fast |
| # 7 | 12,8 ft (3,85 m) | 167 g | 4 | Medium-Fast |
| # 8/9 | 13,8 ft (4,15 m) | 198 g | 6 | Medium-Fast |
About Beulah:
The American manufacturer Beulah Fly Rods is inspired by the love of fly fishing and the great outdoors. These passionate and very experienced rod designers create absolutely stunning fly rods by combining their outstanding blanks with premium rod building components. In addition to their stylish appearance, these harmonious rods also offer a truly outstanding performance. Whether single-handed, double-handed or switch rods: All models offer truly amazing casting and fish fighting properties that will make even the most demanding fly fishermen smile. Thanks to the perfect combination of an amazing performance and a stylish design, these rods have an excellent reputation all over the world. Last but not least, Beulah also presents a modern collection of shooting heads, which are very popular due to their practice-oriented designs and intuitive casting properties.