Article successfully added.
Taylor Series 1 Fly Reel ruby red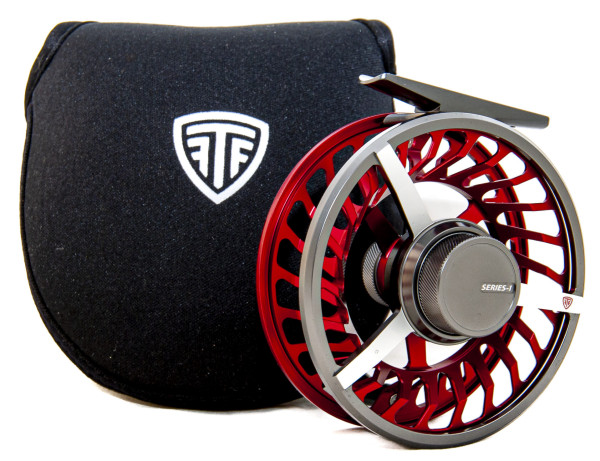 Taylor Series 1 Fly Reel ruby red
Taylor Series 1 Fly Reel ruby red
Taylor Series 1 Fly Reel ruby red
Taylor Fly Fishing from the USA manufactures high quality reels in an unusual design. The fly reels from Tayler are made by anglers for anglers, because when the time is not just put into the development of the products, the guys from Taylor Fly Fishing prefer to fish their tackle themselves.
The Series 1 fly reels are the successors to the original TYPE1 and T1. Due to the constant testing of the products by their own employees, a new reel series always means a development or an improvement of the reel. The series-1 has compared to its predecessors, among other things, a better, 100% sealed brake system and a larger diameter. Nymph friends pay attention, the Tayler Series-1 as 4 - 6 wt has a spool diameter of 95 mm and a 23 mm inner width. This means not only a fast line pick-up, but also that the mono lines used in Euronymphing do not curl so quickly!
The carbon fiber brake system of the fly reel is 100% sealed and waterproof. A use in salt water stands with the Taylor Series 1 nothing in the way. The brake adjusts buttery smooth at 2.5 turns, so you can quickly adjust to the fish on the other end of the line. And the 7 - 9 wt reel has a diameter of 106 mm after all. That's especially helpful when the bonefish is swimming toward you and the line needs to get on the reel ASAP!
The two-tone anodized 6061 T6 aluminum reel design gets a finish of an anodized coating. Anodizing is the process of strengthening the oxide layers on metals. In short: the role can withstand even times a small impact without the paint flies in all directions and of course enhances the overall appearance of the role by quite a bit.
In short: Taylor Series 1 fly reels are suitable for everything from trout fishing with a nymph, to sea trout fishing on the coast, to hunting tropical predators. It is a large diameter reel for fast line pickup and minimal line curling. Salt and fresh water are no problem for the 100% sealed carbon fiber brake system! The reel's cool design is complemented by great colors and, ultimately, surface reinforcement. Whether for nymphing or fishing for strong-fighting fish where fast line must be on the reel, the Taylor reels cut a fine figure in many areas and not only through their optics!

Details:
High quality fly reel in cool design and great colors.
Hard anodized exterior
100% sealed carbon fiber brake system
Very stable frame design
Large spool diameter for fast retrieve and minimal cringling
Machined from 6061 T6 aluminum
Clicker when retrieving and pulling
Easy to convert from right-handed to left-handed use
Neoprene reel bag
| Model | Size | Weight | Capacity |
| --- | --- | --- | --- |
| Serie-1 #4-6 | 95 mm (23 mm inner width) | 136 g | WF5 + 80 m 20lbs backing |
| Serie-1 #7-9 | 106 mm (24 mm inner width) | 147 g | WF8 + 100 m/20lbs backing |