Article successfully added.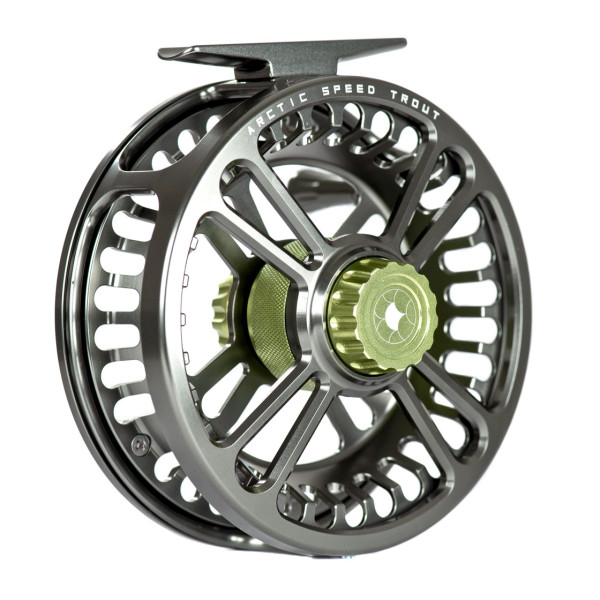 Trout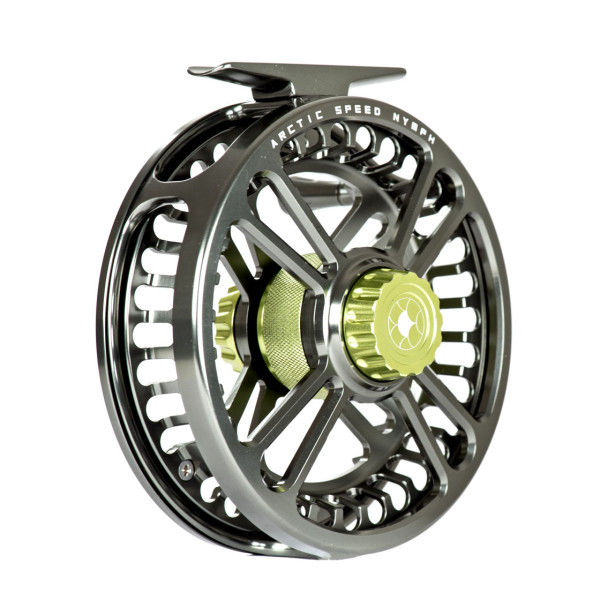 Nymph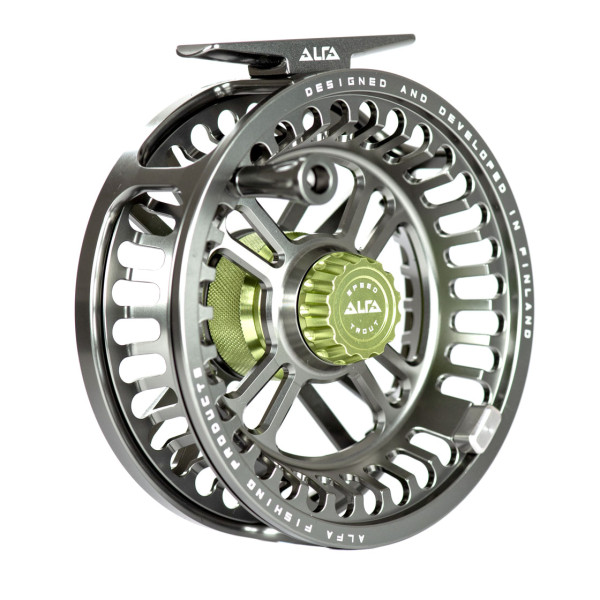 Trout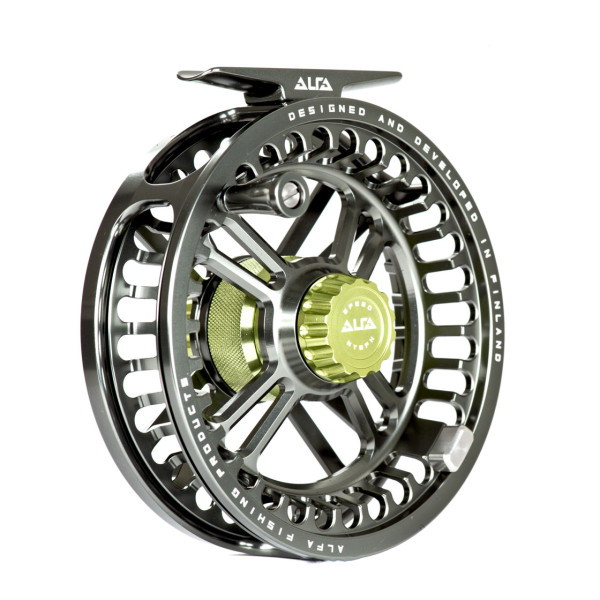 Nymph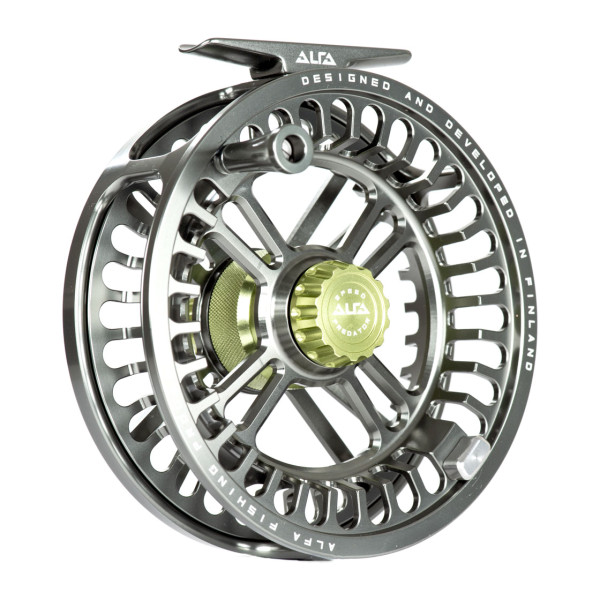 Predator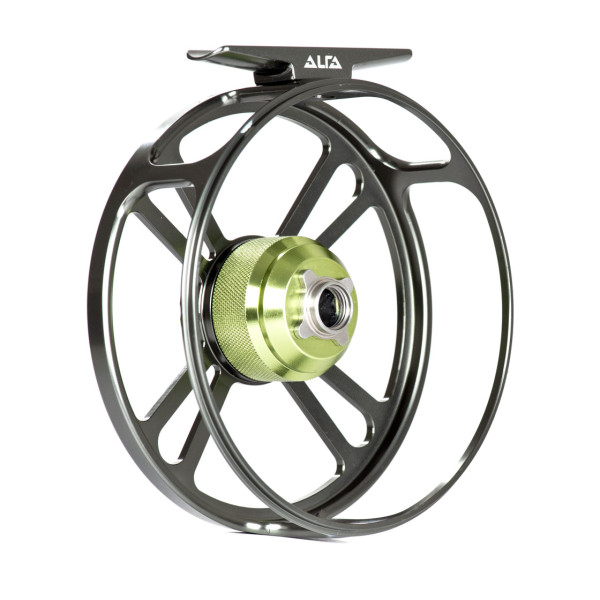 Alfa Arctic Speed Fly Reel Gun Smoke
Alfa Arctic Speed Fly Reel Gun Smoke
Alfa Arctic Speed Fly Reel Gun Smoke
Behind the fly reels of Alfa are young Finnish designers who have their company headquarters above the Arctic Circle. And what's the best thing to do there besides skiing, chewing reindeer jerky and visiting the sauna? That's right! Fishing, fishing and fishing again. This expertise leads the young reel makers of Alfa to further develop the Alfa Arctic series! As beautiful and colorful as ever, but now as the Alfa Arctic Speed variant. The anodized aluminum full frame reels are now available in a sleek design with a larger spool that speeds up line pickup and will appeal to modern nymph fishermen.

The Alfa Artic Speed fly reels are a further development of the popular Artic series. The reels still impress with a unique design in distinctive colors and a brilliant price-performance ratio. However, the geometry of the 6061 aluminum full frame has been changed, so that it is now possible to pick up the line even faster and avoid curling even after long storage. The brake of the new narrow but larger Speed reels is a carbon multi-disc brake system, with which the trigger speed can be adjusted very fine and buttery smooth. Enormously important in modern nymph fishing with very thin leaders, but also with fighting predators that swim with a lot of pressure into the brake.

We are sure that the new Arctic reels will conquer the fly fishing world with speed! An ingenious evolution of the already popular Alfa Arctic reels.


Alfa Arctic Speed Nymph: The Speed Nymph reel is a perfect fly reel for modern and fine nymph fishing with ultra-long, thin leaders. The 19.5 mm narrow, but 102.5 mm in diameter, line take-up allows mono leaders to be stored on the spool without curling, and to be taken onto the reel with fewer turns when fishing. In addition, the full frame and fine carbon drag favors nymph fishing. With a weight of 200 g, most 10-12 ft long rods will be perfectly balanced.
Alfa Arctic Speed Trout: The Speed Trout reel is the perfect all-around fly reel for fishing salmonids and other fish such as chub, whitefish and many more. The medium sized full frame reel is great for #4 to #6 classes, and when using thin backing or a sinker chute, even a #7 class is no problem.
Alfa Arctic Speed Predator: The Speed Predator reel is the flagship of the Speed series. The 110.3mm reel with multi-disc carbon brake is designed to put any predator in its place, whether in freshwater or saltwater. In addition, the reel is very robust thanks to the closed frame made of 6061 aluminum. For optimal use of capacity, we recommend the use of Gel-Spun Backing, so fly lines of classes #7 to #10 find space on the reel.

Details:
Further developed large core fly reel of the popular Alfa Arctic series
Extra large and narrow spool diameter for fast line pickup
Multi-disc carbon brake adjusts smooth as butter
Closed frame provide stability and line control of thin lines and leaders
Made of 6061 aluminum
Anodized reel surface
Easy grip brake knob with fish scale design
Lightweight large core reel with V-profile
Reel with clicker
Color: Gun Smoke
| Model | Class | Weight | Spool Diameter | Width | Capacity |
| --- | --- | --- | --- | --- | --- |
| Speed Nymph | 2 - 4 | 200 g | 102,5 mm | 19,5 mm | WF 4 + 40 m 20 lb (Gel-Spun) |
| Speed Trout | 4 - 6 | 212,5 g | 102,5 mm | 25,0 mm | WF 6 + 80 m 20 lb (Gel-Spun) |
| Speed Predator | 7 - 10 | 221 g | 110,3 mm | 25,0 mm | WF 8 + 200 m 20 lb (Gel-Spun) |