Article successfully added.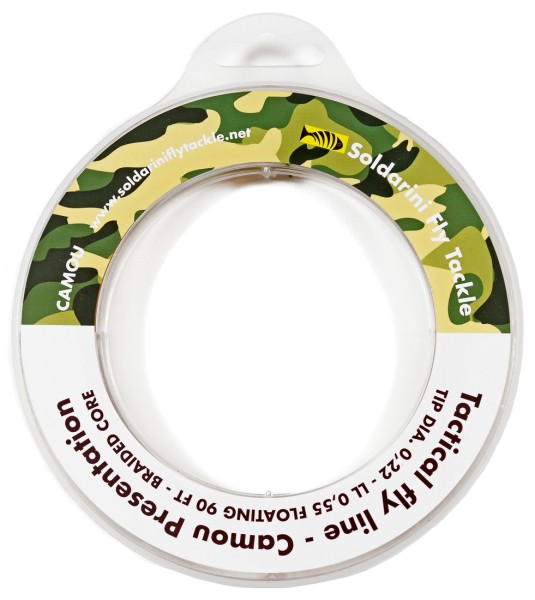 Soldarini Fly Tackle Tactical Fly Line Camou Presentation camou
Content:
27 meter (€1.81 * / 1 meter)
Prices incl. VAT plus shipping costs
In stock. Delivery time 1 - 3 work days.
Soldarini Fly Tackle Tactical Fly Line Camou Presentation camou
When fishing modern nymphing techniques like French- or Czech Nymphing a conventional fly line with a WF or DT taper isn't ideal. Quite the opposite is the case. The thinner your line is the more precisely you can guide the drift of your nymph an detect supple takes.
With a diameter of only 0,55 mm the Tactical Fly Line Camou Presentation by Soldarini is extremely thin, lightweight and ideally suited for all high sticking methods. Regardless whether you are hitting your local stream or the next international championship – this is a definite go-to line for all nymphing enthusiasts. The line has a parallel taper over the entire length of 90ft (ca. 27m). Just the tip features a diameter of 0,22mm. As a result you can tie in your sighter or Euro Leader directly and get a superb transition into your tippet.
Against common assumptions this parallel line performs nicely when throwing small dry flies at short distance too – definitely not a casting toy but super delicate!
Overall, a highly specialized, lightweight and thin line for tight-line nymphing offering optimal bite detection and drift control. Due to the camou color you can be sure that the stealth mode is switched on.
Details:
Ultra-light and thin fly line for modern nymphing techniques
Parallel taper: constant diameter
Uni size: line class #0 to #5
Low stretch
Soft coating
Diameter: 0,55 mm
Tip diameter: 0,22 mm
Length: ca. 27 m
Color: Camou
Eco friendly packaging without plastic spool