Article successfully added.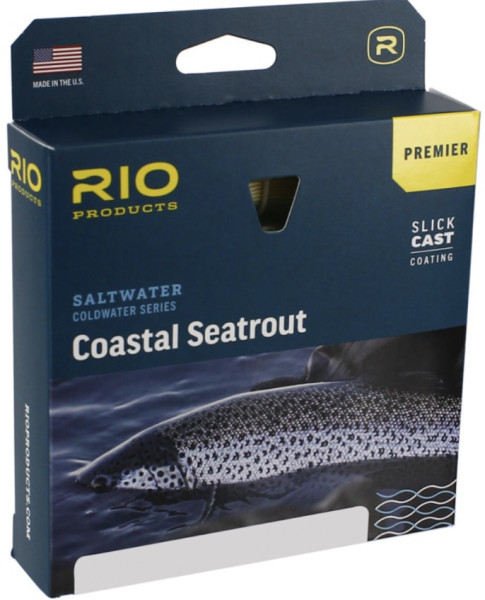 Rio Premier Coastal Seatrout Slow Intermediate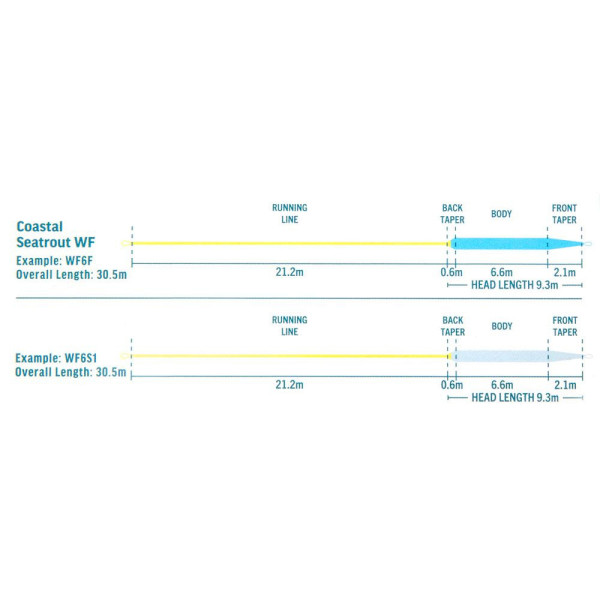 Rio Premier Coastal Seatrout Slow Intermediate
Rio Premier Coastal Seatrout Slow Intermediate
The great Rio Coastal Seatrout, which has already won many fans of sea trout fanatics, is now also available with the fantastic SlickCast coating! The very durable and smoothest coating Rio has ever made. The Rio Premier fly line follows on from its previous model and, thanks to the Slick Cast technology, improves once again in terms of maximum casting distances in rough conditions on the North Sea and Baltic Sea.

It convinces with its aggressive, powerful head, which is very easy to cast and shoots through the rings as if there were no tomorrow. The perfectly matched head lengths of 9.3 m to 10.5 m, depending on the line class, cut through the wind with ease even in rough conditions and roll the leader cleanly thanks to a 2.1 m front taper. The short backtaper demarcates the body from the running line, so you immediately know when the fly rod is loaded and the time is right to let the line shoot.

The Intermediate or Sink 1 head plays its advantage in many situations. In too little wind or even no wafe at the sea, it reduces the scouring effect by allowing the line to sink a little under the surface. In wind and waves, the 2.54 cm sink rate is enough to keep contact with the fly and always present it under the wave in the visible hunting area of the sea trout. The Rio Premier Coastal Seatrout was designed specifically for sea trout fishing and is an incredible long distance monster. If you want to fish a lot of area effortlessly all day on the beach, the Rio Coastal is just the best !

Rio Technology:


Slick Cast
The name says it all! With this new technology Rio has mixed up the fly line market properly. Rio itself advertises it as the smoothest coating on the market. Shootability, noise minimization and longevity of the line are improved. We ourselves found the lines so smooth that we had to rein ourselves in a bit at first to avoid overshooting the metaphorical mark. So we can subscribe to Rio's claim.

Details:
For fishing sea trout and other predators in the North Sea and Baltic Sea
Compact head with aggressive front taper for maximum casting distances
Extremely easy to cast
Ideal for long casts even in windy conditions
Perfect control of the fly even in waves
Slick Cast: Ultra-smooth coating for better shooting characteristics, longer durability and less noise
Low stretch chord for best bite conversion and fly control
No curling in cold conditions
Easy control thanks to multicolor and short backtaper
Welded loops on both ends
Float/Sink 1
Color: Sand/Trans Green
Sink rate: 2.54 cm / sec.
| Class | Head Weight | Head Length | Total Length |
| --- | --- | --- | --- |
| # 5 | 14 g (215 grain) | 8,8 m (29 ft) | 100 ft (30,5 m) |
| # 6 | 16 g (245 grain) | 9,3 m (30,5 ft) | 100 ft (30,5 m) |
| # 7 | 18 g (280 grain) | 10 m (33 ft) | 100 ft (30,5 m) |
| # 8 | 20 g (310 grain) | 10,5 m (34,5 ft) | 100 ft (30,5 m) |