Article successfully added.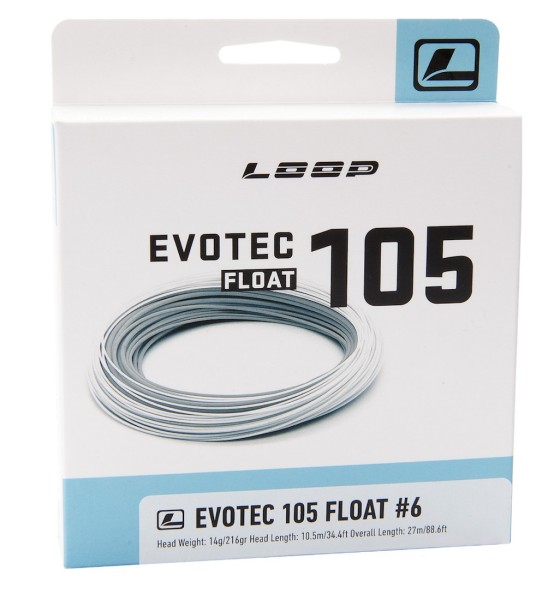 Loop Evotec 105 Floating Fly Line
Loop Evotec 105 Floating Fly Line
With the Evotec Series, Loop presents high-quality fly lines with an outstanding price-performance ratio. Evotec fly lines are available in different head lengths, covering a variety of techniques and water types.
The Evotec 105 Floating Fly Line is a mid-length line that excels with modern carbon fiber rods with fast or medium action tips. Because the line loads the rod blank quickly, effectively and with minimal falses casts, you can reach great casting distances with ease. Due to its balanced taper, this floating line is ideal for presenting streamers and nymphs on large rivers. The short front taper results in a clean turn-over of weighted patterns and ensures that your fly always hits the target. The smooth coating of the Evotec 105 glides smoothly through the guides and helps the line float high on the surface making the line easier to mend. Lift the entire belly off the surface and with just one false cast, you can shoot the line again with no problem. The two-tone design aids the timing of the cast and helps you identify the ideal amount of line for shooting.
Long, harmonic overhead casts are just as possible with this all-around line as precise switch casts and other waterborne casting techniques. So if you're after a versatile floating line for many different situations, the Loop Evotec 105 Floating Fly Line is a great choice, especially at this price!
Of course, the Loop Evotec 105 is also available in an intermediate line - a great recommendation for typical Sea Trout fishing on the coast, slightly below the surface waves.
Details:
Floating medium length shooting head fly line which easily loads the rod blank
Two-tone design for optimal line control
Ideal for overhead and underhand casting techniques
Welded front loop for easy and efficient leader changes
Supple coating helps line easily slide through the guides
Head Length: 34' (10.5m)
Line Length: 89' (27m)
Color: blue / white
| Class | Head length | Total length | Head weight |
| --- | --- | --- | --- |
| 3 | 10,5 m | 27 m | 8,0 g |
| 4 | 10,5 m | 27 m | 10,0 g |
| 5 | 10,5 m | 27 m | 12,0 g |
| 6 | 10,5 m | 27 m | 14,0 g |
| 7 | 10,5 m | 27 m | 16,5 g |
| 8 | 10,5 m | 27 m | 18,0 g |
| 9 | 10,5 m | 27 m | 20,5 g |