Article successfully added.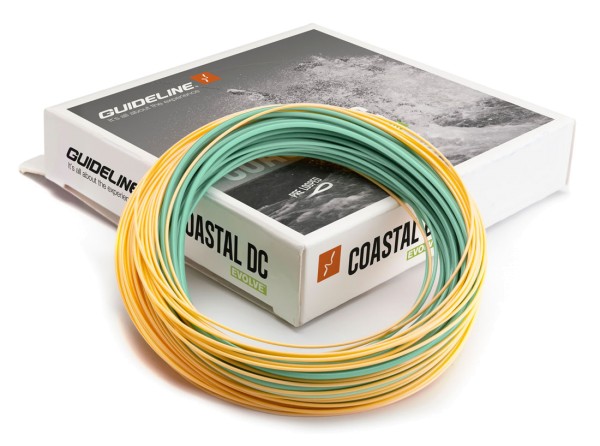 Guideline Coastal Evolve Fly Line Slow Intermediate

Guideline Coastal Evolve Fly Line Slow Intermediate
Guideline Coastal Evolve Fly Line Slow Intermediate
Most sea trout fly fishermen have heard of the well-known Guideline Coastal. Countless times this extremely popular and highly approved fly line has been the magical connection between fishermen and the fish of a lifetime. Now, the Scandinavian designers have combined their years of experience in building these lines with an exceptional design and the most modern materials to present the new flagship model among coastal fly lines: the Guideline Coastal Evolve!
This reissue of a true coastal classic offers completely optimized features for ambitious fly fishermen. First of all, the new Coastal Evolve has an improved taper design with more mass in the front. Its rather compact construction is based on a 9,8 m head with a truly wonderful taper. Therefore, this line is optimized to turn over well even in windy conditions. Further, the 4 m long back taper ensures very good stability when you want to cast really far and provides good grip as a handling section while casting. In order to create the ultimate distance casting performance, this line has a completely new and thinner shooting line for less friction and superb line speed. In fact, this allows effective and effortless casting – even when facing strong onshore wind and fishing weighted flies. One thing is especially remarkable besides the impressive casting power: The Coastal Evolve still allows delicate casts with precise and soft presentations. Furthermore, this masterpiece is built on the approved "Direct Contact Core", which enables you to feel the slightest bite from a fish – even if the sea trout are just nipping!
Last but not least, one additional thing has to be mentioned: This line has an impressive total length of 32 m – for a reason! An outstanding casting performance with an excellent shooting line offering superb grip in cold conditions: the Guideline Coastal Evolve – the perfect companion for unforgettable sea trout action!

This line is available in two different versions:
Slow Intermediate with a sink rate of 1,25 cm / second – the ideal choice for shallow areas, small waves and spooky fish!
Fast Intermediate with a sink rate of 3,8 cm / second – perfect for fishing deeper areas, reef edges, steep banks and strong surf!

Details:
Slow Intermediate WF coastal fly line – the ideal choice for sea trout, sea bass or mullet fishing!
Optimized taper with more mass in the front and a compact 9,8 m head for a powerful casting performance – even when facing onshore wind!
4 m long back taper (handling section) ensures very good stability when you want to cast really far and provides good grip while casting
Thin floating shooting line for less friction in the guides and impressive casting distances
High-contrast colour difference between the shooting line and the head for a good visual feedback and perfect casting timing – even in low light conditions!
Low-stretch "Direct Contact Core" with only 5% stretch for improved bite detection, line control and effective hook sets
Environmentally friendly, PVC-free coating without softener – absolutely brilliant!
Extremely low memory effect due to the special coating – even in icy temperatures
Optimal wear resistance for impressive durability
Premium loops on both sides
Total length: 32 m
Colour: ice green / sunrise yellow
| Class | Length Head | Weight | Length |
| --- | --- | --- | --- |
| # 5 | 9,8 m | 13,5 g | 32 m |
| # 6 | 9,8 m | 15,5 g | 32 m |
| # 7 | 9,8 m | 17,5 g | 32 m |
| # 8 | 9,8 m | 19,5 g | 32 m |
| # 9 | 9,8 m | 21,5 g | 32 m |