Article successfully added.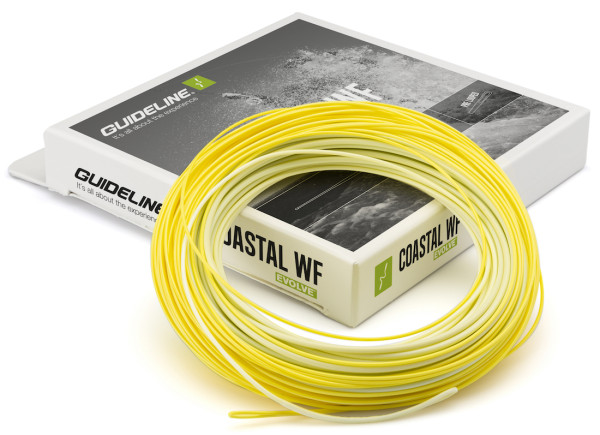 Back in
stock
Guideline Coastal Evolve Floating Fly Line

Back in
stock
Guideline Coastal Evolve Floating Fly Line
Guideline Coastal Evolve Floating Fly Line
The term "Guideline Coastal" is a term that every coastal fly angler knows. This extremely popular and equally well-proven fly line has represented the magical connection between anglers and the fish of a lifetime, countless times. Now the Scandinavian developers have combined their years of experience in designing such lines with a new design and cutting-edge materials to create a new flagship among their coastal lines: the Guideline Coastal Evolve WF Float - the ideal choice for shallow areas, near-surface presentations, and summer night fishing!
As the name suggests, this is the evolution of the coastal classic with completely optimized features. First and foremost, the new Coastal Evolve features a redesigned head with slightly more mass in the front. The very compact design is based on a 9.8m long head with a dream-like taper. Therefore, it performs much better against harsh winds - a constant companion on the coast! In addition, the 3.5m long rear taper provides first-class stability for long roll casts and serves as a good handling section during the cast. To exploit the full potential of this long-casting head, it also has a completely new shooting line with outstanding shooting characteristics. All this creates a unique performance for effective and assertive casting - even with strong, onshore wind and weighted flies. It is particularly noteworthy that, despite this impressive power, it still allows sensitive casts, precise presentations, and a gentle drop on the water. In addition, inside this masterpiece is the proven, extremely low-stretch "Direct Contact Core" which will allow you to feel even the most cautious bites - for when the Sea Trout are being especially shy.
Finally, one more thing to mention: This line has an impressive length of 32m - and you'll need it too! Outstanding casting properties with an assertive performance, a smooth shooting line, and a first-class grip even in freezing temperatures: the Guideline Coastal Evolve WF Float - the perfect companion for unforgettable hours on the coast!
Details:
Floating WF top-class coastal fly line - excellent for Sea Trout, Sea Bass, Mullet and more!
Optimized taper with more mass in the front and a compact head of 9.8m (measured without rear taper) for very assertive throwing - even against onshore winds
Rear taper (handling section) with a length of 3.5m for first-class stability and grip during long casts
Thin shooting line with perfect shooting characteristics for an incredible long casting performance
High contrast color transition between shooting line and head helps perfectly time casts - even in low light
Low-stretch "Direct Contact Core" with only 5% stretch for improved bite detection, line control, and casting strokes
Environmentally friendly, PVC-free coating without plasticizer - another impressive Guideline nod to the environment which we are thrilled about!
Very low memory effect thanks to the special coating - even at temperatures below freezing
Impressive wear resistance for a long service life
High-quality, welded loops on both ends
Total Length: 105' (32m)
Color: light chartreuse greenish-gray/darker chartreuse greenish-gray/sunrise orange
Made in Europe
| Class | Length Head | Weight | Length |
| --- | --- | --- | --- |
| # 5 | 9,8 m | 13,5 g | 32 m |
| # 6 | 9,8 m | 15,5 g | 32 m |
| # 7 | 9,8 m | 17,5 g | 32 m |
| # 8 | 9,8 m | 19,5 g | 32 m |
| # 9 | 9,8 m | 21,5 g | 32 m |