Article successfully added.
Airflo Forty Plus Extreme Fly Line
Floating
Slow Intermediate
Fast Intermediate
Fast Intermediate (crystal clear)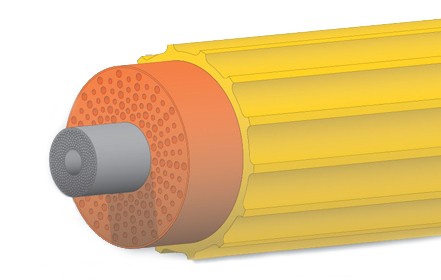 *Ridge-Technology
Airflo Forty Plus Extreme Fly Line
With its easy loading 36 ft head and low diameter running line, you might soon be reaching for the horizon with the new Airflo Forty Plus Super-Dri fly lines! Enhanced with Ridged running line, an addition that makes the line cast even further. The Airflo Forty Plus Super-Dri lines are available in a floating floating and two intermediate versions (slow and fast intermediate), which makes them perfect for lake and coastal fishing for e.g. sea trout. Each line has a floating running line.
*Ridge-Technology: the coating is ridged parallel to the fly line which reduces the surface area in contact with the rod guides. This leads to a better shootabiliy. In addition you have a better grip when handling the line, setting hook etc.
Details:
Length: 123 ft (37,3 m)
Head Length: 36 ft (10,9 m)
Supple Coating to reduce memory in cold water
Super-Dri: extreme floatation, slickness and dirt repellent (floating version and running lines)
Patented dual layer polyurethane (PU) construction improves line performance while offering longer line life, UV resistance, and chemical resistance (DEET proof)
Low stretch power core for improved line stability during the cast, less line memory, unsurpassed take detection and positive hook set when you connect to a fish
Floating Running Line
Back by popular demand: The original crystal clear fast intermediate! Available in WF7 and WF8 only, with traditional core. A great line for Sea Trout!
| Model | Sink Rate | Color |
| --- | --- | --- |
| Floating | | ivory / sunrise |
| Slow intermediate | 0,5 in/s (1,27 cm/s) | olive / sunrise |
| Fast Intermediate | 1,5 in/s (3,8 cm/s) | transparent green / sunrise |
| Fast Intermediate (Sea Trout Special #7 & #8) | 1,5 in/s (3,8 cm/s) | crystal clear / sunrise |