Article successfully added.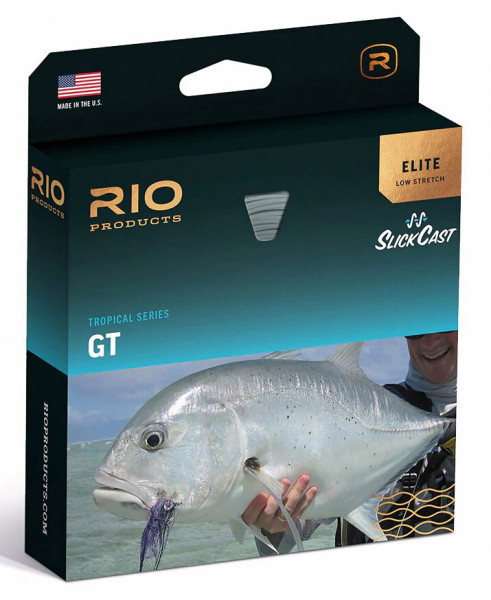 Rio Elite GT Saltwater Fly Line Floating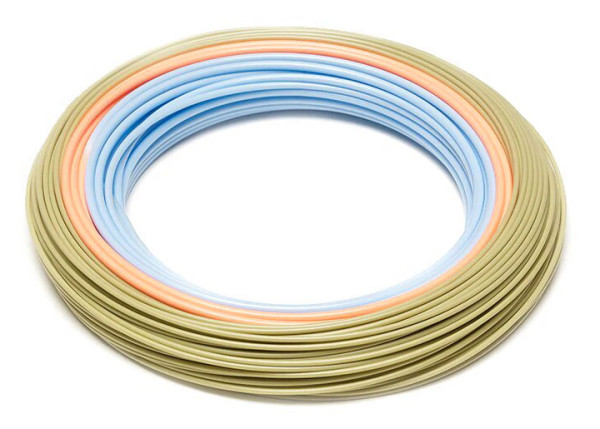 Rio Elite GT Saltwater Fly Line Floating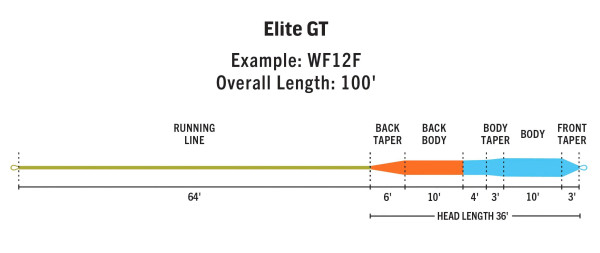 Rio Elite GT Saltwater Fly Line Floating
Rio Elite GT Saltwater Fly Line Floating
There is hardly a more spectacular saltwater fishery than for GT (Giant Trevally). The 'Gangster of the Flat' not only impresses with its size, but also with its unmatched aggression when attacking a fly in shallow water. However, many things have to come together before you can experience the pure power of this predator in the drill. It is essential to bring the big streamer or popper into position quickly and precisely. A short belly that avoids unnecessary false casts and can easily transport bulky patterns is therefore just as important as a durable core and a hard-wearing coating.

The latest generation of Rio Elite GT Saltwater features the latest technologies from Rio and is the spearhead of high-end lines for tough use in the tropics. Thanks to its ultra-strong 50 lbs core, this line stops big GTs from escaping and significantly reduces the risk of the line chafing against the sharp corals of the reef. The special core of this line ensures optimum grip on the running line and prevents the running line from curling. A short handling area behind the crisp head with a total length of 10.97m gives you optimum casting control and thanks to Rio's innovative Slick Cast surface, the floating line shoots through the rod rings with minimal friction. Another advantage of the ultra-smooth coating is the improved durability, which will appeal to hardcore anglers in particular. Unlike previous models, the latest generation of RIO GT is tricoloured. The SureFire distance control makes sure that you not only hit the perfect spot to effectively load your saltwater rod, but also that you can better estimate the distance to the fly and fish. A big plus in practice when it comes to bringing the fly into the field of vision of a GT in search of prey very quickly, precisely and with few false casts.

In short: a special line for fly fishers who target GTs and other large predators with wind-catching streamers or poppers. The new benchmark for the supreme discipline of tropical fishing and the unchallenged head of the family of the exclusive Elite saltwater lines from Rio!
Rio Technologies:
Slick Cast
The name says it all! With this new technology, Rio has really shaken up the fly line market. Rio itself promotes it as the smoothest coating on the market. Shootability, noise minimization and durability of the line are improved. We ourselves found the lines so smooth that we had to rein ourselves in a bit at first to avoid overshooting the metaphorical mark. So we can subscribe to Rio's claim.
DirectCore Plus
The low stretch braided core for saltwater lines gives you ultimate control over your streamer. The braid is strong and supple in equal measure, offering unrestricted performance even in hot conditions. The stretch is reduced by about 30% compared to other lines, so the hook can be set immediately even at long distances.
Details:
Short, heavy head that easily loads powerful saltwater fly rods
Floating
Ultra-strong 50lb test core
Aggressive front tapers that easily cast the largest of flies
Special saltwater coating
Short handling section for perfect casting control
DirectCore: Durable, low-stretch core for best fly control and effective hook sets
Slick Cast: Ultra-smooth coating for better shooting characteristics, longer durability and less noise
SureFire: Distance control thanks to three colours
Line-ID
Welded loops on both ends
Head Length: 36ft (10.97m)
Total Length: 100ft (30.5m)
Color: blue (belly) / orange/ sea grass
| Class | Weight Head | Length Head | Total Length |
| --- | --- | --- | --- |
| # 10 | 27,5 g (425 grain) | 10,97 (36 ft) | 100 ft (30,5 m) |
| # 11 | 30,1 g (465 grain) | 10,97 (36 ft) | 100 ft (30,5 m) |
| # 12 | 33,1 g (510 grain) | 10,97 (36 ft) | 100 ft (30,5 m) |
About Rio:
Established back in 1990, the American manufacturer Rio Products is known worldwide for premium fly lines. They are made in Idaho (USA) and they set new standards in many different ways due to the patented Rio technologies. In fact, they offer a truly outstanding performance and great durability. Therefore, they will easily please the most demanding fly fishermen. In addition to modern fly lines, this impressive selection also includes shooting heads, running lines and all kinds of leaders. Therefore, Rio offers the perfect line for every type of fishing – whether you're fishing a trout stream or a saltwater flat!