Article successfully added.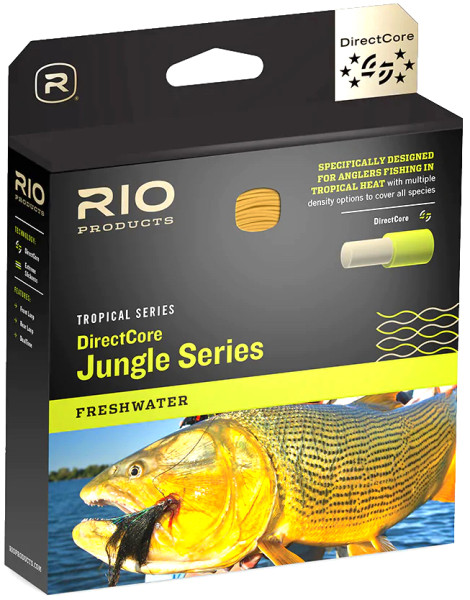 Rio DirectCore Jungle Fly Line Floating/Sink3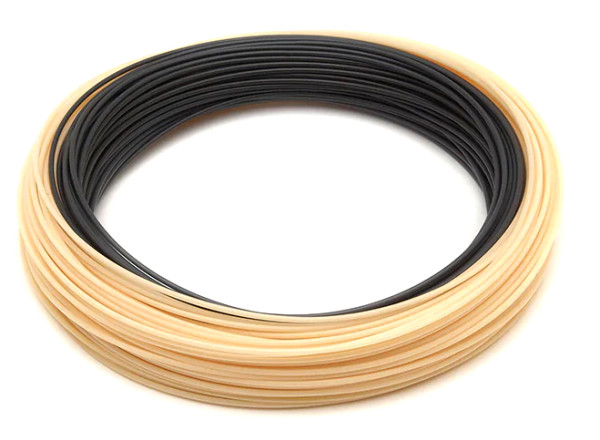 Rio DirectCore Jungle Fly Line Floating/Sink3
Rio DirectCore Jungle Fly Line Floating/Sink3
Rio DirectCore Jungle Fly Line Floating/Sink3
Rio´s DirectCore Jungle Fly Lines are very durable fly lines designed to withstand the heat and heavy use in the Jungle. The Jungle fly line from the DirectCore series is a powerful line that also allows casting with large, bushy flies. The 9.1m short head load the rods perfectly, even at close range. When fishing for Dorado or Peacock Bass, the compact construction of the line pays off especially well, as it guarantees effortless casting throughout the day!
The DirectCore material of the core is one of the best braided materials used in Rio lines. In addition to a direct feel to the line, the low-stretch core of the line ensures optimal bite detection. In addition, it allows to set the stroke directly and quickly and, you can exert enormous pressure on the fish in the drill, which is especially advantageous in the jungle.
The combination of a floating line and the 20 ft (6.1m) sink tip is optimal for fishing voluminous streamers with floating material such as bucktail. But the sink tip also pays off in deeper sections or in areas with strong currents.
If you are looking for a powerful line for effortless casting throughout the day, which is also very robust and flies like a cannon, you are right in choosing a Rio DirectCore Jungle line!
Rio Technologies:
DirectCore: This line comes with a DirectCore core, which has 30% less stretch than most other saltwater lines. It is also 25% stronger compared to traditional monofilament cores. Because their coating is stiffer, DirectCore lines cut through the wind even better, have hardly any memory, and lay down clean and stretched. At the same time, bites are felt much better and faster, hooks are more effective and line control is improved during casting and on the water.
XS (Extreme Slickness): Slick lines have many advantages, such as less frictional resistance in the rings, less dirt on the surface and less wear. In short: more casts - permanently! The latest generation of line is equipped with Rio's exclusive XS technology and thus offers an especially smooth coating, which we fly fishers really appreciate.

Details:
Jungle Series fly line for fishing in warm temperatures
Perfect for fishing for Dorado, Peacock Bass and other predators in the Jungle
Shoot friendly, modern fly line with aggresive head
Loads rods quickly even at close range and shoots superbly
Also suitable for large, bushy flies
RIO XS (Extreme Slickness) Technology: extremely smooth surface for long distance casting and dirt repellency
RIO Connect Core: low stretch core
Already welded loops on both ends
20 ft (6.1m) Sink Tip
Floating/Sink3
Color: Black/Pale Orange
| Class | Length Sink Tip | Head Weight | Head Length | Length |
| --- | --- | --- | --- | --- |
| # 8 | 6,1 m | 18,1 g | 9,1 m | 100 ft (30,5 m) |
| # 9 | 6,1 g | 21,4 g | 9,1 m | 100 ft (30,5 m) |
| # 10 | 6,1 g | 24,6 g | 9,1 m | 100 ft (30,5 m) |
About Rio:
Established back in 1990, the American manufacturer Rio Products is known worldwide for premium fly lines. They are made in Idaho (USA) and they set new standards in many different ways due to the patented Rio technologies. In fact, they offer a truly outstanding performance and great durability. Therefore, they will easily please the most demanding fly fishermen. In addition to modern fly lines, this impressive selection also includes shooting heads, running lines and all kinds of leaders. Therefore, Rio offers the perfect line for every type of fishing – whether you're fishing a trout stream or a saltwater flat!