Article successfully added.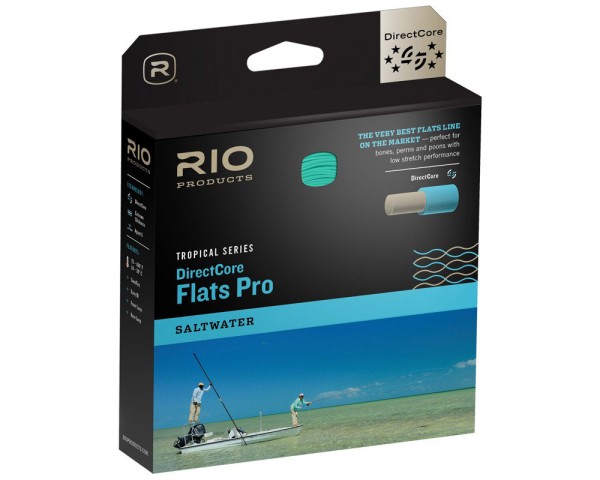 Rio DirectCore Flats Pro Saltwater Fly Line Floating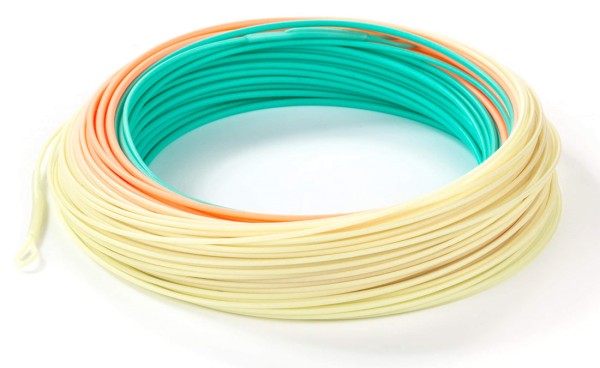 Floating (Aqua/Orange/Sand)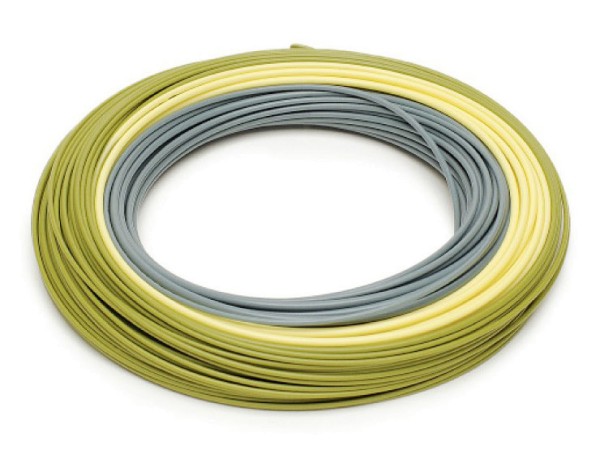 Floating (Gray/Sand/Kelp)

Taper
was

€129.50 *

(22.86% Saved)
€99.90 *
Content:
30,5 meter (€3.28 * / 1 meter)
Prices incl. VAT plus shipping costs
Rio DirectCore Flats Pro Saltwater Fly Line Floating
Our new favorite for fishing on the flats!
The DirectCore Flats Pro is the most interesting addition to RIO's series of saltwater fly lines in 2018. It was hyped already on the big tackle shows last summer and won some of the most important prices: EFTTEX (Best New Fly Line for 2018) and IFTD (Best New Saltwater Fly Line for 2018). Two more reasons for us to give it a proper field test in the Caribbean! To sum it up: We're amazed by its performance! For both Permit and Bonefish the Flats Pro knows how to impress - from short to long range casts and from lightweight shrimp patterns to heavy crabs. Due to its mid-long belly with a total length of ca. 11,5 m and the longer rear taper this line lies stable during the cast and can be presented precisely. A big bonus for sight casting on cruising Tarpon as well! Each Flats Pro line is built with a front taper that loads easily at close range, and with a mid-length head and extended back taper that provides stability for fast, accurate, long-distance casts.
The line is built on RIO's new DirectCore, a proprietary low-memory, low-stretch monofilament core that retains its stiffness in tropical heat, yet lies straight on the water without curl or retraction. The core, which has 30% less stretch than regular tropical saltwater fly lines, ensures solid strip sets and shortened fight times. The new core isn't the only technology advancement in this fly line. RIO's SureFire technology, which has been used in their freshwater fly lines in the past, is added to the Flats Pro line. This triple color, distance-marking design takes the guesswork out of accuracy and distance control, allowing anglers to make higher percentage shots to cruising targets.
The DirectCore Flats Pro line is available in two different colored floating models so that you can choose between highest visibility (Aqua/Orange/Sand) or minimal disturbance (Gray/Sand/Kelp). And if you want to be super sure about your presentation...well then go for the
Flats Pro Stealth Tip
option, that features a full-float head with six feet of clear intermediate at the tip. This nearly invisible front section allows for shorter leaders and easier, more accurate casts, while the increased density provides greater wind penetration.
Rio Technology:
DirecttCore: In hot, humid conditions, DirectCore lines provide the stiffness you need to fire into the wind, with significantly reduced memory. Which means your line lies straighter on the water for a more direct connection to fly and fish. DirectCore is also 25% stronger than other monofilament cores of equal size, and stretches 30% less at breaking point.
XS (Extreme Slickness): Every fly fisherman is looking for a slicker line, and for good reason. Slicker line means longer casts, which is something all anglers strive to achieve. XS Technology is the latest development from RIO's lab coats that focuses on creating an ultra slick line, with dirt-repelling tendencies.


Details:
Mid-length head and long rear taper for complete line control
Ultra-low stretch DirectCore for maximum performance
XS Technology for a super slick coating
Welded loops for fast rigging
Line ID for easy identification
Total length: 100 ft (30,5 m)
Multicolor
Floating
| Class | Head Weight (9,1 m) | Head Length |
| --- | --- | --- |
| # 6 | 12 g | 11,2 m |
| # 7 | 13,6 g | 11,5 m |
| # 8 | 15,6 g | 11,5 g |
| # 9 | 18,2 g | 11,8 g |
| # 10 | 21,4 g | 11,8 g |
| # 11 | 24,7 g | 11,8 g |
| # 12 | 27,9 g | 13 g |
About Rio:
Established back in 1990, the American manufacturer Rio Products is known worldwide for premium fly lines. They are made in Idaho (USA) and they set new standards in many different ways due to the patented Rio technologies. In fact, they offer a truly outstanding performance and great durability. Therefore, they will easily please the most demanding fly fishermen. In addition to modern fly lines, this impressive selection also includes shooting heads, running lines and all kinds of leaders. Therefore, Rio offers the perfect line for every type of fishing – whether you're fishing a trout stream or a saltwater flat!