Article successfully added.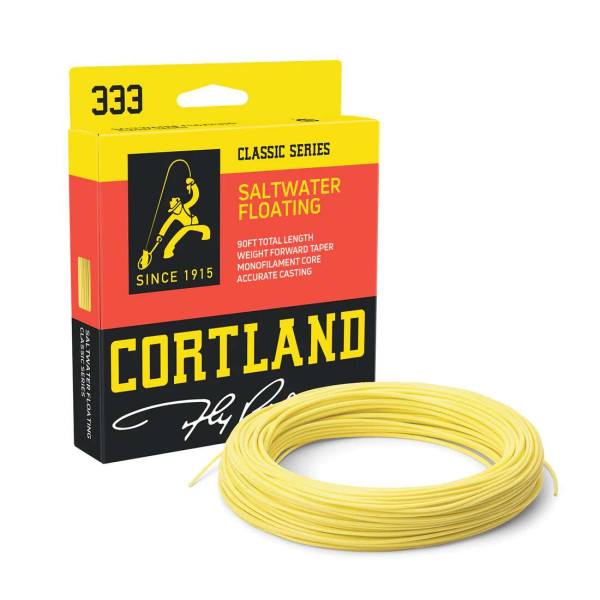 Cortland 333 Saltwater Fly Line
Cortland 333 Saltwater Fly Line
The Cortland 333 Saltwater fly line is a perfect all-round floating line for saltwater, which is by far not only for beginners or as a back-up line. The coating of the line is highly floating and extremely robust, furthermore it has excellent shooting characteristics due to minimal friction. The line loads many rods quite quickly due to its compact construction, which makes it particularly user-friendly. The line classes correspond to the normal classification of fly rods on the market and, due to the all-round taper, fit rods with a parabolic action as well as fast rods. With the only 8.52 m long, short head it is possible to cast fast and directly to passing fish in wind and weather. The mono core of the saltwater line is extremely assertive, but also gives the necessary stretch when it counts. All in all, the Cortalnd 333 Saltwater fly line is a real and, above all, affordable alternative to the competition.
Details:
All-round fly line from Cortland with an ingenious price-performance ratio
Charges rods extremely fast and has good shooting characteristics
Durable floating coating
Smooth and easy handling
Allround taper for saltwater fishing
Good visibility due to bright colours
Monofilament core
Head length: 8.52 metres
Total length: 27.5 metres
Color: Yellow
About Cortland:
In the world of fly fishing, the American manufacturer Cortland is known for modern premium fly lines – made in USA! These lines set new standards in many different ways due to multiple patented technologies and their well-thought-out design. In fact, they offer a truly outstanding performance, and therefore they will easily please the most demanding fly fishermen. Summarized, Cortland offers the perfect line for every type of fishing – whether you're fishing in fresh or saltwater. In addition, Cortland is also known for a fantastic selection of high-quality fly rods with a great value for money. In particular, their high-end nymph rods are very popular for modern nymphing techniques.