Article successfully added.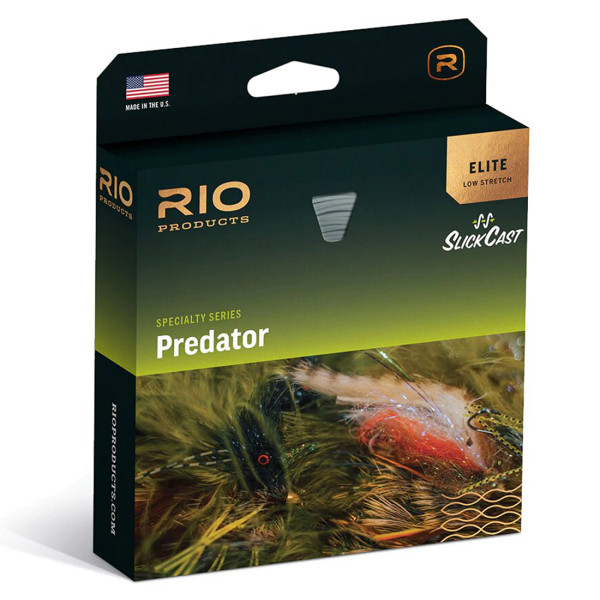 Rio Elite Predator 3D Fly Line F/I/S3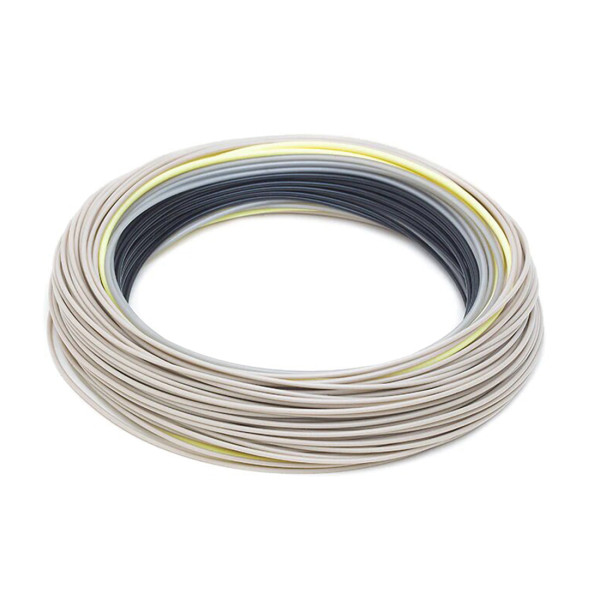 Rio Elite Predator 3D Fly Line F/I/S3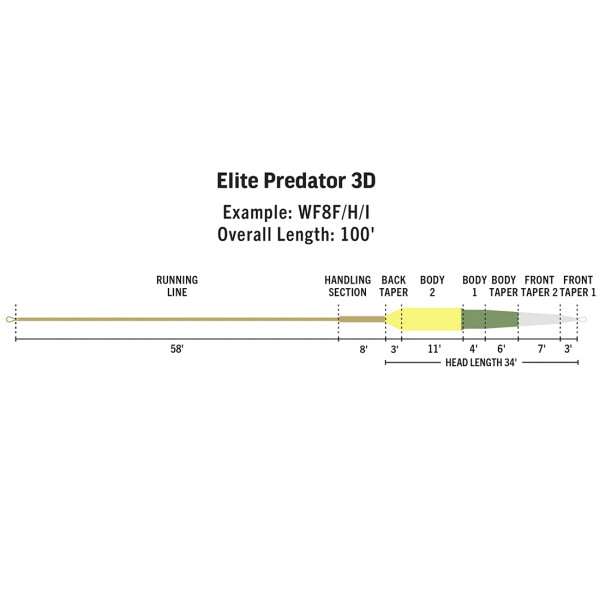 Rio Elite Predator 3D Fly Line F/I/S3
Rio Elite Predator 3D Fly Line F/I/S3
Rio Elite Predator 3D Fly Line F/I/S3
With the Elite Predator series, Rio launches the latest generation of premium predator fly fishing lines. Perfectly tuned to bring big streamers to the fish with pinpoint accuracy, be it big pike, wary perch, beefy asp or angry zander. After all, these fish all have one thing in common: they like big, bushy flies, and the Rio Elite Predator was designed for just that purpose. From floating models for surface fishing to fast sinking rates to draw out deep fish, the series covers all areas of use. We especially like that the sink rates are progressively graduated in three densities (3D) that smoothly flow into each other for more control when deep fishing.
The short, powerful taper loads your cast within the first few feet, even with wind-catching and weighted flies. The compact head quickly transitions into the smooth running line, which has incredibly good shooting characteristics thanks to the ultra-smooth SlickCast Coating. In practice, this allows for particularly long casts with few false casts or when backspace is limited. In tight areas, on sheet pile walls, reed beds, dense vegetation or urban canals, this feature comes in especially handy. If you have enough space to cast, you can find the perfect shooting point thanks to the short handling section and achieve maximum casting distances. The line profile is a bit more balanced than we know it from older predator lines from Rio. The short but tuned front taper allows particularly accurate presentations and gives you an advantage, especially when it comes to precise casting.
Another thought-through feature of Elite Predator 3D lines: the higher the line class, the shorter the head. Sounds counterintuitive at first, but the applications of the line classes dictate that this trend makes perfect sense. High line classes, heavy flies, more compact head - low line classes, slightly lighter flies, more balanced head length!
Float/Intermediate/Sink3: Starting at the line tip, the first 10 ft. are sink3, followed by a 10 ft. intermediate section. With this sinking rate, you'll effectively fish water depths from 1-3 m. Perfect for drop-off edges, pier heads and rock packs, channels or for example in the river when there is some current. The butt-section of the head and running line are floating.
Rio Technologies:
Slick Cast
The name says it all! With this new technology, Rio has really shaken up the fly line market. Rio itself promotes it as the smoothest coating on the market. Shootability, noise minimization and durability of the line are improved. We ourselves found the lines so smooth that we had to rein ourselves in a bit at first to avoid overshooting the metaphorical mark. So we can subscribe to Rio's claim.
ConnectCore Plus
The low-stretch braided core gives you ultimate control over your fly. The braid is strong and supple in equal measure, and even in icy conditions, the line remains absolutely curl-free. Stretch is reduced by about 30% compared to other lines, so even at long distances every little tug arrives at the end of your leader. On the water, this means better bite detection and conversion, and an even more controlled fly retrieve.
Multi Density Control (3D):
Different sinking rates are combined within the line profile so that a gradual transition between the different densities is created. This results on the one hand in better casting properties, but on the other hand in a much more homogeneous sinking rate and thus much more control when guiding the lure. A straight line is created between your rod and the fly, so that you can directly recognize and utilize bites even in deep water layers.
Details:
High-end predator fishing line
Short, powerful head for big, heavy flies
Tuned front taper
Short handling section for perfect casting control
ConnectCore Plus: Durable, low-stretch core for best fly control and bite detection
Slick Cast: Ultra-smooth coating for better shooting characteristics, longer durability and less noise
Multi Density Control (3D): Graduated sinking rates for more control
SureFire: Distance control thanks to the tricolored measuring system
No curling in cold conditions
EasyID: Clear labeling for quick and easy identification of the line - no confusion!
Super strong welded loops at both ends
Sink rate: Float/Intermediate/Sink3
Color: Black/Gray/Yellow/Beige
| Class | Head Weight | Head Length | Line Length |
| --- | --- | --- | --- |
| # 5 | 13,5 g (208 grain) | 11 m (36 ft) | 100 ft (30,5 m) |
| # 6 | 15,4 g (238 grain) | 11 m (36 ft) | 100 ft (30,5 m) |
| # 7 | 15,5 g (270 grain) | 10,3 m (34 ft) | 100 ft (30,5 m) |
| # 8 | 20,5 g (316 grain) | 10,3 m (34 ft) | 100 ft (30,5 m) |
| # 9 | 24 g (370 grain) | 10,3 m (34 ft) | 100 ft (30,5 m) |
| # 10 | 26,6 g (410 grain) | 9,7 m (32 ft) | 100 ft (30,5 m) |
| # 11 | 30,8 g (475 grain) | 9,7 m (32 ft) | 100 ft (30,5 m) |
About Rio:
Established back in 1990, the American manufacturer Rio Products is known worldwide for premium fly lines. They are made in Idaho (USA) and they set new standards in many different ways due to the patented Rio technologies. In fact, they offer a truly outstanding performance and great durability. Therefore, they will easily please the most demanding fly fishermen. In addition to modern fly lines, this impressive selection also includes shooting heads, running lines and all kinds of leaders. Therefore, Rio offers the perfect line for every type of fishing – whether you're fishing a trout stream or a saltwater flat!