Article successfully added.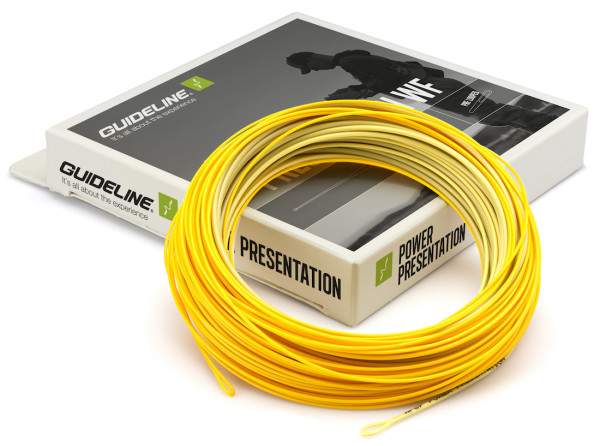 Guideline Power Presentation Floating Fly Line

Guideline Power Presentation Floating Fly Line
Guideline Power Presentation Floating Fly Line
Guideline Power Presentation Floating Fly Line
With the Power Presentation WF fly line, the name is undoubtedly the program, because it offers you a perfect combination of power and presentation. At the same time, it will easily meet the high-class reputation of the Guideline Presentation Line Series.
The secret of her powerful yet soulful performance lies in the front of the head taper. The slightly increased diameter with a length of 2m gives it an extra portion of power to launch large flies and long leaders. Guideline's proven Presentation-Front-Taper allows for an accurate and clean line placement due to the well-balanced design of this line. In addition, this heavier tip allows for a fast loading of the rod with overhead casts, as well as dynamic roll and Spey casts if you stand with your back to the wall. No matter how you throw it: Thanks to the multi-density coating, the Power Presentation WF line has the ideal properties in every section. For example, the 3.5m long handling section and the following running line offer excellent grip, allowing you to perform a variety of casting techniques.
Thanks to its powerful performance, the Guideline Power Presentation WF will shine in countless situations - for example when fishing with long leaders, hopper dropper setups, or with strike indicators. In addition, it also serves larger flies such as Salmon Bombers and Trout streamers with ease, making it a very versatile line that will allow you to enjoy a diversified fishing experience.
Details:
Powerful WF floating line with a head length of 9.3m
Guideline Presentation Taper with a little more mass in the front and the proven taper for clean presentations
Multi-Density Coatings - built with different coatings for the perfect properties in the respective line section
Handling section with a length of 3.5m for first-class stability and a perfect grip during long casts
Extremely low stretch core for improved line control and effective hook sets
Environmentally friendly, PVC-free coating without plasticizer - another impressive Guideline nod to the environment which we are thrilled about!
Minimal line memory effect thanks to the special coatings
Impressive wear resistance for a long service life - in the spirit of sustainability
High-quality welded loops on both ends
Line ID at the end of the line - helps easily identify your line
Supplied without plastic spool and with minimal packaging - another win for the environment!
Head Length: 30' (9.3m)
Total length: 90' (27.5m)
Color: grape/pale orange
Made in Europe
About Guideline:
The Scandinavian cult brand Guideline offers almost everything that you need for fly fishing. In addition to modern rods and reels, this impressive selection also includes high-quality wading clothes and all kinds of accessories. In fact, all Guideline products have one thing in common: They combine a practice-oriented design with an outstanding value for money. This applies for all price levels – from entry-level to premium models. Furthermore, Guideline places great emphasis on sustainability, which leads to eco-friendly production methods and an inspiring company philosophy.