Article successfully added.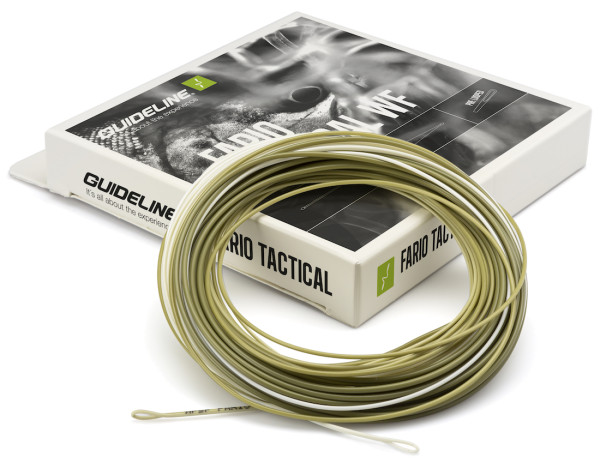 Guideline Fario Tactical Floating Fly Line

Guideline Fario Tactical Floating Fly Line
Guideline Fario Tactical Floating Fly Line
was

€99.90 *

(20.02% Saved)
€79.90 *
Content:
27,5 meter (€2.91 * / 1 meter)
Prices incl. VAT plus shipping costs
Guideline Fario Tactical Floating Fly Line
The Fario Tactical WF Fly Line is the compact model of Guideline's hugely popular Fario series. Thanks to its modern design - which, incidentally, reminds us of the legendary Guideline Presentation Fly Line - and a completely new coating, it offers you first-class performance and outstanding longevity of life.
With a head length of 9.25m, it is ideal for fishing at close range and at medium distances, but if necessary, it can also send your fly on the opposite bank. This makes them a first-class all-around line for numerous disciplines - whether dry fly, wet fly, nymph, or streamer fishing. The relatively long front taper allows sensitive presentations at all distances. In addition, its compact design allows quick loading of the rod with overhead casts, as well as dynamic roll and spey casts if you have your back up against a wall. No matter how you cast it: Thanks to the multi-density coating, the Fario Tactical WF has the ideal properties in each section of the line. For example, the 3-meter long handling section and the following running line offer excellent grip and shooting characteristics.
In short, the Guideline Fario Tactical WF is a perfect weapon for small and medium-sized running waters, which often leaves us little room to cast. With this compact powerhouse, you can experience truly unforgettable hours on the water!
Details:
Weight Forward floating line with a compact head length of 9.25m
Relatively long front taper for a clean unrolling and a clean presentation - from close range to max-distance casts
Multi-Density Coating - built with different coatings for perfect properties in each respective line section
Handling section with a length of 3m for first-class stability and grip during the cast
Slightly thicker running line for first-class handling and line mending ability
Low-stretch core for improved line control and effective hook sets
Environmentally friendly, PVC-free coating without plasticizer - another impressive Guideline nod to the environment which we are thrilled about!
Minimal line memory effect thanks to special coatings
Impressive wear resistance for a long service life - in the spirit of reducing waste
High-quality welded loops on both ends
Line ID at the end of the line - helps easily allow you to identify your different
Supplied without plastic spool and with minimal packaging - another win for the environment!
Head Length: 30' (9.25m)
Total Length: 90' (27.5m)
Color: light apple greenish-gray/bone white
Made in Europe
About Guideline:
The Scandinavian cult brand Guideline offers almost everything that you need for fly fishing. In addition to modern rods and reels, this impressive selection also includes high-quality wading clothes and all kinds of accessories. In fact, all Guideline products have one thing in common: They combine a practice-oriented design with an outstanding value for money. This applies for all price levels – from entry-level to premium models. Furthermore, Guideline places great emphasis on sustainability, which leads to eco-friendly production methods and an inspiring company philosophy.