Article successfully added.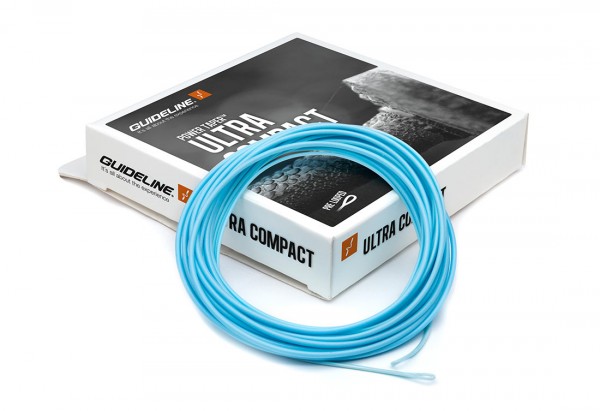 Guideline Ultra Compact Floating Single Hand-, Switch Shooting Head
was

€89.90 *

(44.49% Saved)
€49.90 *
Content:
6,6 meter (€7.56 * / 1 meter)
Prices incl. VAT plus shipping costs
Guideline Ultra Compact Floating Single Hand-, Switch Shooting Head
With the Ultra Compact Shooting Heads, the name definitely says it all with the. These extra-short heads are perfect for your single-handed or switch rod when you have almost no backspace, have to cast weighted flies, need to work aggressively into the wind, or just enjoy water-bound casting. It is perfect for the use on small to medium sized and heavily vegetated rivers with very little back space, targeting big trout, sea trout and salmon. But also on the Baltic coast this line can be extremely versatile, because in combination with a thin running line, the shooting head can be casted to incredible distances with little effort, even in windy conditions. The taper offers a controlled and precise turnover, both with long leaders, as well as with large and voluminous flies. In the higher line classes, the line is therefore also great for fishing for pike, because the short taper allows the casting of heavy and bushy flies with little backspace. The low-stretch core allows fantastic strike control and the robust coating copes well in cold temperatures, so that the shooting head remains supple and does not coil even in icy water.
Overall, the compact taper is a little more balanced than many alternatives in the light skagit range. If you need to present the fly a little more sensitive, you can refine the taper with a Polyleader, so that soft presentations are even easier possible. This is optional and not a must, like on many other skagit lines!
Our recommendations:
14-16 g: Perfect on the overgrown river, when targeting trout and you want to transport your weighted streamers with little backspace.
16-20 g: These lines are a sea trout anglers' delight. Crisp and super easy to shoot into the wind on a thin running line.
18-22 g: Very interesting weight models for pike fishing. But these will also be perfect on your switch rod on your smaller salmon or sea trout river.
Color: Light Blue
| Class | Weight | Length |
| --- | --- | --- |
| 5/6 | 14 g | 6,6 m |
| 6/7 | 16 g | 6,8 m |
| 7/8 | 18 g | 6,9 m |
| 8/9 | 20 g | 7,1 m |
| 9/10 | 22 g | 7,4 m |
About Guideline:
The Scandinavian cult brand Guideline offers almost everything that you need for fly fishing. In addition to modern rods and reels, this impressive selection also includes high-quality wading clothes and all kinds of accessories. In fact, all Guideline products have one thing in common: They combine a practice-oriented design with an outstanding value for money. This applies for all price levels – from entry-level to premium models. Furthermore, Guideline places great emphasis on sustainability, which leads to eco-friendly production methods and an inspiring company philosophy.