Article successfully added.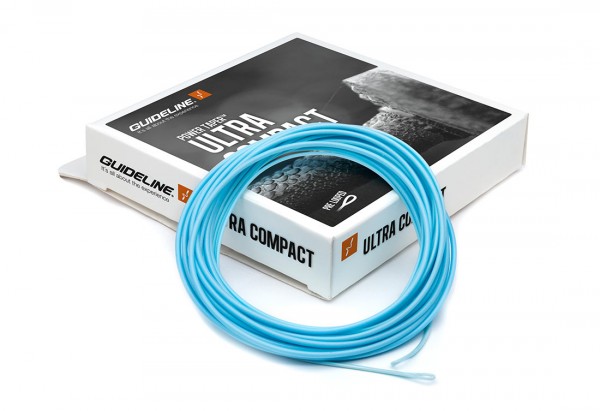 Guideline Ultra Compact Floating Single Hand-, Switch Shooting Head
was

€89.90 *

(33.37% Saved)
€59.90 *
Content:
6,6 meter (€9.08 * / 1 meter)
Prices incl. VAT plus shipping costs
-20% on Guideline (except Alta, NT8, Vosso)

Deal valid until 29.11.2020 and while stocks last. The discount will be displayed in your Basket.
*1
*1 Offer valid until 30/11/2020
Guideline Ultra Compact Floating Single Hand-, Switch Shooting Head
These are the shortest and most compact shooting heads in Guideline's range. Ultra Compact floating heads are tailor-made for use in small rivers, targeting Sea Trout and Salmon with single hand- or Switch rods. The taper offers controlled and accurate turnover both with long leaders or with the biggest, bulkiest flies in your fly box. The taper construction distributes enough "loading-weight" into the back of the line, making casts with limited backspace easier to perform.

This gives a true advantage when fishing heavily overgrown rivers or lakes and coastal areas with obstacles behind you. Because of their short length, these lines have a very concentrated weight that loads the rod effectively. For maximum rod load, we recommend that you use a set up with for example the #6/7-16gr head on a 6-weight rod.

If you prefer a slightly lighter feeling in your casting and fishing, you may choose to "down-size" by for instance using the 16 gram #6/7 head on your 7-weight rod. Both options will work beautifully, but your demands and preferences will decide what is best for you. Ultra Compact Heads come with factory made tiny-loops in both ends.
Color: Light Blue.
| Class | Weight | Length |
| --- | --- | --- |
| 5/6 | 14 g | 6,6 m |
| 6/7 | 16 g | 6,8 m |
| 7/8 | 18 g | 6,9 m |
| 8/9 | 20 g | 7,1 m |
| 9/10 | 22 g | 7,4 m |