Article successfully added.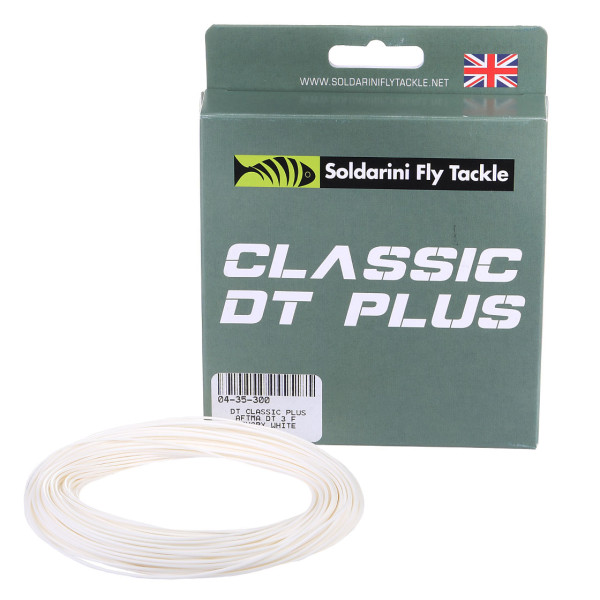 Soldarini Fly Tackle Classic Plus DT Fly Line Floating
Soldarini Fly Tackle Classic Plus DT Fly Line Floating
DT lines are becoming more popular again, because no line can be controlled better in roll casting than a DT line. Likewise, a DT line is suitable for keeping a lot of line in the air in a controlled manner. In use, this means easy, smooth and above all very far casting with the best presentation. Even the smallest CDC patterns can be finely presented with a DT variant at long distances. Another advantage is good control dwhen mending, which makes a DT line just as popular for nymph fishing with bite indicator as for dry fly fishing.
The Soldarini Classic DT fly line is a DT line for the finest presentation even at long distances, as well as for the best control of waterborn casts and when mending. Made in the UK, this line has a durable and slick coating, that shoots like hell.
Details:
DT line for the finest presentation and control when mendering
Allows long, accurate throws
Low stretch
Color: White
Length: 27 m
Tip: Thanks to the construction of a DT (Double Taper), both sides of the line can be used, which extends its life and makes it a price-performance winner.
About Soldarini Fly Tackle:
The Italian manufacturer Soldarini Fly Tackle is known for innovative products with a practice-oriented design. Due to their involvement in the international competition scene, the developers from Soldarini place great emphasis on functionality. Therefore, it is hardly surprising that these products are very popular – especially for modern nymphing techniques. In addition to fantastic rods and reels, Soldarini also offers lines and leaders for targeting trout and grayling with all kinds of techniques. Further, this extensive product range also includes an outstanding selection of flies that are tied on high-quality hooks in a very durable way. Last but not least, the Italian manufacturer also offers modern high-quality fly tying materials with an impressive value for money.