Article successfully added.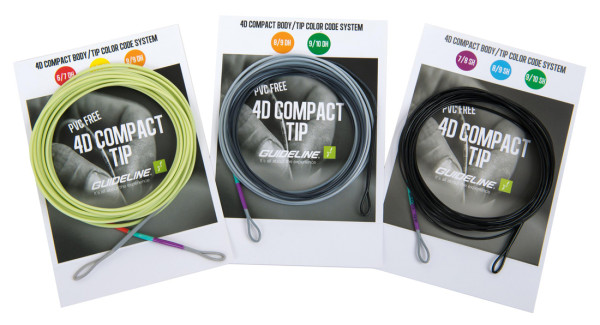 Guideline 4D Compact Tip 10ft.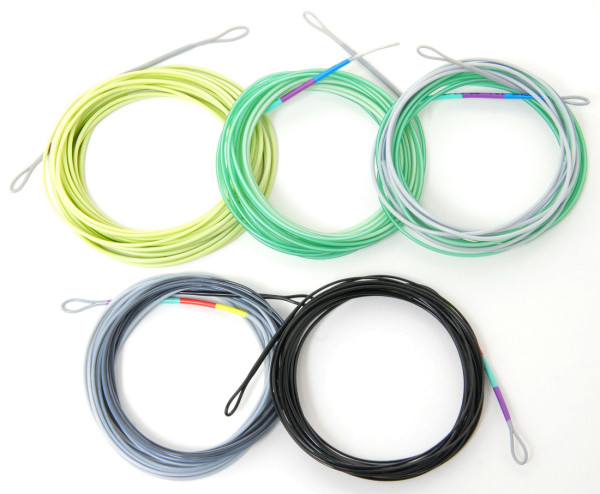 Guideline 4D Compact Tip 10ft.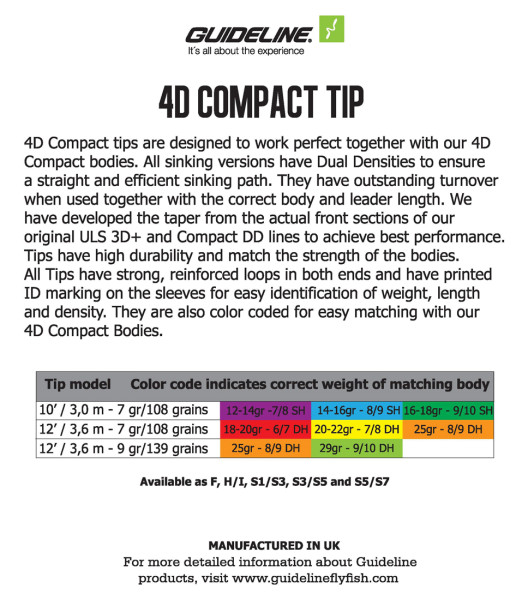 Guideline 4D Compact Tip 10ft.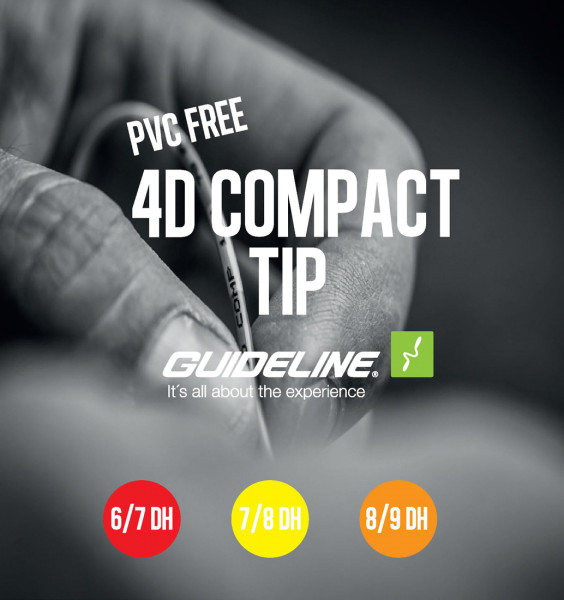 Guideline 4D Compact Tip 10ft.
Guideline 4D Compact Tip 10ft.
The Guideline 4D Compact Tips are designed to work perfectly with the 4D Compact shooting heads. Of course, they also work with other shorter bodies of various weights and brands. All sinking versions feature Guideline's Dual Densitiy technology to ensure a straight and efficient sink path and improve contact with the fly. In combination with the matching body, these tips impress with a clean turn-over and a first-class presentation.

The team at Guideline designed these tips based on the front parts of their popular ULS 3D+ and Compact DD lines to achieve the best possible performance. The core is Guideline's proven Direct Contact Core™ with only 6% stretch, and the load capacity matches the strength of the 4D bodies for maximum durability. All tips have strong, reinforced loops on both ends and feature printed ID identification on the coating for easy identification of weight, length and density. They are also color coded for easier pairing with the matching 4D Compact Body.
Combining correctly made easy:
Both the shooting heads and the tips of the Guidelines 4D Compact system are equipped with a color code that facilitates the selection of matching body/tip combinations. The following applies: identical colors result in a balanced system (see table).
Details:
Double Density Tips
Strong turn-over
Strong welded lopps on both ends
Color coded for easy matching of 4D Compact shooting heads and tips
Length: 10 ft.
Weight: 7 g (108 grains)
| Model | Color Code | Corresponding Guideline 4D Compact Body |
| --- | --- | --- |
| 10 ft / 7 g (108 grains) | Magenta / Blue / Green | 12-14g SH #7/8, 14-16g SH #8/9, 16-18g SH #9/10 |
About Guideline:
The Scandinavian cult brand Guideline offers almost everything that you need for fly fishing. In addition to modern rods and reels, this impressive selection also includes high-quality wading clothes and all kinds of accessories. In fact, all Guideline products have one thing in common: They combine a practice-oriented design with an outstanding value for money. This applies for all price levels – from entry-level to premium models. Furthermore, Guideline places great emphasis on sustainability, which leads to eco-friendly production methods and an inspiring company philosophy.