Article successfully added.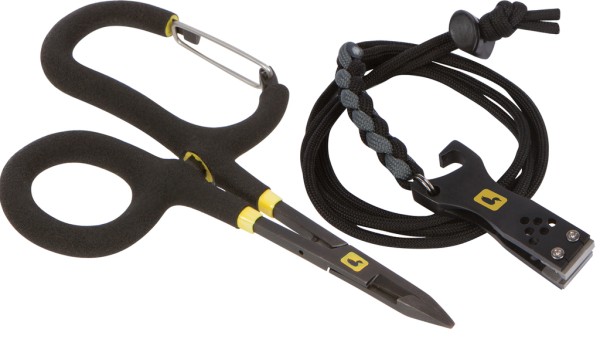 Loon Iconic Tool Kit
Loon Iconic Tool Kit
Extremely compact and always close at hand: the Loon Iconic Tool Kit offers many handy features! This outstanding set includes two premium tools that will accompany and help you in every imaginable fishing situation: the Loon Rogue Quickdraw Forceps and the Loon Nip N' Sip 2.0 Nipper and Bottle Opener!
The Loon Rogue Quickdraw Forceps:
The Rogue series is designed for reliable outdoor performance. Every handle comes with a non-slip foam coating, which guarantees secure handling and prevents your hands from touching freezing cold steel in wintertime. In fact, it is surgical stainless steel with a matte black finish and loon-yellow highlights - stylish and very useful if you accidentally drop your Rogue tool.
The Rogue Quickdraw Forceps can be attached almost everywhere! Either using the hemostat closure or the built-in carabiner, which is integrated into the big handle. Also, this big handle allows you to put a lot of pressure on the small surface of the jaws grabbing every hook securely. Further, this enables you to debarb tiny CDC flies all the way up to the biggest saltwater patterns. Additionally, these forceps have an extra sharp blade for cutting leaders and a handy hook eye cleaner. Summarized, this is a truly versatile tool!
Details:
Forceps with an additional blade for cutting leaders
Big handle for extra comfort and power
Length: 16 cm (6,25")
Rogue Comfy grip
Matte black finish
Surgical stainless steel
Hook-eye cleaning needle
Haemostat closure
Karabiner clip on one handle
The Loon Nip N' Sip 2.0 Nipper and Bottle Opener:
More than just a nipper: The Loon Nip N Sip 2.0 cuts every plastic leader and also opens your beer bottle or other beverages. ;-)
It is milled out of solid aluminum and it comes with detachable stainless steel blades and a needle for cleaning hook eyes. In fact, you don't need to search for a place to attach the nipper – simply use the included paracord to hang it around your neck keeping it close at hand!
Details:
Material: anodized aluminum
Blades: hardened stainless steel (detachable)
Useful bottle opener
Needle for cleaning hook eyes
Paracord lanyard
Extra-wide handle, also suitable for large hands
Length: approx. 5,5 cm
Delivered without accessories.